How to make jarma (a traditional Kyrgyz drink)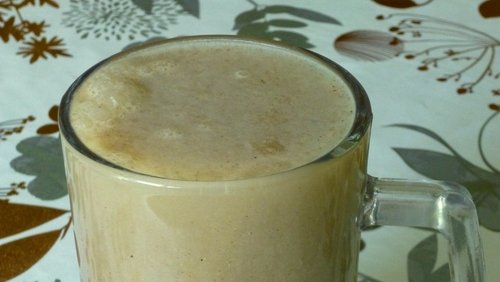 March 31, 2015
Jarma is a traditional Kyrgyz drink made from crushed wheat. The taste is similar to sour, salty, slightly-off oatmeal and it's delicious… although maybe an acquired taste. 

It's basically undistilled beer before it's filtered or had a chance to become alcoholic. Full of energy and nutrients, my old host family drinks it like water. And, for my host father, it often replaces breakfast and lunch, especially when he's out in the fields all day during planting or harvest time.
Ever since moving into my own place, I've really missed my host mom's jarma. So, when I went back to the village last week to visit, she gave me enough raw ingredients to make jarma all year!
Кыргыз Жарма (also known as Максим or Шоро)
Ingredients:
Талкан (Talkan - crushed wheat)……………………………………………………. 1 cup
Май (Maii - fat, preferably sheep)……………………………………………………. 1 tablespoon
Суу (Suu - water)………………………………………………………………………….. ~ 5 liters (1.25 gallon)
Ун (Uun - flour) …………………………………………………………………………… 1-2 tablespoon
Ачылган жарма (achylgan jarma - old/fermented jarma)……………………… 0.5 liter (~ 1 pint)
Туз (Tuus - salt)……………………………………………………………………………. 1 tablespoon or to taste
(Note: if you don't have access to old/fermented jarma, adding a little bit of yeast and baking soda should get you started on your first batch. If sheep fat isn't available, lard is a possible substitute… but not really. It's really gotta be sheep fat all the way.)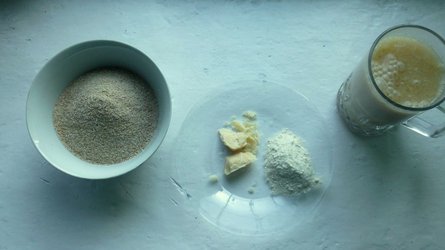 Directions:
In a large pot, melt fat and add the talkan. Fry at medium-high heat until talkan is lightly browned and the fat has been absorbed (about five minutes). Do not let it burn.  Add water and bring to a boil. Cook at a rolling boil for 45 to 60 minutes, stirring often. Cover the pot and let sit until cooled. Add flour and old/fermented jarma and stir until well mixed. Let sit at room temperature overnight to allow fermentation. You can then transfer to bottles if you choose. Store in a cool place. This recipe makes about five liters of jarma.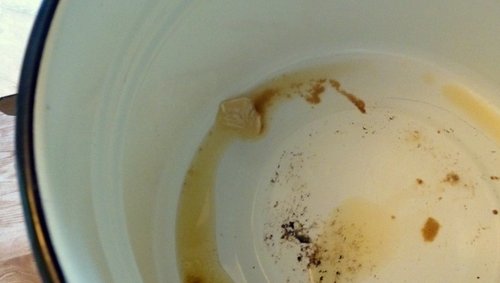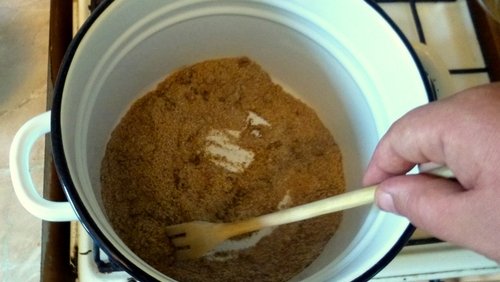 Enjoy with kurut (salted, dehydrated horse milk yoghurt balls) for a truly Kyrgyz culinary experience!
Jarma lasts about three or four days, if left at room temperature, before it starts becoming very sour (and slightly alcoholic). Store in the fridge to keep it longer. Be careful when opening bottles that have been sitting for a while. It can overflow explosively with carbonation when exposed to the air after a long time. My host grandmother's technique was to let it nearly overflow, close the cap, then pop the bubbles inside by beating the side of the bottle with a large spoon, repeating until the pressure normalized.
Of course, her technique for washing our family's jarma cup was to run her finger around the inside of the rim to gather up the old, caked-on wheat particulate, then lick it off her finger so.... We all used that same cup for two years.