How the 7 principles of Kwanzaa intersect with Peace Corps service
Kwanzaa is a seven-day celebration of community, family, African American culture, and African heritage. It's a non-religious cultural celebration, but there's no denying that a spiritual atmosphere surrounds it.
Held between December 26 and January 1 each year, the holiday is sometimes thought of as an alternative to Christmas, but many people celebrate both. It marks the first fruits of the harvest and each day is punctuated by a core principle that emphasizes shared values.
Each night of the holiday, a candle is lit in the kinara, a candle holder that symbolizes the roots of the community. Three red candles on the left, three green candles on the right, and one black candle in the center carry different meanings. Red represents struggle, green stands for hope, and the black candle embodies the people. It's lit on the first night of the holiday and the other six are lit on the following days of the celebration.
There are gifts – usually homemade or educational – and there is food. Lots of it. Karamu, the communal feast held on December 31, often features a menu as diverse as the African diaspora it represents. There are symbolic staples like mazoa (fruits and vegetables) and muhindi (ears of corn), and familiar, traditional dishes like black-eyed peas, chicken, candied yams, sweet potato pie, collard greens, and more.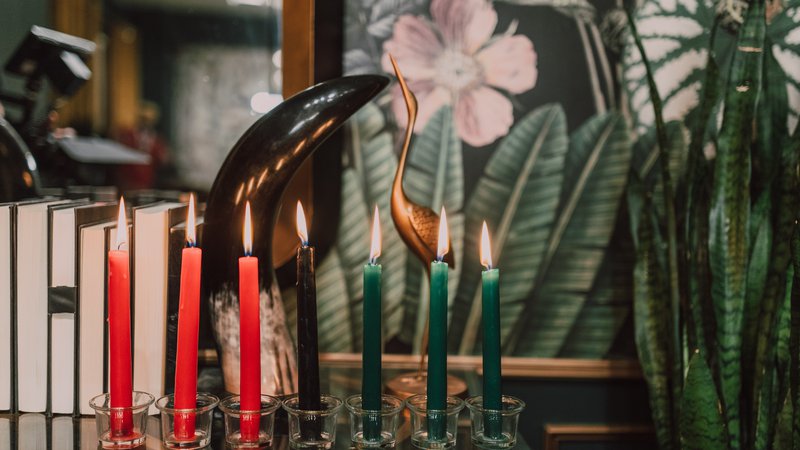 Kwanzaa is inclusive
But what does Kwanzaa have to do with the Peace Corps, you ask? It's the most inclusive holiday because it can be celebrated by anyone, according to Don Holly and Carol Anne Reid, both returned Peace Corps Volunteers who celebrated the holiday during their service abroad.
"You can be Christian, Catholic, agnostic, atheist, or Jewish and celebrate Kwanzaa," said Don, who first celebrated the holiday while serving in Jamaica as a Peace Corps Volunteer. "It can be for anybody – especially if you're someone who is looking for guidance, community, or a place to belong."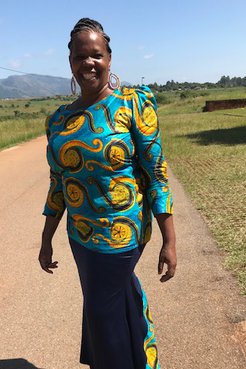 Born and raised in Harlem, New York, Anne has celebrated Kwanzaa for as long as she can remember. She explained that while Dr. Maulana Karenga created the holiday in 1966 for African Americans to connect with their African heritage and traditions, the celebration is inclusive. All cultures can celebrate Kwanzaa and find symbolism from their own cultural practices.
"The original concept was to provide and build stronger cultural traditions in the African American community as you see in other cultures. That's why you can see symbolism pulled from other cultures integrated into Kwanzaa," said Anne, who remembers celebrating the holiday with Karenga as a child.
"When [he] was creating the holiday, he took the time to research and unpack different spiritual practices. He was connecting us with other traditions and cultures because we're all interconnected. When you look at the kinara, you can see that it's based on the menorah from the Jewish tradition. Corn represents children and is rooted in Native American traditions. The kikombe cha umoja, or cup of unity comes from Orthodox Catholicism. He looked at different traditions and cultures to give them access to this celebration and let them know they are present."
Anne believes that the seven principles of Kwanzaa, known as the Nguzo Saba, are just as inclusive as the holiday itself. "You come together during those seven days and every night, as a family, as community, as a circle, you contemplate that principle and how it's going to make us better as we move into the next year. That doesn't have a color on it."
So how do these seven universal principles intersect with Peace Corps service? We asked Don and Anne to share their own service experiences and explain how each principle connected them to the people they lived, worked, and celebrated alongside during their time as Volunteers.
1) Umoja (Unity)
The first day of Kwanzaa is focused on umoja, which stresses the importance of togetherness to reach common goals as a community. Karenga, who founded the holiday, describes unity as "active solidarity." It's more than mutual agreement and a meeting of the minds. It's a connection point for purpose and ideals. Anne said that umoja was central to her success as a Volunteer in Moldova and Eswatini.
"We in the States, we can kind of do things and hustle and get things done on our own," she explained. But that's not how Peace Corps projects grow roots in local communities and have long-term impact.
"Unless you are really integrated in your community, and you have those leaders, stakeholders, and parents, your projects are not going to get off the ground," Anne said. "If I'm coming in, as an American, and tell them what I want to do, and how it's going to work, no one's going to show up for my projects."
Her remedy clearly identifies what many Peace Corps Volunteers try to do as they enter service.
"Volunteers have to listen to their community, move forward based on what they (the community members) want, and then work together to move the project forward."
Don said the process of creating unity starts long before any project does.
"You need to be one with your community and with the people that you're working alongside. We spend those first couple of months … just learning the culture, learning the history, and getting to know people in our community," he said. "What sets the Peace Corps part is that you're living beside people and working with them every single day, hopping in the same taxis, eating at the same restaurants, and staying there for years."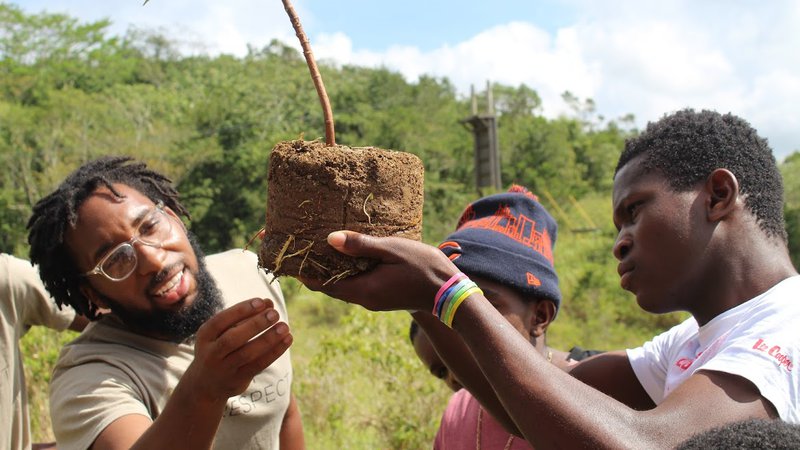 Don shared an anecdote that shows how umoja can be integrated into every part of Peace Corps service, if you're willing to listen, learn, and connect with your community. During a basketball game, Don's team was hit with a bad call during a pivotal moment in the game.
"We were all just complaining in the native language and I realized everybody had my back, I had their backs, and we were all a unified front against this ref who made a bad call. We really were in it together and I recognized from like then on things were so much smoother."
2) Kujichagulia (Self-Determination)
Self-determination is pretty much a requirement to be a successful Peace Corps Volunteer. But how does the concept of kujichagulia – "to define ourselves, name ourselves, create for ourselves, and speak for ourselves" – impact the host communities where our Volunteers serve?
Anne and Don shared anecdotes from service that illustrated how kujichagulia can uplift a communities and help them uncover opportunities they never knew existed.
In Moldova, the educated women Anne partnered with seemed to limit themselves at times. They admired Anne's fearlessness and determination and wondered how she did it.
"I'm a woman, I'm African American, I grew up in Harlem, and I've run my own business, so this is this is part of my DNA," she explained.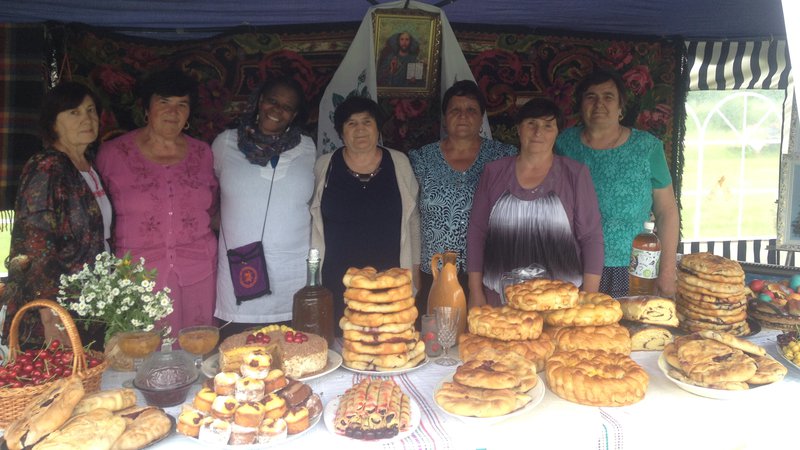 Anne urged her counterparts to see themselves as the brilliant, skilled people they are, but these Moldovan women who had earned master's degrees and had teaching experience just couldn't see themselves serving in the same roles as Anne or having access to similar opportunities. Elena, one of Anne's counterparts, benefitted from Anne's persistence.
"She had just finished her master's and was working with me, creating programs for the youth. I told her she should apply for a Community Economic Development trainer job at the Peace Corps, but she just could not see herself in that role," Anne said.
But Anne was determined to show Elena that she was capable of the job and it was an opportunity ready for the taking.
"I had to keep walking her through, telling her, 'You're already doing it. You're teaching these young people and you are fit for this position.' She ended up applying for the role and is now a Peace Corps staff member."
Don, who grew up in a farming community and has a degree in agriculture, understands the frustration that often comes with growing crops.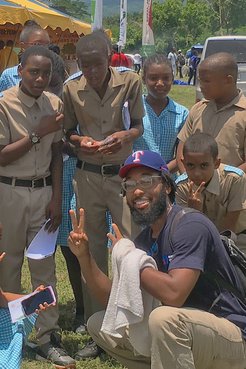 "Self-determination is one of those things that you really need when it comes to the Environment and Agriculture sectors. I don't know if you've ever grown anything before, but you put it in the ground and you just watch it," said Don, who calls Tennessee Colony, Texas, his hometown. "You can easily get discouraged."
So when Don taught children, whether it was in the classroom or with their hands in the dirt, the virtues of patience and self-determination were at the forefront of everything they did together. It may take a while to grow something and you might lose a few plants along the way, but as long as you're committed and determined, good things will happen in the end. Especially if it's a communal effort.
"As we always used to say in Santa Cruz, 'If you want to go fast, go alone. If you want to go far, go together."
3) Ujima (Collective Work and Responsibility)
The ideals of collective work and responsibility are what the Peace Corps is all about and it's a key driver of why the agency was created more than 60 years ago. Ujima guides virtually every aspect of Peace Corps service.
In Jamaica, Don served alongside cooperative farmers who pooled their resources so everyone could have an opportunity at success.
"Collective work in itself is really vital, especially when you're working with a cooperative like I was," Don said. For him, working as a collective helps add permanence to whichever type of project the Volunteer is supporting.
"I feel like our work as Peace Corps Volunteers is to help transport something from one place to another, and by making those connections and by working collectively, we're ratcheting down whatever it is that we're transporting so that once we (Volunteers) walk away … we know that things aren't going to start coming loose."
Anne believes the long-term sustainability of a project goes hand-in-hand with ujima.
"One thing I've done with my projects is, even as we're working on together, I always say to my counterparts, 'I'm not going to be here one day. How are you going to continue it and how will you go on to also expand [the project]? You have a responsibility to take it further than even that I could imagine.'"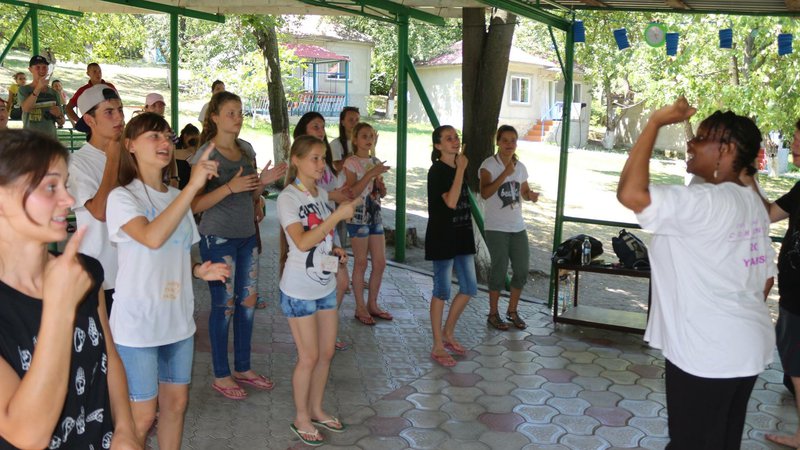 4) Ujamaa (Cooperative Economics)
Partnering with cooperative farmers in Jamaica crystallized the importance of ujamaa for Don. His counterparts were the drivers of the local economy and keeping those financial resources in the community will help them define their economic futures.
"Investing in ourselves and investing in one another is more important than investing in a larger entity, because at the end of the day, that large entity may take its money and go somewhere else," he said. "Investing in each other brings it back to one another and we keep financial independence."
For those applying to serve in the Peace Corps, ujamaa may take on a different meaning.
Anne, who recruits Volunteers and talks to potential applicants every day, believes the Peace Corps has to really lean into how they can support volunteers in regard to cooperative economics.
"[We] have done a lot of work around diversity and inclusion and the biggest part of inclusion is the socioeconomic disparities that are present," she said. "When you are applying for Peace Corps the medical [testing] is expensive. For someone who has economic challenges – often from communities of color – that is a big barrier."
To its credit, the Peace Corps has raised the amount that it will reimburse applicants for upfront medical expenses, but the barrier remains to for those who don't have the hundreds or thousands of dollars to begin with.
"The Peace Corps has to – when they're looking at inclusivity – has to look at the socioeconomic boundaries that exist around applying for Peace Corps service, particularly in regard to medical expenses," Anne said.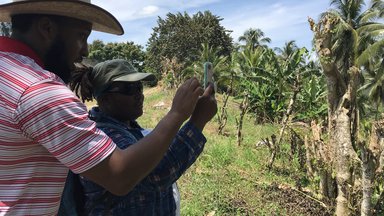 5) Nia (Purpose)
We asked Anne and Don if the purposes they each entered service with changed while they during their time as Volunteers. Anne, the 2021 Lillian Carter Award recipient, served over the age of 50 and part of her purpose was advocating for older Volunteers and showing her partners that they had valuable skills and experiences to offer.
"In the places that I served, they sometimes did not realize that Volunteers are older, that … we're all not between the ages of 18 and 23. We're coming and wanting to serve, and we have a lot to offer as older Volunteers based on our experiences," she said.
"An older Volunteer is usually at a point in their lives with clarity in what they want to do and why they want to serve," said Anne, who sold her cars, apartment, and shrunk her life down to two suitcases before serving in the Peace Corps.
The standout applicants that Don encounters arrive with the understanding that they are merely a vessel to help and support any way they can. He explained that many applicants-turned-Volunteers see their purposes change along the way.
"You find some people who have a shift in their purpose as they learn more about their communities and the impact the work they are doing has on people," said Don, who earned a master's degree in international agriculture after returning from Jamaica.
"I realized this was a niche set of experiences and skills I had and I knew that after my two years, the fight wasn't over," he said. "The war is still to be had on things like poverty, literacy, food security, and things like that. … Speaking from personal experience, I found a greater purpose and career after service."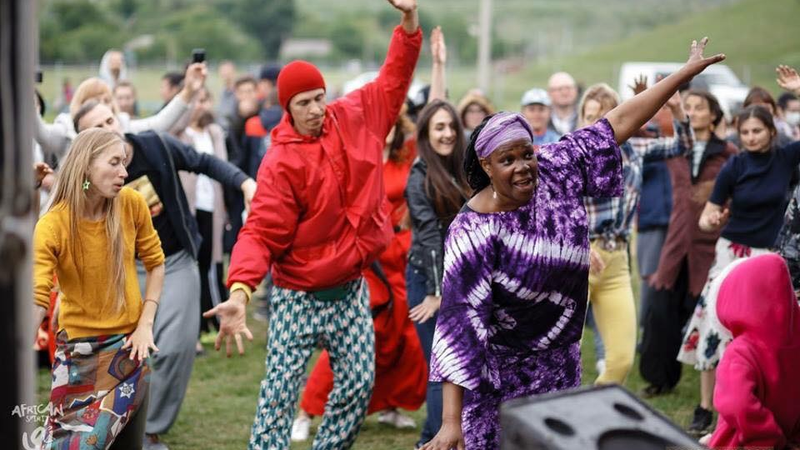 6) Kuumba (Creativity)
Can a Peace Corps Volunteer be successful without creativity? Anne doesn't think so.
"Every Volunteer comes in with some level of creativity – some more than others. There are some who discover their creativity during service," said Anne, who has taught English through drumming, dancing, poetry, and rapping. "I would see some introverted Volunteers open up creatively because they had to tap into something within themselves to make the material land with their students. That was really great to witness the creativity that naturally sprung out of Volunteers."
Creativity is a way of life in the Peace Corps, whether it's about collecting rainwater, inspiring students, or budgeting your monthly expenses as a Volunteer.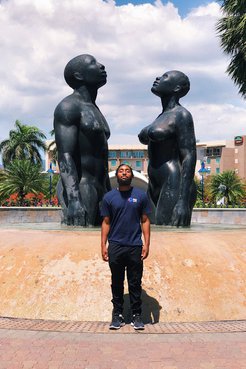 "I think that Volunteers need creativity and that's really just because they've [probably] never done anything like this. Creativity is something most people have when they sign up because it takes a different kind of person to [want to serve in the Peace Corps.]"
Agreeing to travel, live, and work somewhere you've never been before means you have some level of flexibility and are willing to take a risk. Don believes flexibility are creativity one and the same.
"Surviving in the Peace Corps without creativity is next to none, in my mind. I wouldn't say it's impossible, but it's close."
Imani (Faith)
Faith, in the religious sense or not, is something that's prevalent throughout Peace Corps service, not only for Volunteers, but also for the communities and host families who are willing to allow strangers to integrate into their families and cultures.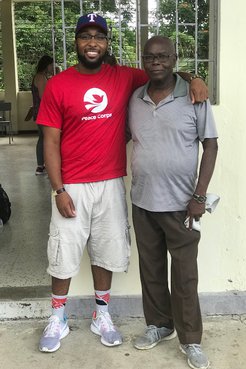 Don stayed with Mr. and Mrs. Smith during training. They are both pastors and they call Don their son. He calls them his Jamaican parents. It's clear there's a lifelong bond built by faith and strengthened through service.
"They are great people who, through their own faith, took me in – just a random stranger – and have continued to support me throughout my life. I could call them today and tell them I needed a place to say and they'd take care of me. … I really needed them during service to help keep me grounded and to be my home away from home."
In three short months, Don became part of the family and he stays connected to the Smiths and messages their sons through social media all the time.
"I remember the moment I had to leave for my site and seeing how much they cared about me and seeing the tears in their eyes as I left," he said. "I reminded them that I'd be back and that they had to have faith in me, just like I had that faith in them."
Don has an unwavering level of love for the Smiths and the faith and love they've shown him to this day.
"Whenever I think those particular times, they are the people I think about. How their community helped embrace our fellow Peace Corps Volunteers, and how they really helped push us through those first couple of months of readjusting to a new country and being there for us."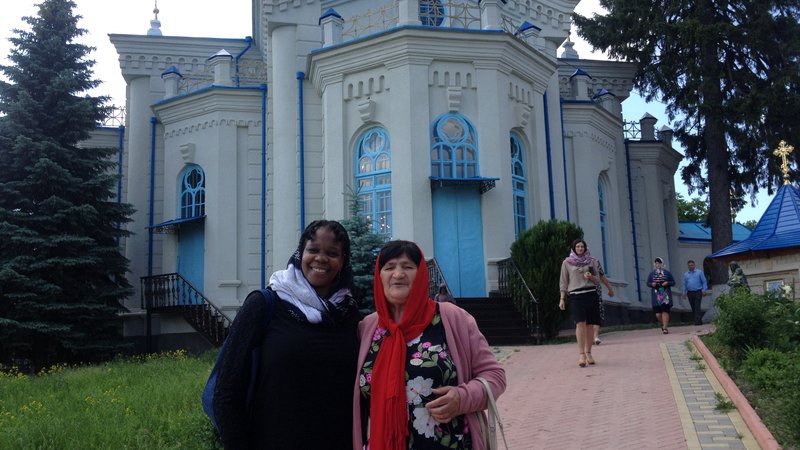 Anne is an interfaith minister, so spiritual practice is part of who she is, but going into Peace Corps service, she didn't want her new colleagues and counterparts to think she was going to arrive and start preaching to them. She didn't hide her background, but she didn't announce it, either.
In Moldova, during her first service, Anne arrived on a Saturday and met her host mother, a churchgoing grandma who welcomed her into her home and took her to church the following day. Anne soon learned that her host mother was the only person in the village willing to take in an African American Volunteer. She asked her why and the answer was simple.
"Because I had faith that it would work out."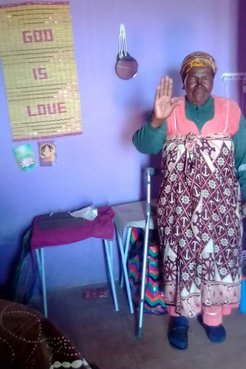 In Eswatini, faith helped Anne quickly connect with her community. She went to church on the first day she was there and forged a bond with the local minster that helped opened doors. By embracing her faith and not hiding it, Anne was able to teach English and liturgical dance in the church.
In March 2020, the call to evacuate hit Anne particularly hard and it's still difficult for her to talk about. She was forced to leave behind three grandmothers she was taking care of in her village.
"I still feel like I didn't have closure and I felt like I couldn't explain to them what was happening and why I had to leave," she said.
They asked Anne to promise that she would return to them one day. She made the promise, but felt that the three women didn't believe her – that they lost faith in Anne. But about two weeks ago, nearly 20 months after she left Eswatini, they sent her a video of the hut she left behind.
Nothing has changed or moved a centimeter since she left. Even a spoon is in the same exact spot she left it. Why haven't they touched anything? Because they believe Anne will return someday. They have faith.
Category:
Africa
,
Eswatini
,
Caribbean
,
Jamaica
,
Eastern Europe and Central Asia
,
Moldova
,
Education
,
Agriculture
,
Community Economic Development
,
Becoming a Volunteer
,
From the Field
,
After Service
,
Family and Friends
,
Current Volunteers
,
Returned Volunteers
,
Prospective Volunteers
,
Peace Corps Volunteer
,
Lillian Carter Award