How the Peace Corps helped me feel more American
Serving with the Peace Corps was my dream as I grew up in Kazakhstan.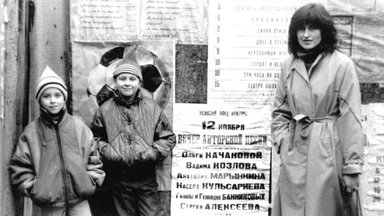 During high school, I had a Peace Corps Volunteer as my English teacher. She and the other Volunteers in my community seemed to me like the bravest people. They'd moved across the world to live under difficult conditions in Kazakhstan — no heat in winter, bad roads, and other challenges. But they came, learned the language, and immersed themselves in our culture. From my perspective, it seemed like a big commitment and sacrifice, but also an adventure.
Fast-forward two decades. After studying, living, and working in Pennsylvania, Canada, and Massachusetts, I became a U.S. citizen at the age of 31. As a citizen, I was excited that I could finally serve in the Peace Corps.
Many Russian immigrants I knew in the U.S. couldn't understand why I wanted to join the Peace Corps. To them, it was a bit strange that after going through a lengthy immigration process and finally landing in the U.S., I wanted to run away and live in a different country. My family back in Kazakhstan was also nervous about my desire to join. They didn't see why I would want to leave my job, my friends, and the comforts of living in the U.S.
Since I was young, I always believed in a central part of the Peace Corps' mission: creating greater understanding between people of different cultures. I also enjoy traveling and living in different countries, but I don't like to be a tourist. So, after getting rid of most of my possessions and packing my two bags, I headed abroad. I ended up serving as a Volunteer not just once, but three times in a row in three different countries — Ghana, Ukraine, and Armenia.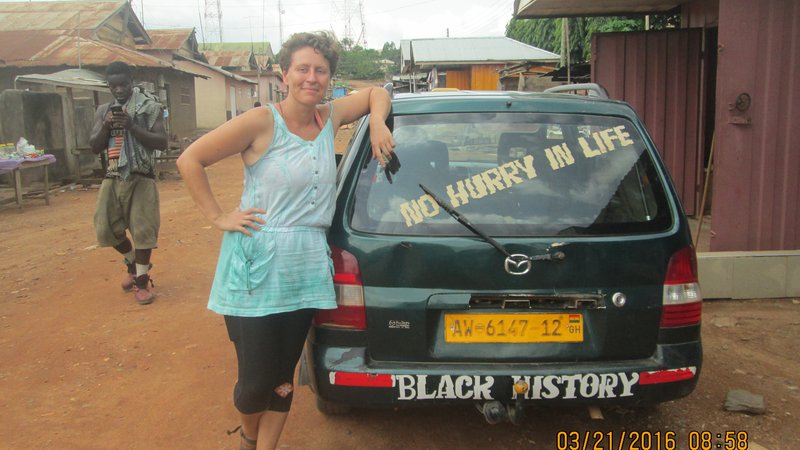 Going to Ghana, my first host country, was an eye-opening experience. I am very happy that Ghana chose me (this was in 2014, before you could choose a country during the application process). It was stressful and hot at times, but also a vibrant, fun and thought-provoking experience. I extended my service for a third year because I wanted to learn more about the local culture and also help new Volunteers navigate their host country.
Living in the U.S. I had always felt like an odd duck, even after becoming a citizen. It seemed I was just living here and not really an American. While in Ghana, I went to a Fourth of July celebration hosted by Peace Corps Volunteers. It was while singing American songs, enjoying food and drink, and chatting with fellow Volunteers that I finally felt a real bond with other Volunteers. The event gave me a feeling of home in a faraway land, and I felt I was truly an American, just like them. Fourth of July has been my favorite holiday ever since.
I also enjoyed Thanksgiving during service because people in my communities could easily relate to it. Many holidays across the globe focus on food and gratitude.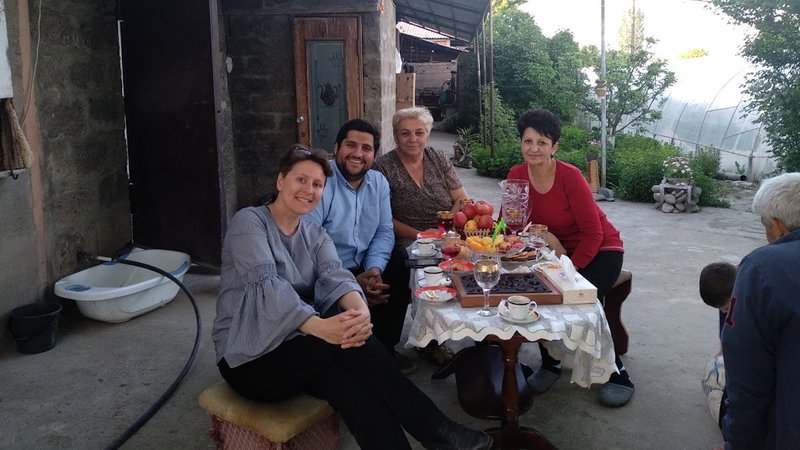 My last Thanksgiving in Armenia, my third post, brought together over 30 people, including local friends, American guests, and Volunteers. We cooked American and Armenian dishes all day long in the kitchen of a hotel in the small town where I worked. We even invited hotel staff to share food as a thank-you to them. That was our last big gathering before Volunteers were evacuated in March 2020. It was a truly memorable day of sharing cultures, cuisines, and gratitude.
Serving as a Volunteer in Ukraine, my second post, was in some ways like going home; the country had been part of the Soviet republic just as Kazakhstan was, and I also have Ukrainian ancestry. While Armenia also shares a Soviet past, its language, food, and traditions are unique. It is one of the least "Soviet" of the Soviet republics.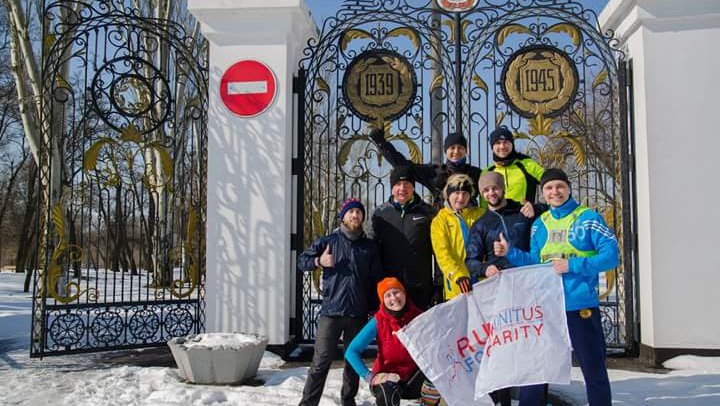 Ukraine's buildings, technology, and fashions had changed since the Soviet era two decades earlier. Yet, as I got to know my community, I was struck by how people were very much the same on the inside, with beliefs similar to the people I knew in my youth.
I recalled my own personal growth, bit by bit, as I was exposed to different ideas and cultures over the years. Without that exposure to the larger world and different cultures, change and growth can be slow. Change can even seem threatening, so it is understandable why people are sometimes resistant to it.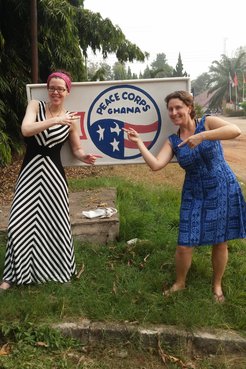 In Ukraine, no one suspected that I was American. I looked, spoke, and behaved like a Ukrainian because of my Soviet childhood. But after two-plus decades of living in different countries, as an immigrant and then as a Peace Corps Volunteer, I was very different on the inside. I was exposed to different people and cultures, which changed me and enriched my life in countless ways. As a Volunteer, I wanted to plant seeds of new ideas in my countries of service so that those seeds might grow, and allow someone to think differently.
After my evacuation from Armenia in March 2020, I settled in Montana, a place I'd never lived before. Although I will probably continue to move around the U.S. and travel, or even volunteer abroad again, I feel at home here. I feel a part of the diversity of America. I'm American on the inside now.