How one Peace Corps Volunteer's experience led to a career in global education and service
Erika Bryant, a key leader at a noted charter school in Washington, D.C., for the past 20 years, feels that her Peace Corps service in Guinea in the early '90s affirmed the roots of her African American identity and inspired an ongoing commitment to education and service.
"Growing up, my family was far from wealthy, but my parents and other family members understood the value of an excellent education and moved mountains to ensure that my brother and I had educational opportunities and experiences that we still benefit from today," Bryant said.
While attending Spelman College, a historically black college for women in Atlanta, Bryant was introduced to African history and literature for the first time and, during her senior year, was introduced to the Peace Corps by a Black Peace Corps recruiter.
"The recruiter explained that (at that time in the early '90s) very few people of color explored Peace Corps service and that the agency was actively working to reverse that trend. She convinced me that this experience was worth pursuing and so I applied and was accepted to serve in Guinea," she said.
Bryant completed her pre-service training in Senegal before departing to teach English as a foreign language to students at a lycee (high school) in southwest Guinea.
"Although it was more than 30 years ago, I distinctly remember the moment I stepped off the plane and onto the tarmac in Dakar, Senegal, for the first time in 1991," she said. "I breathed in the warm, humid air and heard a young Senegalese man say, 'Welcome home, sister!' Senegal felt like home from the first day. It was like the feeling I experienced in my hometown of Little Rock, Arkansas, as a little girl when my great grandparents, grandparents, great aunts and uncles were still alive. I was surrounded by family," Bryant recalled.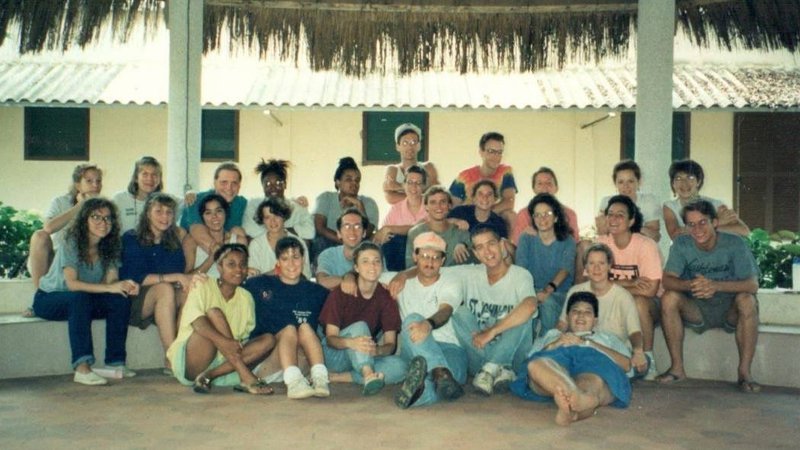 Classes in Guinea began early in the morning as Bryant rode her bike or walked to and from work. She often ate lunch with her host family and took the midday sieste (afternoon nap) at home. The father of the host family was also an English teacher at the same high school.
Bryant's day-to-day interactions with her students taught her the importance of providing access to quality education.
"My students considered themselves very fortunate to be able to attend high school because it was a privilege that few were afforded. I considered myself very fortunate to be able to teach and learn from them as well," she said.
Bryant also came to appreciate the special connections between the cultures of the American South and Guinea. "As a Peace Corps Volunteer, I regularly had conversations with my host family, students, neighbors, and friends about the similarities between much of the food I ate in Guinea and the food I ate growing up in Arkansas, Tennessee, and Mississippi. From the okra-based dishes, many variations of greens cooked with smoked meat, rice with most meals, black-eyed or purple pea stews, to hot pepper sauce – it all felt very familiar to me," Bryant recounted.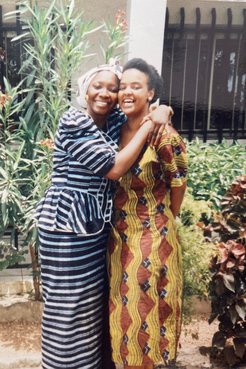 "I believe that common ancestry created connections and opened doors for African American Volunteers that weren't always open and available for other Volunteers. People in Senegal and Guinea always mistook me for a Fulani/Pulaar woman until I opened my mouth. The confusion was a great conversation starter and gave me the opportunity to explain my history and background," Bryant said.
By the end of her two-year service in Guinea, Bryant was determined to continue her path as an educator in Africa.
"The Peace Corps literally changed the trajectory of my life. During my service, I fell in love with the African continent, and I wanted to live, work, and raise a family in Africa."
After completing the Peace Corps, Bryant returned to the U.S., married an African man she met during her service, and entered a master's program at the Harvard Graduate School of Education, studying education administration, planning and social policy, with a concentration in international education.
"I honestly believe that I would not have gotten into Harvard without Peace Corps service on my resume," she said.
Soon after graduation, Bryant started her family and moved with them to Africa. She worked on development and educational policy issues in Mali and the U.S. for about 10 years. In the summer of 2014, Bryant had the opportunity to volunteer as the interim director for a school run by the Red Sweater Project in Tanzania. She credits the Peace Corps for preparing her for the experience by building her intercultural exchange, language, and adaptability skills.
"Although we did not live solely in Africa as I planned, I raised my sons to be compassionate, global citizens who travel, experience different countries and cultures, and are able to communicate in other languages, including French and Arabic," Bryant said.
Bryant returned to the U.S. where she has lived for the past two decades. She currently is the leader of the Elsie Whitlow Stokes Community Freedom Public Charter School, an elementary school founded by her mother that focuses on academic excellence, world language immersion, and social justice.
"I come from a family of teachers and have an immense respect for them. The school network that I head is named for my grandmother, who was a teacher for 36 years in Little Rock," Bryant said.
She says her goal is to foster the same global awareness, compassion, and collaborative spirit that she instilled in her own children in her students as they learn academic subjects in English, Spanish, and French.
"Because of the Peace Corps, I have always been adventurous and have a deep appreciation for and curiosity about other people and places — a curiosity I hope my students develop and nurture as they dream and shape their own paths and become global leaders," Bryant said.
---