In Malawi I live in Chitipa, the farthest northern district bordering both Tanzania and Zambia.
As a result, over 14 languages are spoken throughout this tiny territory, making the people incredibly multilingual. As I teach verb tenses and parts of speech in my classroom, I recognize that English is not only my students' third, fourth or even fifth language they would have to learn – but is also especially important for their future goals of attending university one day.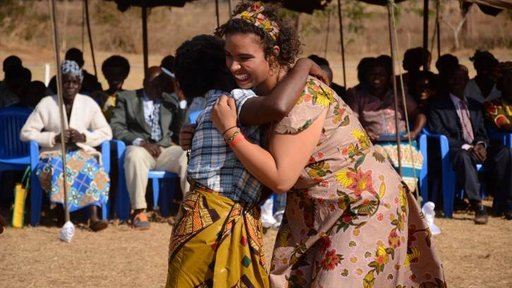 English is one of two national languages in Malawi, with all road and shop signs, university courses and government announcements covered in English phrases and words. Yet for most Malawians in rural communities, school is the only place where English is taught and practiced. I am incredibly proud of my students who work diligently every day to distinguish question words and read English literature in order to improve their understanding with little to no electricity, limited resources, overcrowded classrooms and few teachers. I strive to challenge their abilities to be better writers, speakers and readers in English.

However, I also acknowledge the complex link between language, identity and place. Before leaving for my 27-month service in rural East Africa, I received a phone call from a relative living in Mahwah, where my father's Ramapo Lenape ancestry is still rooted in the woodlands of New York and New Jersey. He, like most of my native family, had never traveled abroad, much less lived in rural Africa for a long period of time, and was thrilled to hear of my invitation to serve. Still, he kept asking me to come 'home'; to learn the language of my people (Munsee), and make it known to the Malawians I would soon call friends that there is more to being American that meets the eye.
I was unable to go back and learn Munsee before leaving, but that phone call is an ingrained reminder of the significance my native heritage holds to my role as a Peace Corps Volunteer. Every day, I make an effort to learn the local dialects in my community, to understand where I live and discover why the spaces I visit are given their names. With over four different ways to say 'hello' and 'how are you' in my village, I know this little promise shows my respect for my students and their heritage. In return, I teach them about diversity in the United States, the tribes that make up my homeland and my promise to learn my native language and share it with them one day.
Although I call Malawi my home for now, I look forward to the day I get to visit my home in Ramapo territory, share the various languages and cultures I've learned and celebrate the language that shapes my history and identity as an American. Until then, I will keep my promise.
Curious to learn more? Explore the World Wise Schools resources on this topic.
Explore