Growing the capacity and diversity of a Nepalese farm
It's 5:00 p.m. in Nepal's mid-hill region. Hom Bahadur Thapa Magar stands in his verdant nursery after a long day of weeding the orchard, swaddling his plants in nutrient-rich manure, and cutting grass for his buffalo to enjoy.
When I ask to see a bit of the farm, I half expect Hom to show a few plants nearby. Instead, I'm treated to a 20-minute virtual tour with him directing my attention to an orange canna flower here or a pepino melon there. He identifies the plants as he walks: Kiwi, apple, guava, black cardamom, macadamia nut, avocado, and almonds. My stomach growls. Hom's healthy trees and cascading vines seem to grow every which way, yet there's an obvious orderliness that reflects absolute dedication and considerable time.
Close to three years ago, Hom's village, Durlong, named him lead farmer. This honorary, unpaid role requires him to share his knowledge and seedlings with other farmers in the community. Hom enjoys teaching others, because he recognizes he's had some learning opportunities that his neighbors have not. For instance, he served as a social mobilizer for the local NGO, Chautarphi Bikash Shrot Manch (Holistic Development Resource Center), where he led trainings on goat shedding and breeding as well as farm finances and cooperative management.
While he remembers his family growing millet, wheat, maize, and small, seasonal vegetables, Hom credits U.S.-based organizations, Heifer International and the Peace Corps, for teaching him many of the commercial farming techniques he uses today.
"I was inspired after working for the Heifer project, where I learned a lot about agriculture, cooperatives, and transitioning from subsistence to sustainable farming. But when I met a Peace Corps Volunteer in my village, I learned how to be a self-reliant farmer. Meeting that Volunteer was key for me."
"Hom Ji is an absolute community powerhouse dedicated to agricultural innovation and improving the wellbeing of his neighbors."

Andrew Phillips
To date, Hom has worked with two in-person Volunteers and was eager for more cross-cultural collaborations. "My technical skills continued to grow with each Volunteer that I work with." COVID-19, of course, changed things. Like everyone else in the world, Hom wasn't sure when things would return to normal or if another Volunteer would join him in his fields.
When the Peace Corps announced it would be testing the feasibility of Virtual Service, the Nepal post staff approached Hom to see if he was interested in participating.
Initially, the lead farmer wondered if the language barrier would be too great. Would the Participant be proficient in Nepali? Could he really rely on technology to connect him with an American thousands of miles away? What benefits could he realistically expect with this remote support?
"The nice thing about partnering with an in-person Volunteer is that there are two extra hands to help plant the seeds. With virtual, I am physically on my own."
Despite these potential obstacles and limitations, Hom agreed to give it a try, and was delighted to learn that his Participant, Andrew Phillips, was well versed in all things Nepal. "He knew the geography, ecosystem, culture, and language."
Each week, Hom and Andrew met virtually. Their weekly Zoom calls were scheduled for 90 minutes, but their enjoyable discussions about mulching and irrigation often reached two or three hours.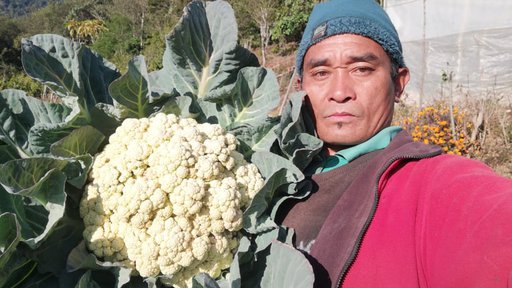 "Hom Ji is an absolute community powerhouse dedicated to agricultural innovation and improving the wellbeing of his neighbors," Andrew enthusiastically commented. "I supported him by identifying and sourcing new fruit and nut varieties appropriate to his local conditions that could supplement the nutritional and economic needs of his community. These included cherimoya, rabbiteye blueberry, pecan, and avocado. Although our virtual engagement has concluded, we continue to be in contact about his projects and I offer what advice I can."
Before engaging in Virtual Service, Hom would scatter his seeds across the earth. After Hom watched Andrew plant cabbage and cauliflower in his own nursery in the States and saw the healthy seedlings that followed, Hom finessed his approach. "That was an eye-opening moment. From that point on, I would measure the distance between each seedling like Andrew showed me."
Today, Hom is collaborating with his second Virtual Service Participant. He is interested in more farm-based, intercultural exchanges. In fact, Hom plans to scale his farm to run a fruit school that's open for agrotourism. I'm positive that when that day comes, his students will admire his hard work and passion just as much as I do.
---