Although I have had a very rewarding career, nothing has been so consistently and professionally gratifying as my work as an AHP nurse educator.
Recently, I was asked to state a surprising or little-known fact about myself. I responded unhesitatingly with information that might surprise a lot of folks—people over 60 can, indeed, become Peace Corps Volunteers.
Those who grew up in the 1960s and 70s might think of the Peace Corps as groups of 20-somethings just out of college, heading abroad for two-year stints with no kids, mortgages, or elderly parents to worry about back home. Many Peace Corps Volunteers are under 30, but the organization also offers short-term, high-impact options for more seasoned professionals who may not be able to spare two solid years away from their established lives and careers. This is the Peace Corps Response program.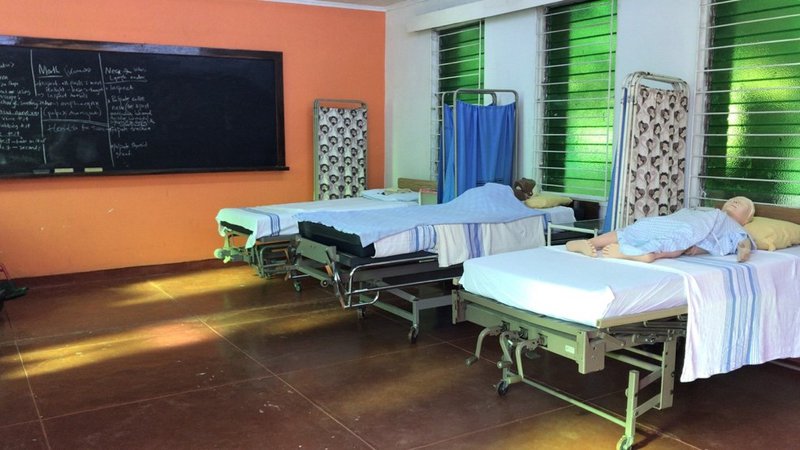 My age-mates graduated from college about 40 years ago and, by this time in our lives, have many personal and professional experiences behind us.
In my case, the years since college brought me a rewarding career practicing as a nurse in an intensive care unit (ICU), the cardiac surgical operating room, and had me experience a variety of nursing leadership roles. I wanted to use my professional experience in my work abroad and, for people like me who seek more targeted ways of serving, Peace Corps response offers the perfect opportunity.
In 2019, Peace Corps Response launched the Advancing Health Professionals (AHP) program, which aims to improve health care education and strengthen health systems on a societal level in resource-limited areas around the world. This was what I had been waiting for. I jumped at the opportunity and was accepted.
My job assignment was in Malawi, a small country in southeastern Africa. I served as a clinical nurse educator at the University of Malawi's Kamuzu College of Nursing (KCN). Like nursing schools across the globe, KCN offers students a solid foundation of theory as the basis for nursing education. Topics like anatomy, physiology, sociology, and pharmacology are taught in a classroom setting.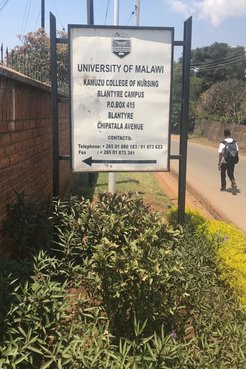 Of course, as in the United States, my Malawian medical and nursing students needed to go beyond the theories to learn the practical skills necessary to care for patients in a clinical setting. Students learn and practice their clinical skills in a Skills Simulation Laboratory. In the Skills Lab, students have access to mannequins and materials that allow them to perform tasks like inserting urinary catheters or administering medications using "hands-on" techniques that reinforce the theories they have been studying in the classroom. The Skills Lab provides an opportunity for student learning that is far less stressful than being at the bedside with an actual patient. It gives the student a chance to ask questions and seek clarification as they learn. Instructors can provide immediate feedback without harming—or causing discomfort—to a patient.
At KCN, I worked collaboratively with the Malawian faculty to develop and expand the Skills Lab as part of the curriculum for nursing students. I partnered with the Skills Lab manager to plan and implement teaching strategies to supplement topics the students were learning every week in the classroom.
My primary responsibility was working with first-year nursing students to practice basic nursing skills like giving personal care to a bed-ridden patient or starting an IntraVenous catheter for fluid administration. Because of my expertise, I also taught operating room skills and Cardiopulmonary Resuscitation classes for students of all levels. For me, nothing compares to witnessing the accomplishment and pride students demonstrate when they perform a clinical skill successfully. As an educator, the satisfaction of seeing students apply what they learned in the patient care setting far outweighed the challenges of working in a resource-limited setting.
Working with the students and faculty as an AHP volunteer gave me the feeling that by improving the quality of nursing education I was, in my small way, fulfilling the Peace Corps mission of promoting world peace and friendship. It was an opportunity for me to give back. However, the truth is much deeper. It might sound cliché, but as much as I may have taught the students about caring for patients, the students and faculty taught me so much more about life and friendship.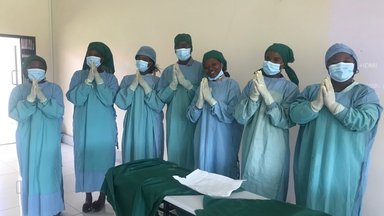 Perhaps because of our varied life experiences, many people arrive at my age with a sense of gratitude and a strong inclination to give back to society on some level. We age into a sense that we still have a lot to contribute towards helping make the world a little bit better a place than we found it. The Peace Corps, because of its mission and vision for service, provides the perfect opportunity for folks like me to give back at any age. So, although I have had a very rewarding career, nothing has been so consistently and professionally gratifying as my work as an AHP nurse educator.