Enduring impact: The legacy of Peace Corps service in philanthropy and business
Harris Bostic II, Stephany Guachamin Coyago, and Bruce McNamer are three returned Peace Corps Volunteers who became influencers in philanthropy and corporate social responsibility after serving abroad. They shared their Volunteer experiences, their perspectives on philanthropy, and the ways in which Volunteers represent the diversity and values of the United States at a virtual event hosted by the Peace Corps on March 4, 2021.
The Second Gentleman of the United States, Douglas Emhoff, opened the event with remarks about the lasting importance of the Peace Corps and the dedication to public service many returned Volunteers' exhibit after their service ends.
"When Volunteers return from service, their contributions continue. They share what they learned here at home as educators, entrepreneurs, philanthropists, and public servants," Emhoff said. "The lifelong commitment that returned Peace Corps Volunteers … have to serve in your communities is an inspiration to all of us. You are a reminder that we can all be stewards of positive change in our workplaces and communities."
The group discussed the lasting impact Peace Corps service has in their lives and in American communities at what was the first of a series of thought leaders' forums to be held throughout 2021 in celebration of the Peace Corps' 60th anniversary.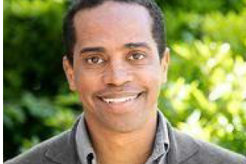 Extending the reach of philanthropy
Harris Bostic II left a Wall Street firm in 1988 and became a Peace Corps Volunteer in Guinea, in West Africa, where he served as a microcredit advisor. He is currently a senior advisor at Tides Foundation, where he engages philanthropic partners by building capacity and promoting inclusive allocation of resources.
"I used all of my transferrable skills I learned in Peace Corps — how to deal with ambiguity and change, communicating with people — I bring this all to Tides, working with 140 nonprofits, social ventures that are working on human rights, education, and the environment," he said. "I work with around 300 foundations, and connect the two, bringing the community organizing and change-making skills together; being a leader who can balance out the power imbalance between funders and those working on the ground. I take a lot of those core competencies developed or honed in the Peace Corps and bring them into my career."
Bostic, who is African American, explained that the Black community engages in philanthropic practices originating in centuries'-old traditions in Africa, where it is understood that the proverbial village must work together to achieve positive outcomes for everyone. At Tides, he focuses on supporting Black, indigenous, and people of color-led entities to achieve redistributions of power, growth, social capital, access, and collaboration.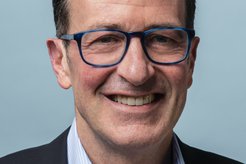 Shifting markets and minds for good
Bruce McNamer was an investment banker in New York City in the 1980s. He joined the Peace Corps in 1990 and served as a Volunteer in Paraguay, where he lived and worked in a subsistence farming village. He helped the village maintain clean and healthy water sources, set up a health clinic, and collaborated with a farmer co-op to build a flour mill. Now he is president of The Builders Initiative, a family foundation pursuing social and environmental change for a humane, healthy planet.
"Peace Corps was transformative, one of the most joyful experiences of my life," he said. "I carried with me the intention of marrying what I knew about business with my Peace Corps experience. I got to run a business called TechnoServe. We worked in 30 different countries, figuring out how to link farmers and entrepreneurs to viable markets and sources of capital.
"Now, I run a foundation in Chicago. Our mission is shifting markets and minds, harnessing the power of markets and entrepreneurship, and access to capital and resources to change the world. That started for me in Paraguay."
McNamer noted that technical expertise and access to capital must be connected to people on the ground. Having been both a grantee and grantor, he appreciates the need for local input via grassroots partners, as even the most sophisticated foundations have limited staff. He called for more robust intermediaries to help identify promising partners and opportunities for renewing grants and pointed out that clear operational support to programming partners can result in more resources being available to those in need.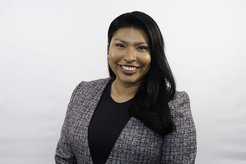 Advancing inclusion in the workplace
Before she joined the Peace Corps, Stephany Guachamin Coyago was an AmeriCorps Volunteer. With the Peace Corps, she served from 2015 to 2017 in Peru. She organized and taught youth empowerment sessions with an emphasis on the importance of higher education. Currently she serves as the leadership advancement program manager at Hispanic Association on Corporate Responsibility (HARC).
"Peace Corps taught me how to be a competent, emotionally intelligent professional. I took a people-to-people approach in my community. I was speaking to anyone and everyone. I talked to moms, the youth, and local government officials," she said. "This allowed me to understand their needs. It's helped me in my career as I continue to talk to people and continue to be connected with my community, helping them grow professionally in corporate America. Peace Corps Volunteers really home in on the soft skills, to be well-rounded, consummate workplace professionals."
Coyago explained that HARC is embracing challenges and opportunities to increase numbers of Latinx professionals in corporate America. In her role, she creates professional-development materials that fit the needs of companies and communities. She has seen an increase in program participants as companies continue to invest in the Latinx community. Her organization also publishes an annual corporate inclusion index, which highlights companies that have demonstrated their commitment to Hispanic inclusion in American business.
Returned Volunteers' continued impact
The panel discussion exhibited how Peace Corps Volunteers return from service with a whole new set of skills, both soft and technical, that they use to impact communities at home. The panelists' career trajectories demonstrate how returned Volunteers reinvest their appreciation for diversity, global outlooks, and technical and leadership skills into American organizations.
Over 240,000 Peace Corps Volunteers have served since the agency was founded more than 60 years ago. The contributions that they have made to U.S. public, private, and nonprofit sectors, including the fields of philanthropy and corporate social responsibility, is a valuable legacy of Peace Corps service.