Empowering youth in Guinea with Peace Corps Response
When I was young, and still living in Burkina Faso, I was impressed by projects Peace Corps Volunteers had organized in the villages, and I never forgot.
I was born in Burkina Faso, a French-speaking country in West Africa. When I was a teen, I had the opportunity to leave for the United States. When I arrived, I took intensive English classes for six months and then registered at Howard University, an HBCU (historically black colleges and universities) in Washington, D.C., where I graduated with a bachelor's degree in business.
I started working in New York City after graduating. While my job was in the financial services industry, my passion for helping communities guided me to international development.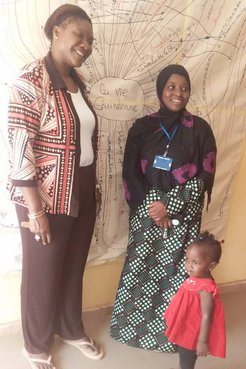 When I was young, and still living in Burkina Faso, I was impressed by the projects Peace Corps Volunteers had organized in the villages, and I never forgot. Even as I worked my way up in my career, I had the idea of someday giving back like those Peace Corps Volunteers. Eventually, I became a vice president of global commercial real estate at Lehman Brothers. I knew that at this point, I had both the education and certifications that would allow me to follow that dream, and I knew that Peace Corps was the right organization to help me fulfill that desire. The mission and goals of Peace Corps spoke to what I wanted to do and how I wanted to contribute.
I applied to a Peace Corps Response assignment in Guinea where youth were experiencing similar challenges to the ones I had experienced when I was younger. My partner organization, Dare to Innovate (DTI), was the perfect fit. Through DTI, I worked closely with young men and women. In a class of 40 young entrepreneurs, only two were women: Aicha and Sitan. I developed a bond with them and they looked up to me. I think that, by seeing my example, they felt empowered and confident that they could also be successful in their projects.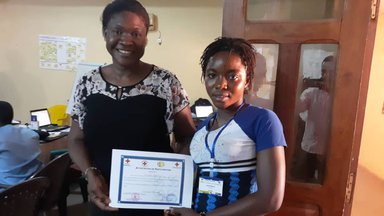 I was involved in several trainings that spanned from basic business classes to teaching students how to use social media to promote their activities. Each dawn, another Volunteer and I offered yoga and meditation sessions. The group enjoyed the sessions and every day they were motivated to learn new things. In the evenings, the other business coaches and Peace Corps Volunteers and I offered coaching sessions. We would sit under the trees, where it was cool, and share insights, best practices, and discuss challenges. The students appreciated how open, approachable, and available we were.
I developed tight bonds with other people in my community, too. My friend and neighbor, Aissata, and several other people were surprised I was a Peace Corps Response Volunteer. I did not fit their typical idea of a Volunteer. Aissata and I even shared the same last name, Diallo, a common last name in Guinea. Sadly, I did not share her native language, Fulfulde, which is spoken by over 90 percent of Diallos.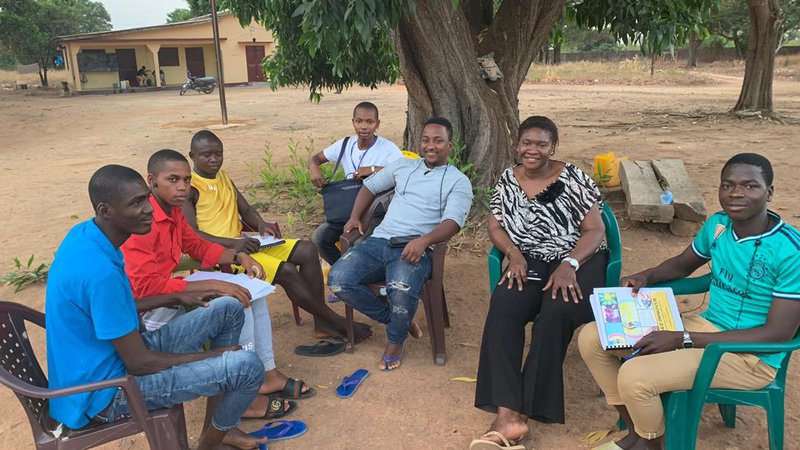 In March 2020, all Volunteers were evacuated due to the COVID-19 pandemic. All of my community members were sad to hear that it was time for me to say goodbye. I was sad, too. And the short notice meant our goodbyes were hurried. Thanks to technology, I have stayed in touch with my community members and with Aicha and Sitan. Although a lot of time has passed since we said our goodbyes, I am looking forward to being able to return to service.