Coloring outside the lines
The first few days in-site, my host brother, who is a timid 7-year-old boy, would peek into my room to see what I was up to. 
He never said much but he observed intently as I sat at my desk reading or doodling in my journal. I would encourage him to have a conversation but it was always unsuccessful. A few weeks passed and he still remained silent. I asked myself, "Does he not like me? Why won't he talk me?"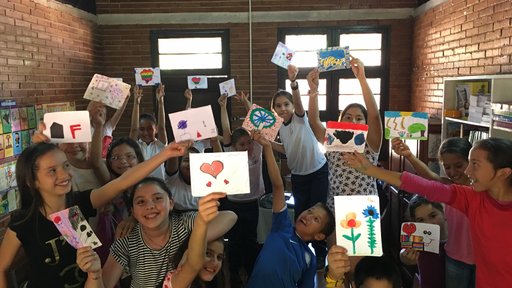 On one particular day my host family invited me along to go grocery shopping in the neighboring city. As we pulled up to the parking lot, I noticed there was a librería (bookstore) directly across from the supermarket. I had been needing new markers so I asked if we could quickly stop so I could purchase a set. 

To my surprise, my host brother's face lit up and he raced after me towards the store. I picked a pack of shiny, thin markers and as I walked over to the register my timid little brother was now talking a mile a minute about all the drawings he wanted to do as soon as we got home.
Fast track a couple of months, I finally started to feel more settled and was regularly working with kids grades 1-6 at the school. I had planned a self-esteem charla (workshop) incorporating the "Bandera Personal" exercise, which requires participants to design their own personal flag. As I explained the activity I could see that some children were more excited than usual, chanting and raving about how much they enjoyed drawing, while others claimed they had no idea how. 
At the end of the exercise, both the kids who loved to draw and the ones who weren't confident about their skills all rushed towards me with their finished flags, eager to show what they had done. It was at this moment that I started connecting the dots.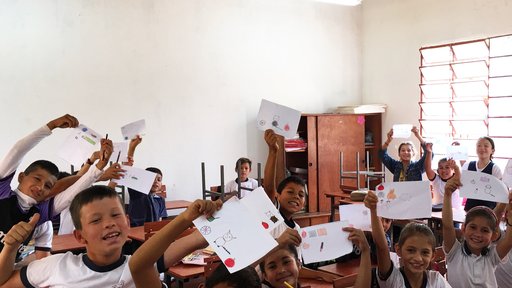 Art has the power to transcend cultural barriers and to empower those who feel they don't have a voice. All it takes to ignite the fire is providing the right tools. 
In the United States, it has been proven that children involved in the arts are four times more likely to thrive academically, yet in Paraguay, there are little to no options in the public school system for students who want to strengthen their creative muscles. The Paraguayan school curriculum doesn't provide art courses outside of manualidades (traditional crafts), which in turn doesn't allow children to fully develop the creative skills instrumental for critical thinking. 
I quickly realized that this was an opportunity to practice the Peace Corps' first goal in helping people of interested countries meet their need for trained men and women. With this in mind, I developed a formal Art Club proposal and flyer, detailing the benefits as well as the logistics involved, and submitted it to the school principal. 

As of today, over 25 children are enrolled in the Art Club with complete support from parents and community leaders. The club primarily focuses on traditional art practices (drawing, painting, screen printing) as well as art history and theory. Its goal is to spark a passion for the arts outside of school and inspire Paraguayan youth to think creatively through individual and community driven projects.