Standing next to a pan filled with hot oil in that tiny kitchen was where I realized that cooking could be a catalyst for creating relationships.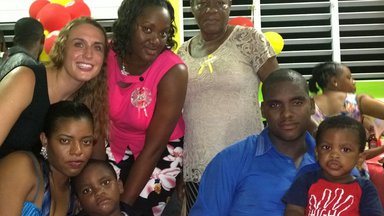 "First question is, how many rivers are in Dominica?" I asked this to start the game of trivia. I wanted to see how much my friends and family knew about the country I was living in. One person got it right, 365 rivers. I handed the winner a handmade, coconut soap as a prize.
During our monthlong trip back to the United States during my Peace Corps service, my boyfriend, Karim, and I hosted a Dominica Christmas party. We took days carefully preparing the food, drinks, and music to create an authentic atmosphere that would showcase the island I had called home for the past two years. It was fun to turn up the volume of "Ruff and Ready Christmas Mix" and cook to the fast, lively beats of Bouyon/Soca Christmas music. While I prepped ingredients, my mind wandered back to the northern part of Dominica where I was living. I remembered singing under the stars and moon for "sewenal" in the villages of Bense, Anse De Mai, and Anse Soldat for the annual festivities the year before. There, people brought out steel drums and horns and a crowd of people of all ages gathered in the streets singing Christmas carols like "How Did Santa Get There?" as we walked from house to house. You could hear the beats of drums echoing around the village, creating a heartbeat for the singing voices. The unwritten rule was that, when you heard the music get closer, you set up snacks and drinks to share. The vibrations of the drums and the energy of the singers kept going until the sun began breaking through the night sky.
Now, here at my parent's house in Pennsylvania, my friend Ali burst through the kitchen door, exclaiming, "Hello! Something smells amazing!" Karim was blending the green vinaigrette and asked me to taste the goat water to see if it had enough salt. One taste of the tender goat and dumplings in their rich broth reminded me of the summertime Anse De Mai Annual Village Feast. There, bouyon and cadence-lypso music would fill the air—tinged with salty Atlantic Ocean breezes—and friendly voices would greet each other, "Sakafet?" (How's it going?). Vendors wound through the packed the streets to sell varieties of "waters," which were actually hot broths flavored with fish, goat, or octopus. I remembered watching the school dance group get ready to perform their soukous routine. Weeks prior, they had won the gold medal at the arts and culture festival. Their faces, painted in white and yellow patterns, displayed their confidence and excitement.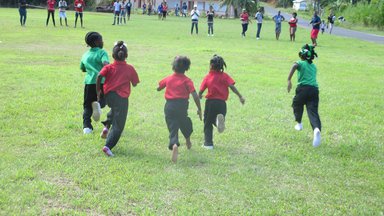 My memory was interrupted with a familiar voice. "What is that?" another friend, Tiffany, had also just arrived at my parent's house. She was pointing to a bake, a golden fried dough shaped into a disk and filled with melted cheese. Bakes were my go-to snack, and a lot harder to make than they seemed. As I explained to Tiffany what a bake was, my mind wound back to a day during my first couple of months working at the primary school at my site. It was Sports Day, and some staff and I were making food at the restaurant next to the football field. In a tiny kitchen, our school chef, Anita, was teaching me how to make a bake. A perfect bake has a golden brown outer layer and a soft, fluffy inside. After a couple times, I got into a pattern of rolling the dough, patting it into a disc, and frying it for three minutes on each side. That was the moment I started to feel integrated into my school and community. In that kitchen I began building relationships and feeling the trust and a warmness I had been yearning for. Standing next to a pan filled with hot oil in that tiny kitchen was where I realized that cooking could be a catalyst for creating relationships.
That's the notion I wanted to bring back to Pennsylvania; the reason I want to host a true Dominican party. Now, looking around, I saw that everyone was enjoying the spread of food, the traditional beef stew, barbecue chicken, potato salad, lime punch, and peanut punch. Since going to Dominica, I'd grown unaccustomed to December in Pennsylvania, and while watching my American friends and family eat, I realized I was shivering. I went to pour myself a cup of cocoa tea. The ginger, anise, and cinnamon made me smile. The smell instantly brought a picture of my host mother, Lucina, to my mind. I pictured her smiling and laughing as I practiced my joke in Kweyol for the school staff talent show. I pictured her serious, attentive face as she gave me advice when I was unsure I'd be able to successfully finish the literacy room at the school. I was lucky to have a host mother who grounded me, encouraged me, and radiated wisdom, love, and spirit.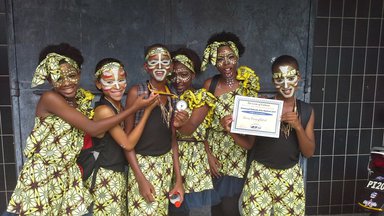 "How many active volcanoes does Dominica sit on?" It was the last question in the trivia game. The right answer was nine, and when someone called it out, I handed them a prize. I was sharing out the leftover natural soaps and cava bowls when I heard the sound of a spoon on a glass. My dad was hushing everyone around the room and trying to get their attention. I turned around to see what was happening, and noticed Karim next to me. He was bending down on one knee. Of course, I said "yes."
Even beyond the joy of the engagement, I was grateful to be able to share the Dominica Christmas party with my friends and family. Bridging the culture I'd grown up in with the one I'd come to love through Peace Corps service was the very embodiment of Peace Corps' Third Goal—bringing the world back home. Before I left for Dominica, I had no idea how Peace Corps service would change me, or how really living in a new culture and country could teach me. Dominica became a second home, and taught me about living a more meaningful life. The food, the music … they are things I still value.
And the party? Well, it was a huge success. My friends and family still ask us when we are going to have another one.
---