Becoming Maria and Elena in Paraguay
Growing up in New Mexico, I knew that Maria was a common name. But it wasn't until I moved to Paraguay to begin my life as a Agricultural Volunteer that I realized how common it was.
In Paraguay, I heard "Maria" everywhere — at the supermarket, in the street. Some families would name all of their daughters Maria — Maria Josephina, Maria Cristina — and then call them by their middle names. I wondered if this is what I would have to do, too. After all, changing names is not all that uncommon for Peace Corps Volunteers. Especially those who have names that are difficult for host country nationals to pronounce, like my friend Kyle, who went by Carlos. My full name is Maria Alaina Goodfellow. If I chose to go by my middle name, it would be spelled "Elena" in Spanish.
When I met my host mother, Na Nilda, she told me about the nine host siblings I would soon be living with. I was not surprised to learn that the youngest daughter's name was — you guessed it — Maria. That made my decision easy. I pulled off the nametag I was wearing, turned it around, and wrote "Elena" on the blank backside.
At the time, it didn't occur to me that there would be an internal shift when I changed my name.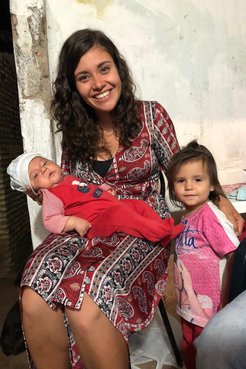 I was the first volunteer my rural site had ever had, so I knew it was especially important to have a flawless reputation in order for people to want to work with me.
Maria, the American me, wrapped in my American name, is not religious. Elena, the Peace Corps Volunteer, went to as many as five rosaries every day with her host mother. She went to church on Sundays and held babies that Maria, the American me, would be nervous about holding. Peace Corps Elena dressed very modestly, while Maria has been known to wear short dresses on nights out and tank tops. Elena was always home before dark and in bed by 9:30, even though Maria might stay out late.
I noticed the change in myself, the distance I'd come from thinking of myself as Maria, when my site manager came for a visit and brought some of my luggage from the main office. She said, "Maria, your bags are in the trunk."
"Weird." I thought, assuming the bags were for my host sister. "Why do they have bags for Maria?"
A good Paraguayan friend of mine, who I met in the capitol and spoke mostly English with, noticed the difference between my two identities. When he visited my site, I was Elena, and he pointed out that my voice was an octave higher. He challenged me to speak Spanish in my normal voice and I couldn't. Over time, Maria and Elena became their own people, two different sides of me, each with their own language and unique voice. One existed only in my rural community, the other was at home with fellow Peace Corps Volunteers and in the big cities.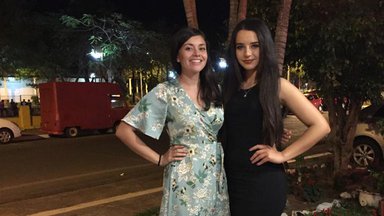 I am grateful for both parts of my identity that my Peace Corps service uncovered. Elena helped me integrate into the community. Her above-reproach attitude earned her respect, which led to more work opportunities. As I became more comfortable and formed friendships with local women, I was able to share more parts of my Maria Alaina self — my regular American self. I met my friend Noelia one year into my service. I'll always remember our evening walks through the eucalyptus plantation between our two homes. At first, we treaded lightly in our conversations – nothing too far outside subjects acceptable in the religious community in which we lived. But one evening, she let it slip that she had gone on a date. She was obviously nervous. She thought Elena wouldn't approve. I was thrilled to hear all about it, though, and told her I had even been on one myself.
When my service ended after two years, I embarked on a solo trip through South America. I spoke Spanish everywhere. I challenged myself to not change octaves. It felt like sewing together two different parts of myself — both of them me.
Now, back home in the U.S., I can say I have successfully molded these two aspects of myself. My Spanish has a uniform tone. My pre-Peace Corps Maria self, she of short skirts and late-night parties, is quieter now. I go out for glasses of wine with friends, but I also enjoy a night in. I'll confidently hold a baby now in the way that I learned to do when I was Elena, and I have eight chickens in my yard that I care for like Elena the Agriculture Volunteer would. I didn't know I'd come back so changed or that using a new name would create a new me. I didn't know I'd live a new side of myself in order to realize and become who I really am.
I am Maria. I am Elena. I am Maria Alaina.