Baking gives rise to new connections in Panama
Peace Corps Volunteers embark on a journey that involves living in a new country, learning a new language, and working alongside others in a new community. These experiences create fertile ground to connect with others and build relationships. During my time as an Education Volunteer in Panama, I found that my love of baking gave me a unique way of connecting with others.
The town I lived in was large and centrally located in the region and had a population of around 5,000-10,000 people. I met many people during my first few months in my new community, including teachers, students, and school counselors. However, the people who became my closest friends were a family that included a 7-year-old boy named Siul, his mom, Irasella, and his grandmother, Señora Luz.
One day as I walked home from the high school, Señora Luz was outside on her front porch. She called out, "¡Niña, ven!", inviting me to come close to her gate. She asked if I could tutor her grandson, Siul, and, if so, how much I would charge. I explained to her that I was a Peace Corps Volunteer and wouldn't charge any money to help her grandson.
Initially, I went to Señora Luz's house only to tutor Siul. I would help him with his English homework, and we would have a lot of conversations in English. He would also show me the popular songs and music videos on YouTube and the dance moves that went along with them. Eventually, I became a friend and "adopted" granddaughter, sister, and cousin, and spent a lot of my time with this family.
Tutoring was not the only way I made friends during service. I also discovered that my hobby of baking was a great way to meet people.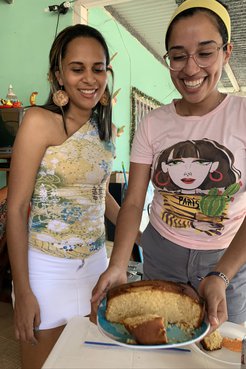 In Panama, sharing a cup of coffee or tea while chatting about life is a common way of connecting. Typically, if you visit someone at their home, they give you fresh fruit or a meal to eat. Baked goods weren't prepared or served routinely. They were usually made or purchased only for special occasions, such as birthdays.
When I spent time with Señora Luz and Siul at their home, they served food or a glass of chicha, a fruit-flavored drink common in Panama. As their guest, I often brought baked goods, such as cake and cookies. Siul and his grandmother would receive such treats with an excited, "Ooh!"
Baking was a fun activity for me in Panama because I often baked treats at home. In Texas, where I'm from, people love to eat and exchange baked goods, so I thought that my Panamanian community might also enjoy my bakes or "dulces."
Nine months into my service we celebrated Irasella's birthday. I made a lemon cake, using fresh lemons with beautiful orange flesh from the nearby market. I avoided putting icing on the cake because I knew the family didn't like a lot of sugar.
A month later, I baked a plate of chocolate chip cookies to bring to Siul's eighth birthday party. His family had a birthday cake for him, but there wasn't enough for all the guests who had come to celebrate. Irasella was relieved to be able to add a cookie alongside a smaller slice of cake on people's plates. She expressed her gratitude to me, and I felt like an integral part of my adopted family and community by helping out with a special birthday celebration.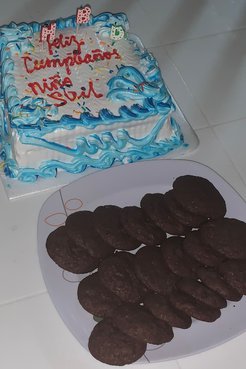 My last bake was on March 14, 2020. I baked an orange chocolate cake. I wanted to experiment with a fresh block of unprocessed cocoa that another Volunteer had brought me from the province of Bocas del Toro, 10 hours away. At that time, I didn't know that the world was starting to reel from the COVID-19 pandemic. As businesses closed and people scrambled for toilet paper, the Peace Corps was evacuating approximately 7,000 Volunteers from over 60 countries around the world. I received my evacuation notice that evening.
The next day, I brought the cake to my adoptive Panamanian family's house and sat down with them to hang out one last time. Later that day, I would have to leave our community and consolidate in the capital city. I remember sitting with them in shock after receiving the news of the evacuation because I had only been in service for a year and still had another full year of work to do. While it wasn't a forever goodbye, it was a very ambiguous "see you later."
Now, almost three years later, I still enjoy my American tradition of bringing baked goods to a neighbor or a friend's party. Whether here in the United States or in Panama, I bake cakes and cookies to show my friends how much I appreciate them. For me, baking means taking the time to create something special for someone else to enjoy and to share part of my culture. It's my way of thanking friends for opening their homes and hearts to me.
I still talk with Siul on the phone via WhatsApp. His English has improved. I constantly send voice messages to Señora Luz, updating her about my life while she updates me about hers. We always talk about what dulces and food we are going to make together when I come to visit them this year.
Recipe: Chocolate Orange Cake
Ingredients
2 cups all-purpose flour
2 cups sugar
3/4 cup cocoa powder shaved from a cocoa block (or good quality unsweetened cocoa powder)
2 tsp baking soda
1 tsp salt
2 large eggs
1 cup milk
1 cup vegetable oil
1 tsp vanilla extract
1 cup fresh orange juice
Instructions
Grease and lightly dust with flour two loaf pans and set aside. Preheat oven to 300°F.
Combine and whisk the flour, sugar, cocoa powder, baking soda and salt in a large bowl.
Combine and mix wet ingredients: eggs, milk, vegetable oil, and vanilla extract.
Mix the wet ingredients into the dry ingredients until well combined.
Add the orange juice and mix until well combined.
Divide batter evenly among the two loaf pans.
Bake for 35-40 minutes, or until a toothpick comes out with only a few crumbs.
Remove cakes from oven and allow to cool for about 5 minutes. Transfer to cooling rack to cool completely before releasing from loaf pans.
Optional: slice and decorate with fresh orange slices.
---