As a Native American Peace Corps Volunteer, I walked in five worlds
Growing up, I learned that as a Native person I had to walk in two worlds — one world where I learned the importance of Native traditions, culture, values, and the other world where I lived a mainstream American lifestyle.
As a Peace Corps Volunteer, I had to learn how to walk in five worlds at the same time, every single day. I had to learn how to balance my identity as a Volunteer, an American, and a foreigner, all while holding true to who I was as an Indigenous person and a woman. I always felt I was walking a fine line, and at any moment could lose my sense of who I was if I got off balance.
I am an enrolled member of the Navajo Nation, born for the Blackfeet and Shoshone-Bannock people. I have always had a passion for helping others and traveling. The Peace Corps seemed like a great opportunity to merge my two interests.
The process of applying for Peace Corps service was nerve-wracking. At the time, I didn't have health insurance and relied on Indian Health Services (IHS) for my medical and dental care. Anyone who has dealt with IHS knows that it's not the fastest, efficient or most reliable system, so it was quite a challenge to schedule all the necessary appointments within the time frame allotted. I stressed and worried about getting everything done in time.
When I finally secured an appointment at my local IHS office, I went into the exam room and showed my paperwork to the doctor. Upon learning I was headed to the Peace Corps, she smiled and told me that she had also served. She said that she'd personally see to it that my paperwork was submitted on time. That's when I knew I was on the right path.
My family was incredibly supportive of my decision to serve abroad. We were all a little nervous about how long I would be gone, but my family was very excited and encouraging.
I was accepted to serve as an education Volunteer in Tonga starting in 2017.
I was the first Volunteer to serve at my site, a rural village on the main island of Tongatapu. Within the first few weeks, my school and community hosted a feast to welcome me. It was an afternoon filled with speeches, dancing, and food. I remember leaving so full and happy. I could never have imagined such a wonderful start to my service.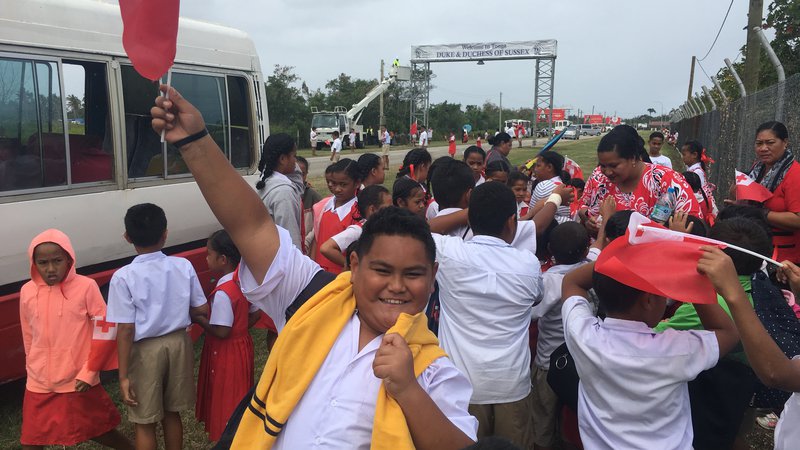 I arrived at the beginning of summer vacation, so for the first few months there was no school and almost everyone in the village was traveling or visiting family. I felt incredibly isolated during that time. Once summer ended and school resumed, I had more opportunities to engage with the community. I began working at the school and also started to attend church. Every Sunday, I went to services with a different family and afterwards ate lunch at their home, followed by an English lesson. This allowed me to get to know each student and their family a bit better and helped me feel part of the community.
During my two years in Tonga, I was an English language facilitator for children between the ages of 7 and 12 years old at a school that served three villages. I co-taught with my fellow teachers and created new student-learning resources.
In the evening, I taught English-conversation classes for high school students. We worked on homework together or played a game where the kids listened to pop songs and learned all the lyrics. They loved this game so much that they brought the lyrics from popular hip hop songs to school to share with their friends. It was always fun to blast music and sing along with the kids.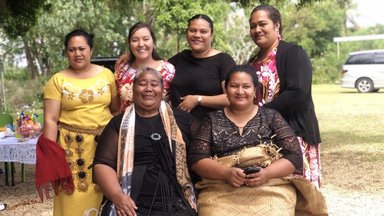 One of the most challenging aspects of service was simply learning to navigate life abroad. Many people find Peace Corps to be one of the most challenging experiences of their life and, as an Indigenous person serving in an Indigenous community, my experience was much more complex.
There were many times during my two years when I felt lost and confused or homesick. Remembering my cultural traditions and the knowledge my ancestors had passed down from generation to generation brought me strength and comfort.
A highlight was being able to share my cultural heritage with my community during service. During Native American Heritage Month in my second year, I gave a presentation about my background to my students. I included photos of my family and Tongan translations. My co-teacher also helped translate my story for them. It was so much fun! At the end of the presentation, I taught my students how to say "Hello, good morning!" in Navajo, and for the rest of the week they ran around yelling, "Hello, good morning!" in my native language. It's one of my favorite memories.
Now, at three years after service, I can now see how amazing it was to have come out of my service experience being even more proud of who I am as a Navajo, Blackfeet, and Shoshone-Bannock woman.
Through the Peace Corps I was able to learn the importance of empowering others to improve their own teaching and utilize resources independently, with or without the help of a Volunteer. Teaching English was always a collaborative effort between myself and other teachers at the school. Since then, I've heard from some of the teachers I worked with who still use materials or techniques they learned while I was there.
My service led me to focus on capacity building within my area of professional expertise, which is Indigenous human rights. I'm currently a social justice research fellow at First Peoples Worldwide, a nonprofit based at the University of Colorado-Boulder. The North Star of my career is and will always be helping Indigenous communities know what their rights are and providing the information they need to advocate for themselves. Every day, I use what I learned in the Peace Corps about navigating intercultural exchanges and empowering independent action.
---