An inside look at the return of Peace Corps Volunteers to Zambia
Gina Althoff is the communications expert in the Office of the Director at the Peace Corps. She traveled with the first group of Volunteers to return to Peace Corps service since the global evacuation. She'll document her experiences and share the stories of Trainees, Volunteers, staff, counterparts, partners, and community members in Zambia in this blog.
Jump to:
The Preparation: Ubupekanyo
"Ubupekanya" (oo-boo-pay-kahn-yo) is the word for "preparation" in Chibemba, one of more than 70 languages spoken in Zambia.
Ask any returned Peace Corps Volunteer and they'll likely all say the same thing — preparing for the Peace Corps is not easy. Pre-departure errands and to-do lists are endless; goodbyes are emotional; and two, 50-pound suitcases are never enough. (Well, they are, but invitees don't know that yet!) No matter, these inconveniences rarely outweigh the motivation to learn and work alongside people of another culture.
Further, the completion of these tasks is critical to be fully present and healthy in the country that will host you. Thanks to COVID-19, the pre-travel task list is a bit longer than it used to be. But, when the first invitees received their invitations to serve following the global evacuation, they willingly completed the familiar medical, packing, and training activities and some new ones.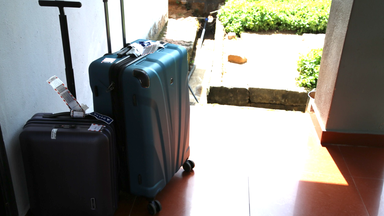 Though these are new requirements for Peace Corps service, they not unique to pandemic life. To safeguard the health and safety of Trainees, staff, and community members who host and work side-by-side with Volunteers, all invitees are required to be vaccinated against COVID-19. Fortunately, many prospective Volunteers checked this off their lists before they even received their invitations.
Next, depending on the transit hubs and final destinations, Trainees may be required to receive a negative polymerase chain reaction (PCR) COVID-19 test before departing for service. They might also be required to carry evidence of this result until they reach their final destination. Finally, Volunteers must dedicate space in their precious cargo for face masks – luckily those are not too heavy – and accept that they will be required to follow masking policies at the airports, on the airplanes, and beyond.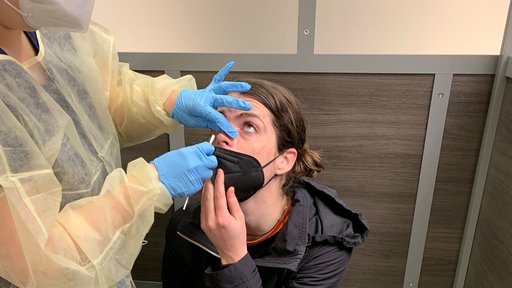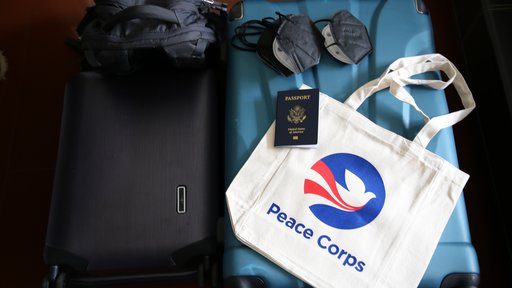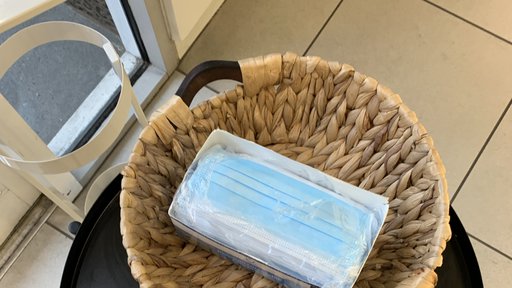 In order to travel to Zambia with the group, I had to meet the same requirements., As the 26th (but who is counting?!) giant, cotton swab was put into my nostrils, I could not help but reflect on how strange this would have seemed to my Peace Corps invitee self back in 2014. But these days, I just lower my mask, tilt my head back, and close my eyes as naturally as I stick a smaller-version cotton swab into my own ear.
With negative COVID-19 test results and passports in hand, masks on face, bags packed, and all the to-do list boxes ticked, the Trainees and I (and all 100-plus pounds of our personal luggage) headed to the airport.
The Journey: Ulendo
"Ulendo" (oo-len-doh) is the word for "journey" in Chinyanja, one of more than 70 languages spoken in Zambia.
A Trainee and I were scheduled to fly out of Reagan National Airport in Arlington, Virginia. To wish us a safe journey, two additional Peace Corps headquarters staff members came to the airport: Acting Africa Regional Director, Kevin Fleming, who, two years prior, welcomed evacuated Volunteers at the airport as they arrived Stateside, and Sherene Abraham, the country desk officer for Zambia, who came to meet the Trainee, Christopher, in person after getting to know him through many email exchanges and virtual meetings leading up to his return to service in Zambia.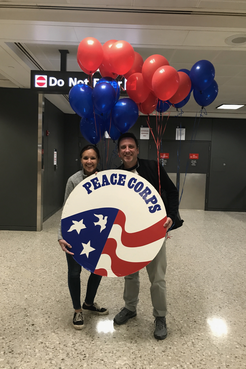 You see, Christopher was an Education Volunteer in Zambia when all Volunteers were evacuated due to the COVID-19 pandemic in March 2020. He completed pre-service training (PST) and was sworn in as a Volunteer in 2019. He lived and worked in his host community for three months when he and other Trainees and Volunteers were abruptly evacuated. Because he was at a training at the time of the evacuation, he never had a chance to say goodbye to his counterpart, students, neighbors, or other host community members before he left. But he boarded his flight out of Lusaka, Zambia, knowing he would someday be back. At the time, he didn't imagine his return would come two years later, but he knew it was inevitable.
When Christopher arrived at the airport, we were tickled to find him wearing a shirt made from chitenge (chee-ten-gay), the traditional cloth commonly worn in Zambia and throughout Africa. But Christopher wasn't the only one looking festive. His mom and dad were also donning the same patterned chitenge on their face masks, and his mom wore a matching skirt while his dad stylized his outfit with chitenge pocket squares. The Mayhews know how to make an appearance!
Kevin greeted the family with the same flag he had used to welcome evacuated Volunteers with in March 2020. In a symbolic handover of that flag to Christopher, the surreal return of Volunteers to service overseas – something staff, evacuated and prospective Volunteers, and host community members have been eagerly anticipating for two years – became reality.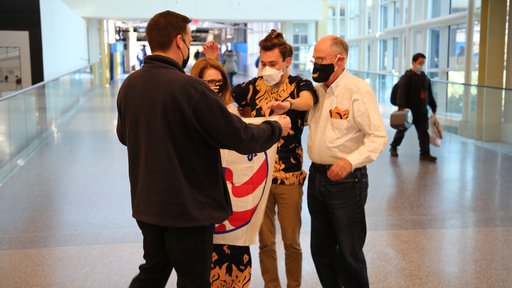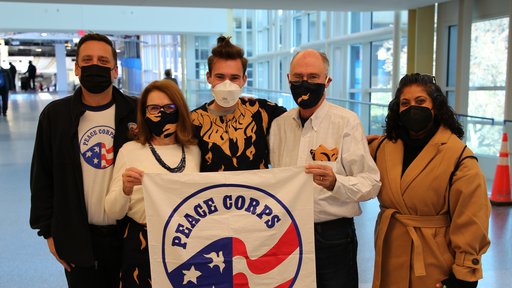 ---
When I complimented Christopher's mother on the coordinating outfits, she hinted that I should ask Christopher for the story. It turns out that the family's attire was much more than a fashion statement. Christopher wore the same shirt at his swearing-in ceremony in 2019. When he was evacuated, he brought back extra meters of the same patterned cloth. He heard of a beloved tailor who used to live in Zambia and who was now living in Christopher's home state. Eager to make a personal connection and have more chitenge clothing made, Christopher made a trip to meet the acclaimed tailor respectfully known as 'Ba Joseph'.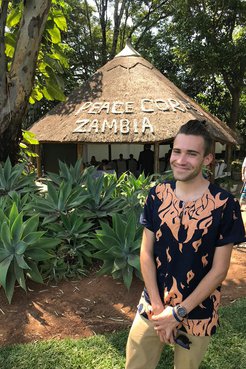 Upon meeting, the duo spoke in Chibemba but quickly realized they could also converse in another language: French. Ba Joseph was a Congolese refugee who had lived in Zambia and had befriended and made many traditional clothing pieces for former Peace Corps Volunteers. Now resettled in the U.S., Joseph asked Christopher about each of these past friends in the hopes of hearing an update on their lives and maybe reconnecting.
"It really touched me that … someone who was living in Zambia, who was effectively Zambian … would have such fond memories of all of these Peace Corps Volunteers," Christopher said. "I thought that was really, really sweet, and it shows that the friends that you make in Peace Corps are not just these sort of transactional, like professional friendships. … They are something more. We really, really do care about the people that we work with."
Christopher and Joseph became fast friends and before Christopher knew it, he had a set of matching outfits and an invitation to Ba Joseph's daughter's wedding, an event Christopher sadly won't be able to attend now that he is headed back to Zambia.
"I'm really thankful I was able to foster that connection in the United States after returning back home," Christopher said. "And I think he was really happy to meet somebody who cared a lot about his culture and who wanted to sit down and just hear what he had to say."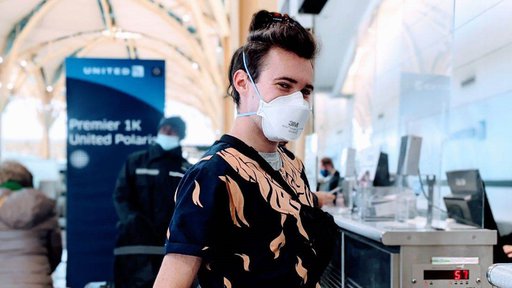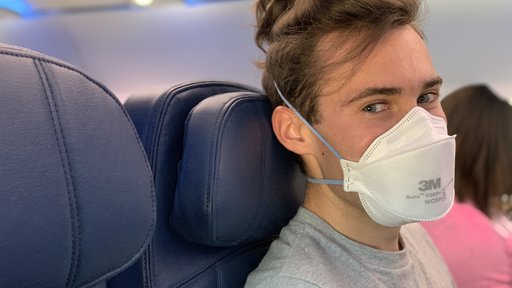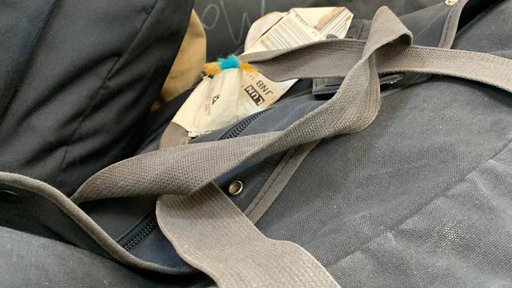 As we checked in for the flight, I noticed that one of Christopher's bags still had an old luggage tag wrapped around it along with a string. The string was from his first staging, and the luggage tag mapped a route from Lusaka to Johannesburg, South Africa. We''d now make the reverse trip and return to the place Christopher used to call home. But first, we had to pick up the other Trainees in Atlanta.
---
Our travel tips (so far):
Memory foam neck pillows are the best.
Mask ear-loop extenders offer much-needed relief to your ears.
Stand as much as possible on the flights.
Wear athletic shoes and expect to dramatically run through an airport at least once.
Only swap seats if you gain leg room.
Wear layers.
Hang on to your luggage tag numbers.
Change into professional clothes at the airport, not on the airplane.
---
The Destination: Kubusena buyigwa
"Kubusena buyigwa" (coo-bwoo-sane-uh bwoo-ee-gwa) means "destination" in Chitonga, the language of the Tonga people of Zambia.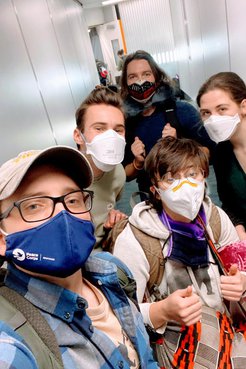 We were in Atlanta in no time, and quickly found two other Trainees, Olivia and Andrew, who arrived before us. Olivia won bragging rights as she had traveled the longest and farthest to get here. She didn't let a canceled flight disrupt her long-awaited return to Zambia. Instead, her dad drove her through the night to another airport in Arizona so she could make it to Georgia for the connection. Before long, Emily joined and Nick arrived just in time for a selfie before boarding the plane.
The first five Peace Corps Trainees departed for service overseas since the global evacuation. Just stepping onto the plane headed for Johannesburg, South Africa, felt like an immense achievement. We let out a collective exhale and settled in for our 15-hour flight. Our intermittent sleep was filled with thoughts of Zambia, our final destination.
---
A country larger than Texas, Zambia is a landlocked, resource-rich nation in the center of Southern Africa. Independent since 1964, Zambia is a peaceful neighbor to the eight countries that borders it. The country was named after the Zambezi River, the river that produces one of the wonders of the world: Victoria Falls, locally known as the 'Mosi-o-tunya,' (Moe-see Oh Tune-ya) or the "smoke that thunders."
Culturally and linguistically diverse, Zambia is home to over 70 ethno-linguistic groups. Yet, the country's motto of "One nation, one Zambia" perfectly captures the unity seen and experienced by all who visit. Zambians are known for their hospitality and openness and for their interesting and diverse traditions.
Since 1994, the Government of Zambia has welcomed the Peace Corps, and nearly 2,500 Volunteers have served in the country. As one of the largest Peace Corps posts, Peace Corps Zambia recruits and supports Volunteers to work in the agriculture, environment, education, health, and HIV/AIDS sectors. Volunteers are also trained in malaria prevention, food security, and, considering the recent impacts of the pandemic, Volunteers will also be trained in COVID-19 mitigation and recovery.
---
Waking up to the aroma of coffee and airplane food, I raised the window shade to find land beneath us once again. (Pro tip: Always get a window seat on long flights; that way you have two headrest options.) We made it across the Atlantic Ocean, and were over Africa!
We landed late and anxiety was high as we stepped foot into O.R. Tambo International Airport in Johannesburg and saw our names listed on a document held by an airport escort. Our next flight was already boarding, and we had to run to make it. If we missed the flight, we would have to wait until tomorrow to reach Zambia.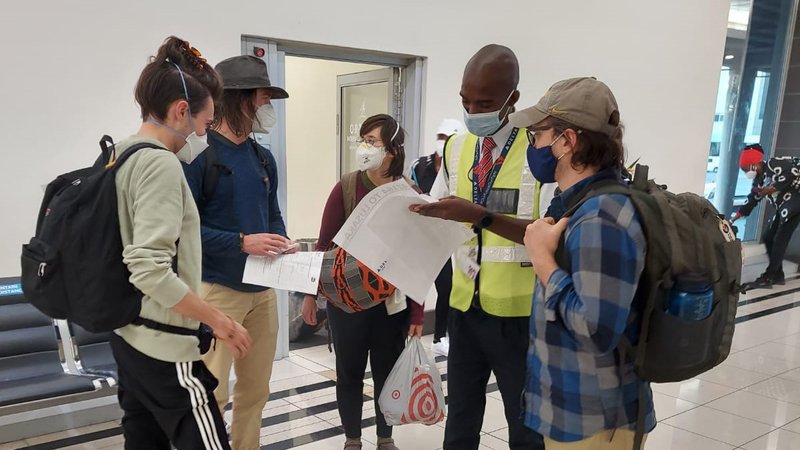 These Trainees had already waited two years; they were not going to chance another day. So, we shook out our leg cramps and dramatically ran through the airport. The movies always make these scenes look much more graceful than they actually are. We were sweaty; steps were clumsy as we balanced heavy bags; it felt like we were on a treadmill not getting any closer to the next departure gate. Thanks to our escort's help getting us through security and helping with our bags, we made it to our flight and had a few moments to cool off on the runway before boarding for the final leg of the journey.
The Arrival: Ukufika
"Ukufika" (oo-coo-fee-kuh) is the word meaning "arrival" in Chibemba, the most widely spoken language in Zambia.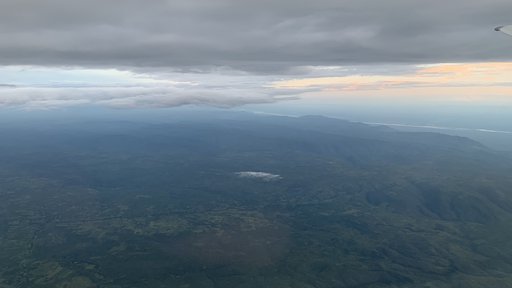 Rainy season is the most beautiful time of the year to fly over and travel within sub-Saharan Africa. Landscape colors pop beneath sultry skies, and people are vibrant and cheerful as if the rain is feeding their souls and not just their crops. I was entranced by the clouds and hues of green beneath me as we crossed over a sliver of Namibia, Botswana, and, at last, entered Zambian airspace. Even with the sun setting and the rainstorm below, it was easy to spot the southern border outlined by the great Zambezi River.
Soon thereafter, more than 24 hours after beginning our journey, our wheels landed gently in Lusaka. At that moment, it really hit the Trainees – they were finally home.
They were so relieved and happy to be back that they were utterly unfazed by the empty luggage carousel where they should have collected their bags. The piece they had been missing for two years was all they needed right now.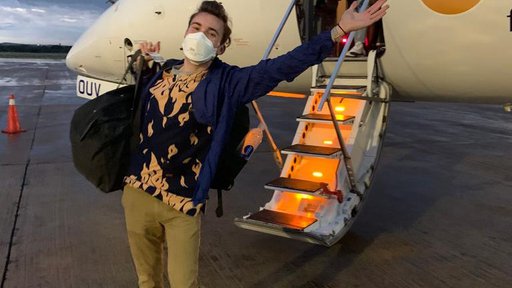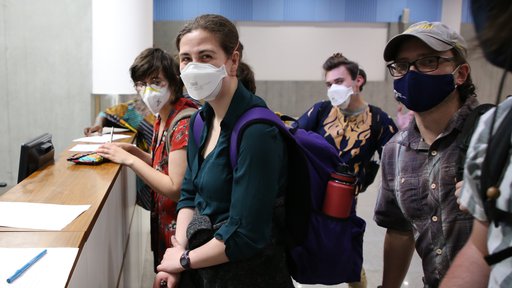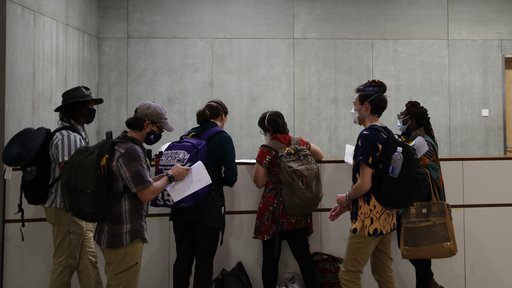 Of our 12 checked bags, zero made the flight. But these were former Volunteers – they are well-versed in things not going according to plan and they had uncanny confidence that everything would work out. They calmly filled out the lost luggage forms as if this was the plan all along. I couldn't help but wonder if a fresh Trainee would have reacted the same way.
We exited the airport feeling light – in more ways than one – and were warmly welcomed by Peace Corps Zambia staff. After a few elbow bumps, some group photos, and a first dose of malaria prophylaxis, we were on our way to sequestration, where we'd be confined to our lodge for a week as a precautionary measure.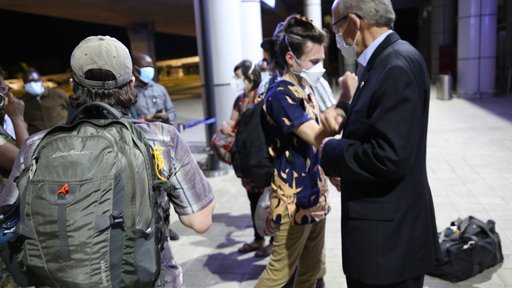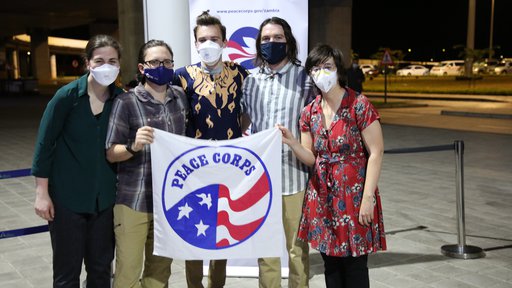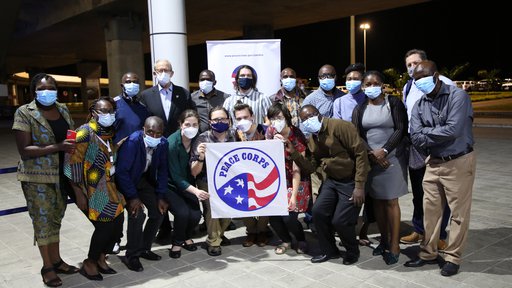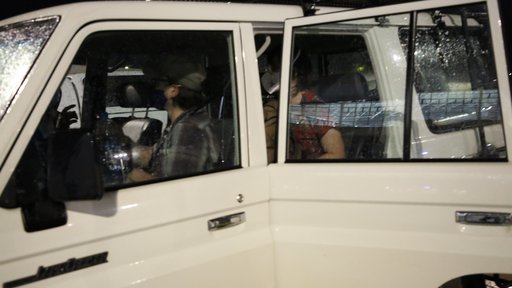 ---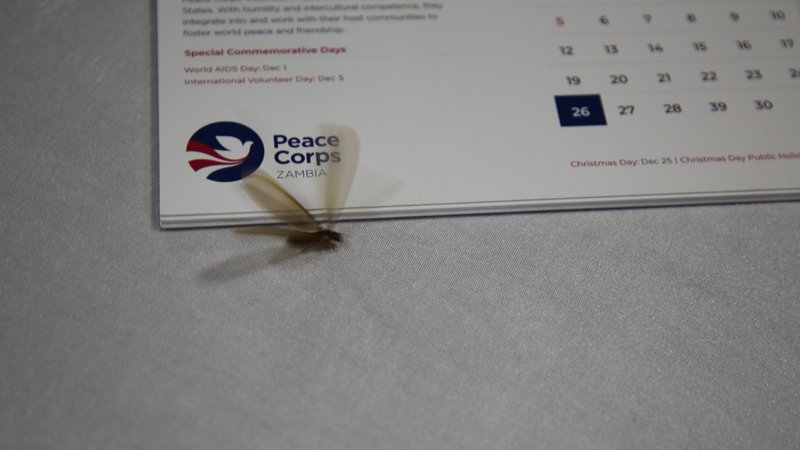 P.S. These little guys came to greet us, too. Flying termites like these are called enswa (en-swa) like this one mark the first rains and are often fried, salted, and eaten. In fact, they are Olivia's favorite Zambian food! According to her, they have a buttery, crispy flavor, but really it is the symbolism behind this food that makes it her favorite. For farmers relying on rain-fed agriculture for their livelihoods, the beginning of rainy season brings great hope and celebration. Here's Olivia's enswa recipe:
Wait for the first rains.
Catch the enswa as they start flying out of the soil; to attract them, use light.
Pick up the enswa and drop them in buckets of water to trap and drown them.
Lay them out to dry so that their wings fall off.
Fry the enswa the next day.
Add salt.
Enjoy with nshima!
---
The Sequestration: Kupatulidwa
"Kupatulidwa" (coo-paw-too-leed-wah) means "to be set apart" in Chinyanja, the language most spoken in Zambia's capital city, Lusaka.
Social distancing, isolation, hand hygiene, quarantine, aerosolization, face masks. We knew these words in theory, but only in the last couple of years have they become part of our daily routines and language. The meanings of the words have evolved — the English language swelled with the pandemic, and so have languages spoken around the world.
For example, while not a direct translation, in Chinyanja the word sequestration is kupatulidwa (coo-paw-too-leed-wah) or "to be set apart." This verb has been repurposed to mean a period of being separated from others for the purposes of COVID-19 mitigation. For the first seven days of our stay in Zambia, this word described our life — we were set apart from Zambians and most staff as a health precaution.
On the first day of sequestration, we took rapid tests to make sure no one was sick following the flights. We all tested negative, but still weren't allowed out of the lodge's compound. We didn't mind – we had the place to ourselves, and the week was a good way to connect with one another and recoup from the travel.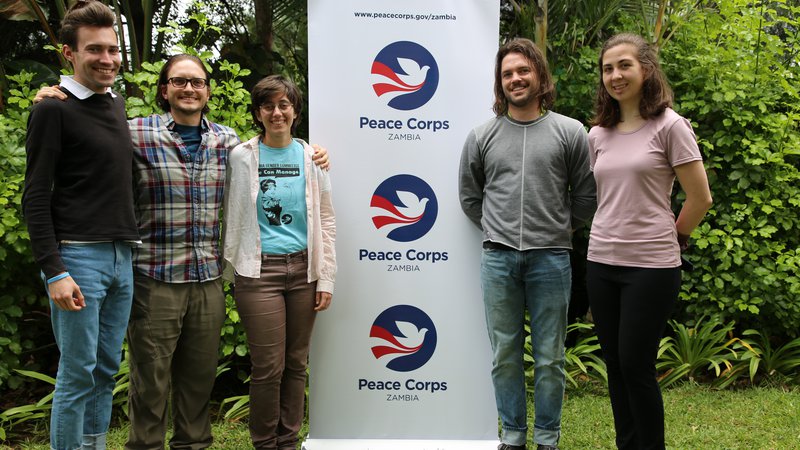 This group was unique in that they had already completed pre-service training (PST) and spent substantial time as Peace Corps Volunteers in a Zambian host community before the pandemic. For that reason, they were sworn-in and reinstated as Volunteers on Day One. Country Director Brad Favor explained the health precautions of sequestration and masking in a way Peace Corps Volunteers could easily understand. He said something to the effect of:
"We can live with these COVID-19 protocols just as we have lived without running water and electricity. These things are inconsequential and are all things that we do willingly to achieve our ultimate goals and out of respect for the Zambian communities that host us."
These five Volunteers – the famous "First Five" to be sworn into Peace Corps service after a two-year global pause – have been given a lot of responsibility. They have been asked to demonstrate the enthusiasm, dedication, and hard work Volunteers have always had for service, but also show that Volunteers can return to service safely and successfully as they contribute to community-driven projects. To orient them to the Zambian COVID-19 context and familiarize them with the systems and policies that changed since they were here last, they will undergo a three-week orientation. We will get to that next week.
The Return to Service: Kuyokela Kumulimo
"Kuyokela kumulimo" (coo-yoh-kay-luh coo-moo-lee-moh) means "to return to service" in Chitonga, a language spoken in Zambia's Southern Province.
The seven-day sequestration period offered a profound opportunity to let reality sink in – that these reinstated Volunteers were back. They had yearned for this return for two years. Due to the small group size and many shared experiences, the group of five Volunteers quickly bonded. Because I was sequestered with them, I had an opportunity to get to know each of them better and hear their stories of service, evacuation, life back in the U.S., and so many other details of their lives.
It was an honor to get to know these bold, passionate, and service-driven Americans, and I want readers to get to know them, too.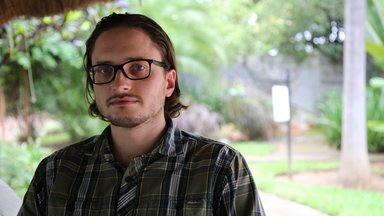 Nick is from Ohio, but has spent the past four years serving in Zambia, Illinois, Oregon, Colorado, and Texas. After nearly two years working side-by-side with Zambian farmers as an Agriculture Volunteer (specifically a Rural Aquaculture Promotion [RAP] Specialist), Nick's commitment to service didn't halt with an abrupt flight home when the pandemic hit. Instead, he got involved in the Peace Corps' second-ever domestic deployment in partnership with the Federal Emergency Management Agency (FEMA). Through that deployment, he used his intercultural skills and supported COVID-19 response efforts in Illinois and Oregon. After that, he joined the AmeriCorps' National Civilian Community Corps (NCCC), where he led a team in home repair for low-income Texas homeowners whose homes were damaged in 2017 during Hurricane Harvey. When given the opportunity to return to Zambia, he took it.
When I asked Nick why he decided to return he said, "The evacuation kind of left, in my mind, a lot of unfinished work. I was near the end of my two years of service, but I was also about to extend in another position that I was very excited about. And I always knew in the back of my mind that if I had the opportunity to go back, I was going to take it. And when I found out last fall that Peace Corps Zambia was reopening, I thought, 'There's nothing that is going to keep me from going back; I want to be a part of this.'"
This time around, Nick will serve as a Peace Corps Volunteer Leader (or a peer resource to Volunteers and a liaison between Volunteers and staff). As a runner, Nick's biggest culture shock back in the U.S. was the way people gave him strange looks when he greeted every person he passed during a run. Greetings are very important and a borderline cultural mandate in Zambia. He is thrilled to be back, and is anxious to (post-sequestration) meet and greet more Zambian friends.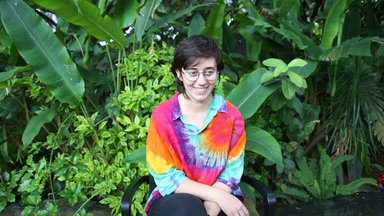 Olivia is from Arizona. Before the pandemic, she served in Zambia as an Environment Volunteer under the Linking Income, Food, and Environment (LIFE) program. She's extremely interested in interdisciplinary studies that involve people and the environment, so the program was her perfect fit. She was able to support her community in activities ranging from beekeeping, to climate-smart agriculture, to girls' empowerment and everything in between. Olivia had much more mapped out for her time in Zambia and was planning to extend her service for a third year when the unwelcome evacuation news arrived.
Back in the U.S., she found ways to apply much of the technical know-how she learned alongside her Zambian host community. After ruling out graduate school, Olivia applied to AmeriCorps' Volunteers in Service to America (VISTA) where she served for a year in her home state with a nonprofit that promoted environmental education and tree planting in schools. This assignment was the perfect complement to her overseas service. In the program, she also gained new skills, which she hoped she would one day have an opportunity to bring back to Zambia. After a year – and without a date to return to Zambia in sight – Olivia went to work as a seasonal seed collector for a restoration effort in Arizona, another environmental field-work assignment.
Olivia was able to find meaningful work in the U.S., and she continued working with people and the environment – her preferred nexus – so I was curious why she decided to return to the Peace Corps. When I asked, she said, "My heart was still wanting to come back to Zambia and in the capacity that I wanted to do it through Peace Corps. Because I was like, 'I wouldn't just like come and visit, I want to be here. I've got a lot of people to see. I've got a lot of things I still want to do.' It was in my heart; I had to come back. There's not one particular reason. It was almost like a feeling that was driving me back."
In Olivia's return to service, she will live in a new community and work directly with a tree nursery. Her projects will be focused on reforestation, environmental education, and linking trees to sustainable and stable income for Zambians. Considering that her first phone calls when she got back to Zambia were to her training host family and to her host community family in the village where she used to live, I have no doubt she will see all the people she came back for and that she will do the things she had hoped to in her first go at Peace Corps service.
The Return to Service: Kuyokela Kumulimo (Part Two)
"Kuyokela kumulimo" (coo-yoh-kay-luh coo-moo-lee-moh) means "to return to service" in Chitonga, a language spoken in Zambia's Southern Province.
The term "Big Five" usually refers to the African continent's most iconic wildlife: lions, leopards, elephants, buffalo, and rhinoceroses. All these animals can be found in Zambia. As nicknames were tested and thrown out to describe the first Volunteers back, one option I couldn't shake was the Big Five. These first Volunteers' humility, down-to-earth natures, and unshakeable focus on the task at hand reminded me of these animals. They're too busy doing what they've always done to understand what all the fuss and attention is about.
Yet, they're kind of a big deal, and I know you want to meet the Big Five, so I'll continue with the introductions.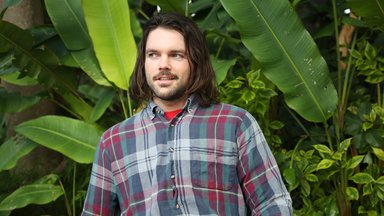 Andrew is from Pennsylvania, but has lived and worked in Arizona, Montana, New Mexico, and Colorado. He was serving in the Southern Province of Zambia as an Agriculture Volunteer at the time of the evacuation. As a "first-generation Volunteer," or the first Volunteer to work with his specific host community, he collaborated with his counterpart and other community members on many projects revolving around agroforestry, reforestation, food security, and HIV/AIDS education and prevention. Andrew admits it was hard to leave and recalls, "The biggest culture shock I had upon return was how much water Americans waste, especially after being in Southern Province, Zambia, where drought is very common. I went from collecting rainwater off my roof to bathe with to being able to shower, to have running water, faucets, toilets, that kind of thing. It really hits home when you see Zambians walking a couple miles just for one bucket of water. It really makes you think about how you're living – I think in a positive way; you want to make a change."
In his time back in the U.S., Andrew first worked with the Conservation Corps and later achieved one of his life goals: working for the U.S. Forest Service. When presented with the invitation to return to Zambia he faced a tough decision, but knew deep down he would return and give up his dream job ... for now.
"I returned because I love Zambia. I loved living in Zambia. I liked my work. My village, I thought, was really welcoming to me and they really made me feel like I was at home there even though I look different," he said. "And then, right before I left, I just kind of promised people that I would be back. And I promised myself that I would do everything I could to return and finish my projects."
Now that he is back, Andrew has big plans.
"Over the last two years or so, I've had a lot of time to think about the work that I had done, the work I was going to do, and I think I have a better mindset now of how to go about doing it, being able to think about what I did wrong the first time maybe, and what I did right."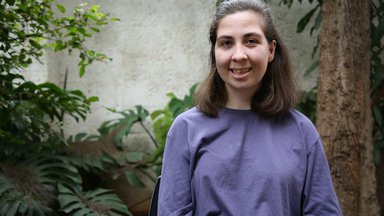 Next up is Emily, a native of Illinois who was serving as an Education Volunteer when she got the news that she would be on a flight home sooner than she expected. She had been teaching English to fifth, sixth, and eighth grade students, managing class sizes as large as 70 students. For context, English serves as the common language in a country where 72 languages are spoken; it is also a requirement to reach higher education as all national testing is done in English. As a Rural Education Development Volunteer, Emily also worked closely with the other teachers at her school to share teaching methodologies and ideas.
She was at her site for three months and already had great friends and work partners within her host community when the news hit. At the time, she was with her cohort in the capital city attending in-service training, the training that Peace Corps provides once a Volunteer has been at site for three months. Due to the training location and the quickly deteriorating global COVID-19 situation, Emily and others in her group like Christopher (below) weren't able to say goodbye to their communities in person.
Emily shared that one moment of consolation back in the U.S. came amid a rainstorm where she listened to the rain just as she had when it pounded down on her tin roof and echoed throughout her small home in the village. With that memory, she yearned for Zambia. Fortunately, Emily's return this year came just in time for the tail end of rainy season. Over the past two years, she kept in touch with a few of the teachers at her school and is thrilled to be able to reconnect with them in person soon.
"There were just so many reasons I wanted to return, but the main one had to be because I really wanted to see and finish my service and be of more use to the community and just continue those connections that I built," she said. "It was very unfinished for me, so coming back, I knew that I had a lot left to do, a lot left to give to my community, a lot left to share, and a lot left to learn, too."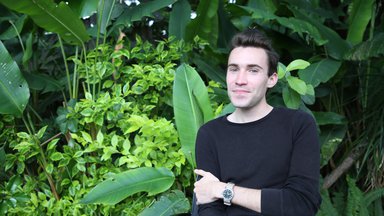 Christopher, who I have introduced you to a bit already, is from Virginia. He was in the same group as Emily, so their evacuation stories are similar. Like her, Christopher unexpectedly found himself back home after six months in Zambia. He quickly got involved in COVID-19 response and recovery by supporting a local health department's contact-tracing efforts. From there, he went on to work with the American Bar Association's Rule of Law Initiative, a development organization that executes legal aid and human rights grants funded by the U.S. Government.
He attributes his work at the Bar Association to his Peace Corps experience and his response to the interview question, "Why do you want this job?" to which he explained how he had seen firsthand the impact law can have on people's lives in his time in Zambia. He used the example of how, back in the community where his group had their pre-service training, he had seen a court built for the specific purpose of investigating and prosecuting gender-based violence. He witnessed the impact that had on raising awareness of the issue and empowering survivors.
After seeing development from the top-down perspective (so to speak), Christopher returned to Zambia with a more holistic understanding of development and feels this will help him as he works to promote world peace, friendship, and education through his bottom-up, grassroots development Volunteer role. For him, deciding to return was hard and easy at the same time. He, like so many of the others, had met their career aspiration – even earlier than planned – and were on a promising career trajectory, yet something was still missing. Christopher describes this scenario as "disorienting" and vividly illustrates what he means by that when he says, "There was just a feeling that it was inevitable, like I just knew that because we left in such a dramatic way… I just knew that some part of me was going to end up coming back, in some capacity, in some way, at some point in my life. And I realized it's because after we got evacuated, I really came to view myself as one – a Peace Corps Volunteer, a returned Peace Corps Volunteer, but really specifically as a returned Peace Corps Volunteer that got evacuated, and you don't get that closure, right? It's like an identity that you carry with you that's raw, and I just wanted to stick it back in the oven for a little bit."
The return to Peace Corps service was non-negotiable for these Volunteers. They all recognize there are friendships to be made, work to be done, and that service is a journey, not a destination. We are so lucky to have the 'Big Five' leading the way as the Peace Corps rebuilds its Volunteer corps and Peace Corps Volunteers – together with counterparts, friends, neighbors, and local leaders – address some of the greatest development challenges of our time… and inspire us through their efforts big and small.
P.S. Now that you know some of the personalities behind these reinstated Volunteers, I'll let you decide who among them is the rhino, lion, leopard, elephant, and buffalo. Feel free to put your vote in the comments!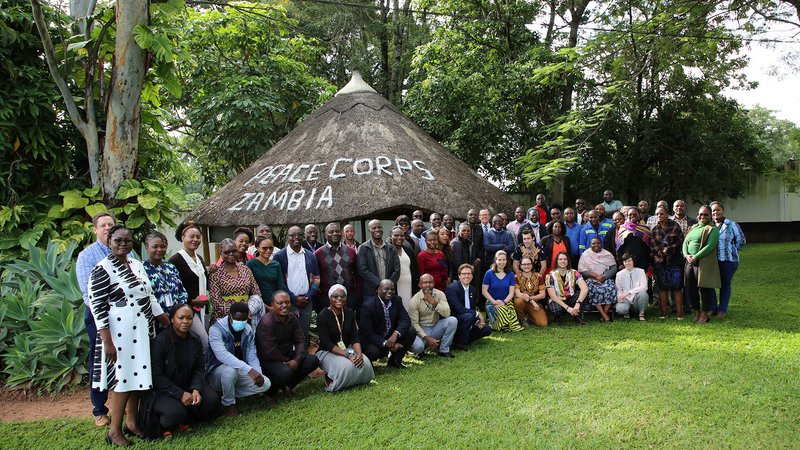 The Training: Maphunziro
"Maphunziro" (mah-poon-zear-oh) is the word for "trainings" in Chinyanga, the majority language spoken in Zambia's Eastern Province.
During the sequestration period, Training Manager, Chris Chiwela, made efficient use of the reinstated Volunteers' time. Every block on the Calendar of Training Events, fondly known by Peace Corps Trainees and Volunteers worldwide as the 'COTE,' was filled with sessions intended to refresh the Volunteers' knowledge on some critical topics—including language—and introduce them to new policies and systems of the Peace Corps.
Chris joined Peace Corps in 2019. By March 2020 he was prepared to lead his first ever Pre-Service. Unfortunately, one of the first messages he had to deliver to his newly arrived Trainees was that they had to return to the U.S. due to a rapidly spreading virus. He remembers, "We had received the Volunteers who were very happy, very excited to say okay, now the training is starting. And for sure it started." After he broke the news of the evacuation, that excitement turned somber. "I could see people crying within their hearts, people having those emotions."
Determined to surpass the past and lead a full training for this group, Chris planned full days bookended by breakfast and supper and broken into four sessions, lunch, and two tea breaks – a cultural exchange I think we can all get behind! In that first week, session topics [AG3] ranged from culture to first aid; from language to COVID-19 information; from safety and security to administrative tasks and banking. There were sessions on malaria; intercultural competence; diversity, equity, and inclusion; transportation policies; and HIV/AIDS. It was a whirlwind of information, learning, and discussions – in English and three local languages.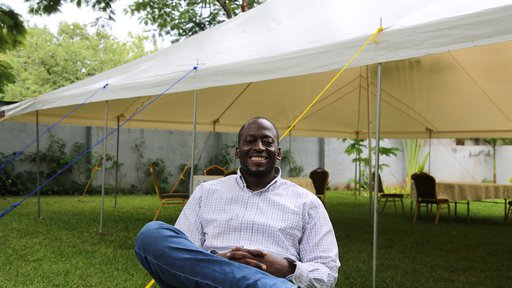 Of the five Volunteers, three were to return to their former host communities. One was to serve as a Peace Corps Volunteer Leader, and the other was to be hosted in a different community. Therefore, for all Volunteers, it was important to polish language skills or begin learning a new language and rebuild vocabulary. Thankfully, all the Volunteers agreed that learning a Banthu language was much easier the second time around!
Language lessons were done in small groups to support different learning styles and to accelerate learning. Led by Language and Cultural Facilitators (LCFs), the Volunteers used songs, mnemonic devices, and notes to practice Chinyanja, Chitonga, and Chibemba until their brains turned off and the words started tumbling out of their mouths again. One of the LCFs for this group was Enala Ngoma who reported that she was impressed with Olivia (one of the Volunteers taking on a new language) when she said, "She is really catching up really quickly. She's excited to learn the language, and she's an upbeat person. And I'm really amazed about how much she is willing to learn language and how she is practicing. She is catching up really quickly."