After 30 years, a Peace Corps Response dream comes true in Belize
"I'm going to join the Peace Corps when I grow up!"
It's 1990. I clutch my big brother's hand tightly. We're at the annual National Agriculture and Trade Show in Belize, standing near one of the booths. I see my country's flag and I beam. Next to it waves another flag with similar colors. "I like the stars on that flag," I say to my brother, Louis.
"That's the flag of the United States of America."
A smiling gentleman hands me a brochure and I start reading. Immediately, I am transported.
We move along the show grounds, and Louis gets on one of the horses brought in from a farm to give people rides. I finish reading the brochure and feel a spark kindled inside me. Bright-eyed, I look up at Louis, who's perched on the horse, and say, "Lou, when I grow up, I'm going to join the Peace Corps!"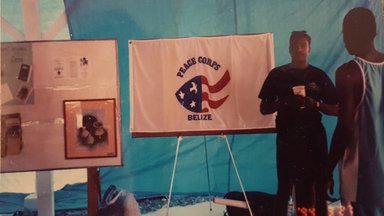 He leans dangerously far off the horse to hear me, cups his ear and yells, "What?"
"I'm going to join the Peace Corps when I grow up!"
Miffed at my ignorance, he rides off, scolding me by saying, "You have to be an American to join, girl." My glow extinguishes.
Yet, from that moment, the message in the brochure and the images of people helping others is etched in my mind. What I really desired and couldn't articulate then, was that I wanted to be part of something that made a difference — something that gave me a path to service. And though I couldn't have put that into words that day at the fair, I can look back at how my life unfolded and I can pinpoint the moments that formed my trajectory of service that started, I think, with that brochure in 1990.
2003. I take up my first job teaching high school English in the southside of Belize City. I worry about those who struggle to read, and what this means for their futures. Soon, the students who struggle most, drop out of school. Helplessness suffocates me. I curse the under-resourced schools, the overcrowded classrooms, the rudimentary teacher training, and a host of other factors that have failed my students.
2009. I'm specializing in literacy instruction teaching at the same school with the hope to equip myself with the skills to help my struggling students. I soon realize that while continued adolescent literacy support is vital, early literacy intervention is a must.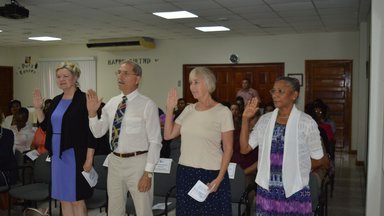 2014. To further my reach, I accept a post as teacher educator at the University of Belize, but my range is limited to what is in front of me. None of the courses I am required to teach focus on how to teach reading skills. I also only have a small group of teachers to work with and learn from. I yearn to be able to work on the big picture.
2017. I join the Ministry of Education as an officer responsible for literacy. I think this is where I can make a significant impact. I spend the first few months pouring over data. It is telling – haunting, even. My country is in trouble. Big trouble. Too many children are reading below their grade levels.
May 2017. Literacy becomes a national priority. Senior management informs us that four Peace Corps Response Volunteers (PCRVs) will partner with the ministry to assist with our national literacy goals. The 1990 brochure flashes vividly in my mind, and I smile. My manager tells me that I will be their counterpart. I am not sure what that means, but I am impatiently anticipating their arrival. I get busy and prepare the small office space, worrying that the Volunteers will be uncomfortable.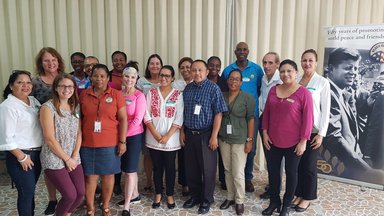 June 2017. When they arrive, I'm amazed at how the Volunteers make the small space work, and how they acclimate to the oppressive heat. I work alongside them, learning as much as I can. Our collaboration lays a solid foundation for the following cohort of incoming Volunteers.
2018. A larger group of Volunteers arrives to expand the project countrywide. Once again, I worry that my country's poverty, under-resourced schools, and overcrowded classrooms will prove too challenging; but they work within these issues without judgement.
2019. The new cohort of PCRVs arrive. The project is refined and makes greater impacts. PCRVs work with their local counterparts to establish intervention groups in all project schools, resulting in improved reading abilities. I grow especially close to this group. Together, we generate ideas, share challenges, find solutions, and learn from each other. The load feels lighter. Together, we eat lots of rice and beans, engage in endless, enlivening conversations, and become friends.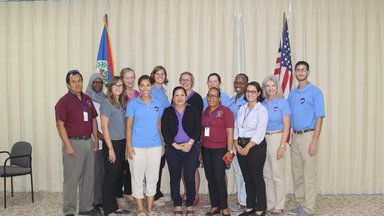 2020. The COVID-19 pandemic unleashes global uncertainty and instability. Volunteers have been evacuated. We see schools and businesses closing, economies collapsing, and jobs disappearing.
Then, almost out of nowhere, an opportunity emerges for me to work with Peace Corps Belize as the response program manager. I call Louis.
"Lou, I'm inspired by this possibility, but the tug of remaining with my colleagues, the teachers I've worked with, is powerful," I said.
"And how do you feel about working with the Volunteers?"
"Oh, I've truly enjoyed it. I admire how selflessly they give their time, skills, and talents to respond to the literacy urgency. Not only has their work yielded significant impact, but they have given the teachers of Belize and me the wonderful gifts of friendship and optimism."
"Nice! See, your network has only expanded. Your mission continues, only on a different path. Hey, you can 'join' the Peace Corps after all," said Louis, who was by my side 30 years earlier, when I was first introduced to the agency.
July 6, 2020. It's my first day as a Peace Corps Response Manager. I walk through the gates of Peace Corps Belize. The flags of Belize the United States, both red, white, and blue, wave in the warm Caribbean breeze. The partnership represented by the two flags makes me beam with pride. The circle that began at that long-ago day at the fair is completed. I am filled with hope.