A returned Volunteer reconnects with his ancestry through Virtual Service
Michael Wanigasekera's Sri Lankan descent may have caused confusion among Cambodians during his Peace Corps service from 2013 to 2015 but, at the time, the Education Volunteer viewed it as an opportunity to teach others about America's diversity.
"Some people in my village had stereotypes and misconceptions about what an American looks like. They kept asking 'when is the American coming?' during my first six months," Michael said before adding, "You take those challenges and turn them into positives."
When he wasn't leading diversity discussions or teaching English to grades 6 to 12 at Hun Sen Chrey Thom Secondary School, Michael was tackling an impressive list of secondary projects, including a school library, a water filtration system, water wells, a school garden, painted maps, and even a basketball court. At the end of his two-year service, Michael was confident he had given it his all, and he was eager to find new opportunities to lend a helping hand.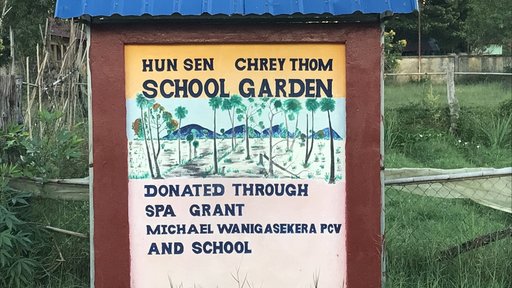 "You're never really finished with your service – it keeps building upon itself. I love working with people on projects. Seeing how happy they get fills my heart."
Michael went on to volunteer with AmeriCorps VISTA, supporting a small Vermont town rattled by layoffs, factory closings, and opioid abuse. Michael obtained financial grants to ensure the before- and after-school programs he developed were sustainable. He eventually returned home to Texas, but has since gone back to Cambodia twice on his own to complete more service projects. Despite these productive trips, Michael was eager to do more.
In 2021, he learned about Peace Corps Virtual Service. A short-term engagement involving a secondary school in Sri Lanka caught his eye. Not only would this opportunity enable him to reconnect with the agency without leaving home, it would also allow Michael to learn a bit about his family's heritage.
"Both my parents are from Sri Lanka. My father's from Kandy and my mother's from Colombo. I was born and raised in the U.S., but there is a part of my history that I still don't fully understand."
Michael began collaborating with his Virtual Service counterpart, Victoriya Alexander, in February 2022. Together, they co-developed and co-facilitated English enrichment activities for students. Each online session began with an icebreaker in which the students learned about American culture and then they shared their own traditions.
"One student mentioned they loved 'idli.' I thought, oh, you love Italian food, but no, in Sri Lanka, idli is like a pancake. That was something I did not know."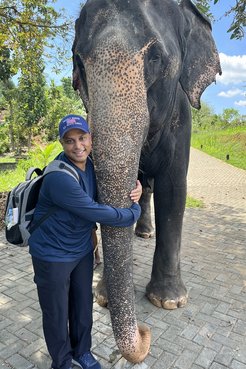 Michael was eager to share his cultural learnings with his parents, who moved to the U.S. when they were young. In doing so, his family explored their roots a bit more, and Michael discovered a great-great uncle was once the honored caretaker of The Temple of the Sacred Tooth Relic in Kandy.
"I'm learning just as much as the students and my counterpart. We're building friendships. It's a great thing," he said.
When it came to developing the virtual English lessons, Michael credits his prior Peace Corps service for teaching him the importance of early planning.
"I lived without running water or electricity. I used two car batteries to charge my phone and fan. There weren't cars in the village, just car batteries. It was incredibly hot in Cambodia, so the battery would die depending on how much you used it, and once you used the battery, it was never at full capacity," he explained.
Michael applies his planning skills to suggest engaging additions to each lesson – think educational YouTube videos, comprehension games, and reading activities.
"Most of the students who participated can now regularly speak some English. I hope that the Peace Corps [will] continue [Virtual Service]," said Michael's counterpart, Viktoriya.
Shamali Jayaratne, Peace Corps Sri Lanka's Education Program Manager went on to add, "Michael caters to the essential skills of students. I am so excited to witness his enthusiasm and effective classroom management each session."
The short-term engagement was set to last 14 weeks, concluding in May of 2022. However, everyone has enjoyed their virtual time together so much that the online sessions have continued. For Michael, that means waking up early on Saturday mornings.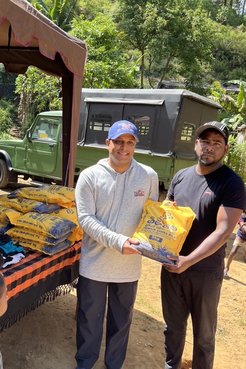 "I teach around 5:00 a.m. here, 4:30 p.m. there," Michael said. "The kids are studying late on a Saturday. They don't have to show up, but they want to grow. If they are going to show up, then I'm going to make every effort to be there, too."
While the different time zones can be a challenge, Post staff remain optimistic that returned Peace Corps Volunteers (RPCVs) like Michael will support their other in-country partners.
"The impact of Virtual Service in our country is huge," Peace Corps Sri Lanka's Director of Programming and Training, Krissy Close, said. "Peace Corps is brand new to this generation of teachers and students, and they're so eager to learn."
If you're considering serving as a Peace Corps Education Volunteer or donating your time as a Virtual Service Participant, Michael recommends letting the students know it's okay to make mistakes and explaining why the lessons matter.
"I always reinforce that part of learning a language is making mistakes. I give examples of my own mistakes," Michael said. "I also tell students that may seem uninterested [in the lesson] that even if they know a little English, they have a better chance at getting a job and providing for their families in the future. When they see you care, then they'll care, too."
---