A cross-cultural Christmas in Mongolia
My stomach kept growling … loudly, faintly, then loudly again. Boy, was I hungry!
It was a beautiful, cold, and cloudless day in Mongolia, the "land of blue skies" — a place that had been my home for a little over a year. I swung open the door of my ger (yurt) and breathed in, filling my lungs with cold air. I was craving doenjang jjigae, a Korean soup with vegetables and tofu — one of my favorite Korean foods and one I missed during my time as a Peace Corps Volunteer in Mongolia.
The cold wind nipped at my cheeks as I hurried to get ready for the day. It was Christmas, the second one I was celebrating in Mongolia. I felt homesick and longed to see my family and spend the holiday with them. Our Christmas usually included a huge home-cooked Korean meal complete with barbecued meats, banchan (traditional side dishes), and lots of family time. Instead of all that, I grabbed a piece of arrul, a popular Mongolian snack of dried curds. My mouth puckered with the slightly sour taste as I headed to school.
At school, my students greeted me, wishing me a merry Christmas. For them, it was just another December day, but they knew it was a special day for me because I'd shared Christmas traditions with them the year before. I smiled as I greeted them in English. The presence of my students and the community comforted me. They had accepted me so quickly the previous summer when I started my service as an English teacher.
That Christmas afternoon, as I finished up lessons for the day, Saruul, the only other English teacher at my school, came up to me. "Ashley, should we make a feast?" Sarruul knew Christmas was a big holiday for many Americans. I accepted her offer and we headed to the provincial capital, about 30 miles away, to see what ingredients we could find.
Supermarkets in the capital had more variety than our local markets. We stopped at the largest in the city, where I was surprised to find an assortment of Korean foods — the first time I had seen them in the capital. Excitedly, I scooped up kimchi, deonjang (fermented soybean paste), zucchini, potatoes, and tofu. I was excited to satisfy my craving for Korean soup that night.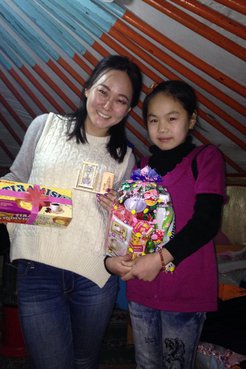 When we returned to the village, I headed to my yurt and, as I approached, I noticed the light was on. When I opened the door, I saw that my entire home had been decorated with twinkling lights. A small Christmas tree, decorated with tugriks, (the Mongolian paper currency traditionally used as a New Year's decoration) stood in the corner. The group of colleagues and friends who had surprised me by decorating my home happily greeted me.
In that moment, I felt so grateful and accepted by my community. I was delighted. My table was overflowing with food and my fellow teachers were singing, "We Wish You a Merry Christmas."
I made the deonjang soup quickly so that I could contribute it to the Christmas feast. I was worried that the pungent smell and the strong flavor of fermented tofu might put off some of my friends. The flavors were a contrast to the milder soups Mongolians usually ate. But they all loved it and even had seconds. I was so happy to celebrate my Mongolian-Korean-American Christmas with good friends and holiday cheer.