A club designed to give young women & girls the confidence & abilities to pursue their dreams
It's no secret that women and girls have access to different, and often fewer, opportunities, and in many parts of the world, their rights and education are limited.
Women make up more than two-thirds of the world's illiterate people, according to the United Nations. In 18 countries, husbands can legally prevent their wives from working; in 39 countries, daughters and sons do not have equal inheritance rights; and 49 countries don't have laws to protect women from domestic violence.
Closing the gender gap and empowering girls and women has been a priority for the Peace Corps for many years. Volunteers have worked with communities around the world to advance gender equality through workshops, camps, clubs, and activities that support education, economic opportunities, and leadership skills. These projects were designed to give women and girls the confidence and abilities to pursue their dreams and new opportunities.
Girls Leading Our World is one of those initiatives. Volunteers in Romania created GLOW in 1995. Since then, 57 Peace Corps posts have held gender empowerment camps and activities.
David Alfonso is one of the first Volunteers to return to service in Colombia, and after hearing the impact GLOW has had on women in the community, he knew it was something he wanted to be a part of. He wasted no time. A few short weeks after swearing in as a Volunteer, he launched Club GLOW, where he and his counterpart host weekly sessions for girls 13 to 18 years old to discuss and grow education, health, leadership, and self-love.
We recently had the chance to ask him about the program. Here's what he had to say: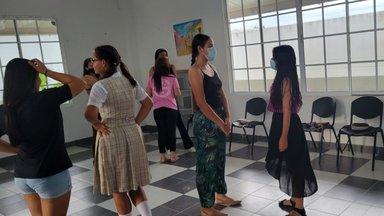 Q: What changes have you seen in the girls so far since starting the club?
A: I have noticed that some girls who were shy and not as expressive are socializing more from when they first arrived at the club. It shows that these kinds of spaces are absolutely necessary. A space where they can just get away and have an open discussion or just be in a space where that kind of communication happens has an impact. They feel like they are heard here. They can express themselves in any way that they want.
Q: What do you think the most valuable part of the club is?
A: The most valuable part of this club is the girls themselves. They push each other to be active and they straighten each other out … sometimes. The understanding that they can come and go. That door will always be open for them, and I will always be there on Wednesdays from 4-5 p.m. I want the girls to understand that what we have created together is a place for them that will always be there for them.
Q: What feedback have you gotten from the girls about Club GLOW?
A: I asked the girls the question, "Why is GLOW needed?" They informed me that this is the first time that they have been in this kind of group. They feel supported, heard, and understood. It is a way for them to learn from others, interact more with others, establish friendships, to "perder la Pena." La Pena can be translated to embarrassment or shyness. La Pena causes them to retreat into their shell and not express themselves for internal reasons. This challenge is something that is overcome every week, with them just coming to the meeting or just speaking what is on their mind. GLOW gives the girls the freedom to be themselves and to be accepted.
Q: What's it like being the only man that's part of the club?
A: It's not weird being a man in a girls' club. We tend to learn from each other every time we meet. It has been one of the most enjoyable experiences in my short time here. The first time I cried due to genuine appreciation because one of the girls painted something for me. I am always grateful for them, and I always let them know, they probably are tired of it but at this point, it's a habit.
Q: What has been the most challenging part of the Club Glow project?
A: The most challenging part of this project has been not being able to reach as many girls as I want to and having moments where I think I could be doing more for them. There have been moments where I doubt my impact, but they know how to always prove me wrong.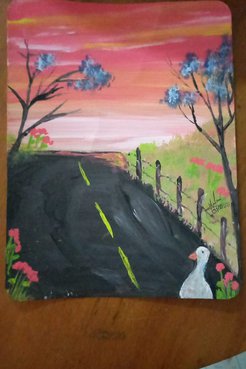 Q: What are you most proud of at this point in the project?
A: The painting that I received. The painting is a road leading somewhere and the one that is walking is a duck (I am the duck). As the duck walks, he leaves footprints, leaving a piece of himself in the lives of those he has touched. I always rely on that painting to shake off the doubt.
Q: What impact has Club Glow made on your community?
A: It's too early to say that it's had an impact on my community. It has caused some of the girls to be more open with each other. I hope it creates an impact where a lot of girls would like to be part of GLOW and that it can be sustainable. Where I can leave, come back in a few years and see the girls that were part of the first group become those that nurture and help it grow.
Q: What are you most looking forward to with the club?
A: I'm looking forward to seeing the 11th graders graduate and seeing where they go in life, I look forward to my 10th graders having a great year, and including more girls in the community in GLOW.
---