15 years later: a returned Peace Corps Volunteer reflects on the long-term impact of Peace Corps relationships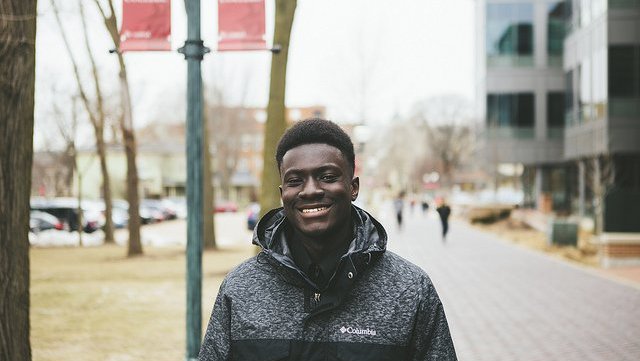 May 20, 2019
As a Health Volunteer in Ghana in the early 2000s, Kimberly Sluis worked with her community on HIV/AIDs education projects.
As her two-year service drew to a close, Kimberly knew she wasn't ready to leave the Peace Corps or her beloved host country. She applied to become a Peace Corps Volunteer Leader and was accepted to the position, staying in Ghana until 2004. During her time there, she enlisted the help of a driver named Julius Ehumah.
Kimberly soon grew close to Julius and his family, including his young son Stephen. When HE was 10, Kimberly presented him with a men's soccer shirt from her alma mater, North Central College in Naperville, Illinois. She didn't know then what a big role the college would play in Stephen's life.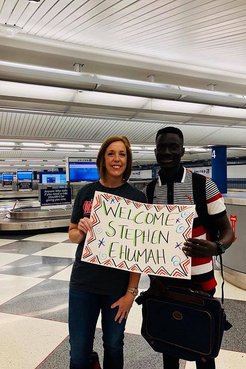 In 2012, Julius flew to the United States to attend Kimberly's wedding. During his time in America, Julius visited North Central College's campus, where Kimberly was working as the Vice President for Student Affairs and Dean of Students. He was impressed with what he saw. A seed was planted, and soon Julius helped his son to contact the U.S. Embassy to learn about student visas and the logistics of education abroad.
Two years later, Julius and Stephen reached out to Kimberly about North Central's computer science program, admission process and scholarship opportunities. With hard work and determination, Stephen wasn't just admitted to the Illinois college - he was awarded a Trustee Scholarship to cover his college expenses. Kimberly and her husband, Joseph, set up a fundraising page online for his airfare, textbooks, clothing and other needs. Soon, he was on his way to becoming a member of North Central's class of 2022.
Stephen had never been on a plane before flying to Chicago for school, and the air turbulence was especially memorable. "It was so fantastic," said Stephen, who wants to eventually become a pilot. During a trip with Kimberly to Washington, D.C., the flight simulator at the National Air and Space Museum was his favorite attraction.
Stephen's academic passion is coding and computer technology. One of his brothers in Ghana is hearing impaired, and he dreams of establishing a program to teach coding to people with hearing impairments. Kimberly says Stephen is already exploring funding options. "He's taking advantage of all that North Central College has to offer."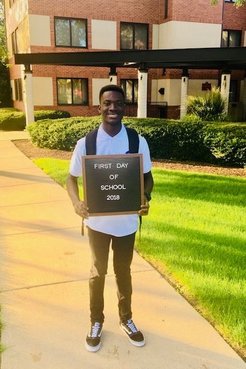 Stephen finds joy in new people and new experiences. He's enjoyed outings with the International Club, a Breakaway service trip to Puerto Rico and American celebrations for Thanksgiving, Christmas and New Year's Eve. He participated in an international roundtable discussion and represented Ghana at the annual study abroad fair.
"Education is transformational and North Central has generously provided this opportunity for Stephen to advance his skills and knowledge," said Kimberly, who still serves as the Vice President for Student Affairs and Dean of Students at North Central College. "[He] is incredibly driven to use the opportunity he is having to help his family and other young people like his brother. I have no doubt that a North Central College education will be a game-changer for Stephen, his family, and those that his future work will impact."
As for Kimberly, she is still astounded at how her time in Peace Corps has led to such incredible opportunities for the 10-year-old boy she used the know.
"When I think back to applying to the Peace Corps, it blows my mind that this is where we are right now," she said. "It's been an amazing experience the past eight months."
Photos provided courtesy of North Central College. Story published with permission of owner and has been edited for length and clarity. Original publication can be viewed on North Central College's website.