10 questions with Alana Smith, a Deaf education teacher serving in Ghana
When you interview enough people, every once in a while you encounter someone who is obviously destined for great things. You quickly learn they are motivated by service and they have the drive and faith needed to reach the lofty goals they've set for themselves. They don't see boundaries and they embrace challenges.
Alana Smith is one of those people.
She's a California native who was recently sworn in as a Peace Corps Volunteer in Ghana, where she'll serve as Deaf education teacher for the next two years.
She's Deaf, but that's not the most important or interesting thing about her. This graduate of the Rochester Institute of Technology (RIT) was a multisport athlete, a dancer, and a musician in her youth. When Alana's older sister started playing the piano, she wanted in on the fun, despite not being able to hear the notes she played.
Everyone in her family can hear, but Alana spent innumerable hours around Deaf classmates at the California School for the Deaf in Riverside, which she attended for her entire academic career before college. That school was where Alana grew her deaf identity and her place in this world.
It took us six weeks to find a current Peace Corps Volunteer to speak with during Deaf Awareness Month, so we were lucky to communicate with Alana via Zoom on the day before she was scheduled to arrive at her permanent site in Ghana.
Read on to find what she had to say about her goals for service, the reasons behind her choice to serve, and things hearing people can do to better understand Deaf and hard-of-hearing communities.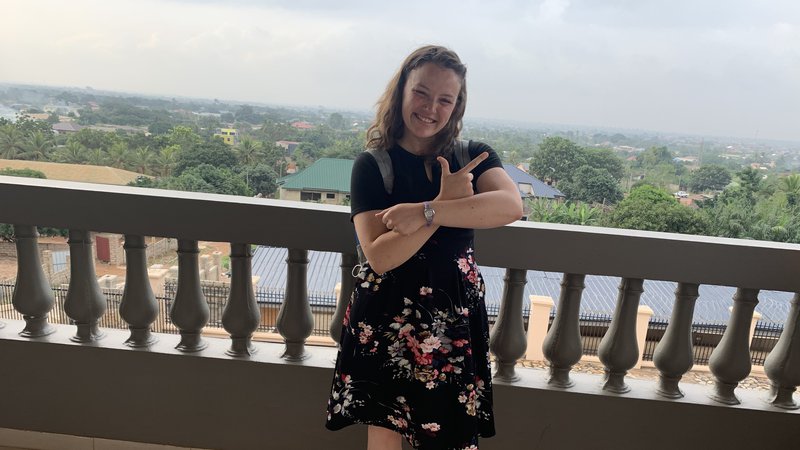 1) What was your initial reaction when you received an invitation to serve in Ghana?
I first learned about Deaf Volunteers in the Peace Corps, I was in high school, and I thought, 'Wow! An opportunity to go and serve other countries while being immersed into their culture and lifestyle!' When I realized that Deaf people could do that, my heart tugged and I just felt it was my calling. I had to follow my intuition.
I applied in 2019, but I didn't serve because of the Deaf education positions were full. They offered me secondary math teacher position with hearing students, and I thought that was a not a good match for me. I decided not to do that, and applied again later in 2021.
Then the COVID-19 pandemic happened and I didn't hear anything about my application. I had my internship and I was looking for a job, just trying to figure out my plans.
I was working at my internship with first-grade students and during my prep time, I checked my email. When I saw the email from the Peace Corps congratulating me for being accepted as a Volunteer, I felt like the world stopped for a moment.
It felt like my dream was finally coming true. 8 years, I have been waiting for this moment. I felt intense joy. I started to cry. I was excited and I texted my boyfriend.
He was very supportive, and told my family, and they were worried. I reassured them that Ghana was a wonderful country. I didn't know much about Ghana, and either did my family. That's why they were nervous.
Things have progressed, and my family is very happy and very proud of me. I send them updates all the time, and tell them about how much I'm learning.
2) Can you explain some of the work you'll be doing when you arrive at your permanent site?
I will work at a school for the Deaf outside the capital city. It has about 212 students who are in kindergarten through junior high school.
I will teach math and science and I'll teach two different classes. I teach primary 5 in science and primary 6 in mathematics, and I teach them daily.
I'll also help set up some clubs at the school, and I will be doing some projects there that will be aimed at improving student life for Deaf students and possibly working at some other Deaf schools in Ghana.
3) What is one thing you are most excited about so far?
We worked on a small community outreach project, and it was a sign language mural that we're painting so it was to be a really fun project. And we're putting this mural on a school for hearing kids, so many people were motivated and excited about that. It's great to see hearing people communicating with each other in sign language. And it was so fun!
It was such a great project, and it really helped me learn that there are more things that we can do like that, and it just felt like it was the first very successful project that we did just a few weeks ago. So that was a great experience.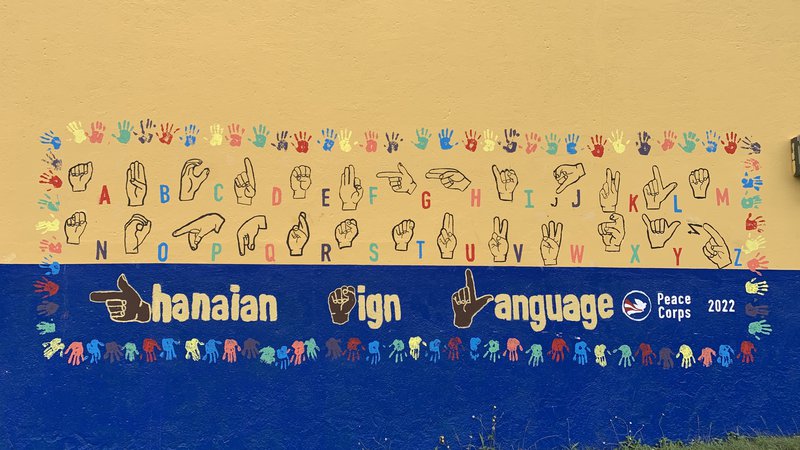 4) What are your goals for the next two years of service? What do you want to achieve?
I have a few goals. I'm the only Volunteer working at the Deaf school and I want to create some vlogs (video blogs) to encourage more Deaf people to come and be part of the Peace Corps.
I want to increase awareness of what Deaf people can do and I want to increase awareness – specifically among the hearing parents who may feel embarrassed that they have a Deaf child – and how to communicate with them.
I want to show them that it's important for their Deaf children to go to school, because if they do, they can find a job easier and they can help support their family. I want to increase awareness with the hearing parents so they know how beneficial education can be, and that there are ways to communicate with their Deaf children. Every Deaf child deserves a quality life with education and language.
I think other projects I want to work on are improving cooperation between hearing and Deaf teachers, better ways to teach Deaf children, and designing a curriculum that fits for Deaf people. I am sure I will have more ideas as I become more involved in the Deaf school in a couple of months.
5) How are you able to communicate with someone who doesn't know sign language?
First, I don't represent all Deaf people. I just want to clarify that.
Personally, I take different approaches. I can speak a little bit and I know some Ghanaian language as well, which is Twi, but I don't speak it fluently yet. It's hard for me to understand it and I try to explain that using paper and pen to write out something to make it clear. Or I can use gestures.
I try to ask another friend who knows sign language to help me out; to kind of like act as an interpreter to try to relay some things.
I can use a smartphone, as well. I can use the speech-to-text function, so there are many ways to communicate even if people don't use the same language.
6) Do you have any trepidation about being able to communicate in Ghana when you are not at school, specifically when you are out in the community doing everyday tasks?
In the United States, I am very independent. Many hearing people in the U.S. are aware of Deaf people and I can text if there's ever a situation where communication is difficult. I can go out on my own and I can drive myself, but here I have to take public transportation similar to a bus. Here, they are called tro tros.
When you get on, you tell them where you want to go and I am still learning the names of the areas and trying to figure out how to communicate that. It's been helpful to have a teacher who's teaching me Ghanaian sign language and explaining how to communicate and gesture with hearing people.
7) How was training for you?
It was three long, busy training months that I've just finished. The first day when I arrived in the morning, I had an overnight flight, and I got here in the morning, and then I had training. They had the welcoming and everything, and an interpreter who was signing in another sign language. I was so tired I was looking at the interpreter of a different language, and it was definitely very difficult when you are very tired, yet trying to understand a different language on that day.
And so I started learning rapidly, and it took a few days to pick it up. I tried to pick it up fast and I remembered some of the concepts from earlier, so that definitely helped with a lot of finger spelling.
Watching an interpreter all day and staying focused on them can be exhausting. And so It was kind of hard to keep up with interpreters sometimes, so I tried to educate everyone to slow down a little bit. Sometimes it's difficult because they (interpreters) might cut me off, or speak for me. But it's a learning process for everyone. They all seemed very motivated to learn sign language, so that felt really good, and I felt involved with that and I didn't feel excluded. The Peace Corps team worked very hard to make sure I was feeling inclusive and comfortable during the training.
8) Will you be living with a host family at your site? And if so, do they know sign language, and will you be able to communicate relatively easily with them.
So the answer is no, and yes. I'll explain that. With COVID-19, we couldn't live with our host families for obvious reasons. But we have a language-resource family. It's similar to a host family, so we visit them about once a week and see how they're doing, and they will show us the language and how to cook and do different things like that.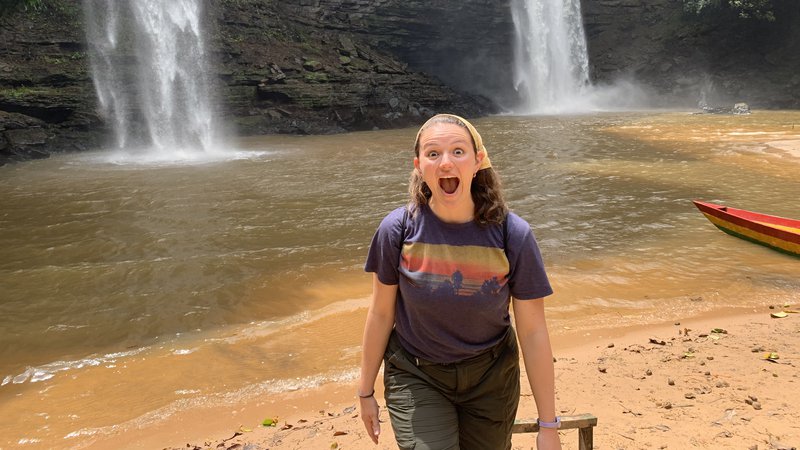 9) What do you wish hearing people knew about deaf and hard of hearing people so they would be more accommodating and or understanding?
I would say in general deaf people really appreciate just even a rudimentary knowledge of sign language – and don't be shy to use some signs. It's always exciting to see someone's even trying. So don't be shy to meet a Deaf person and to try to communicate with them and learn some signs.
That's another thing. Um, if there's something funny or something terrible that happens, something dangerous, and a Deaf person might say, "What's going on?" Try your best, even in a small way, to see if you can kind of let them know what's happening.
Another one is always ask a Deaf person if they want help, because sometimes Deaf people are independent and don't need help. Don't assume that they need your help, but they would appreciate that you ask them first before taking over for them. And also just slow down. Sometimes people just talk too fast and take some time, especially with interpreters. Sometimes there's a little bit of a lag time with the interpreters.
And if you know the alphabet in sign language that's great, that is really great. When you meet a Deaf person, you can communicate a little bit with them and also learn the signs for various things, and you just start going from there.
Just remember that Deaf people are just like everyone else. We're really not that different. We just communicate differently. But we can do many things, and often hearing people are surprised that Deaf people can do so much.
So give us a chance.
10) Is there anything we didn't talk about that you wanted to highlight or mention?
I'm really excited to work at a Deaf school, and the challenge before me, and I've seen so many people in Ghana who care and want to make this happen. So I'm happy to be really part of that.
I wanted to mention the people who inspired me, like Allie Rice, who went to Kenya and that was the first time I had heard that a Deaf person could be part of the Peace Corps, and I started to check into it. Then I found out that there was a Deaf author, Josh Swiller, who wrote "The Unheard, the Memoir of Deafness and Africa ."
He wrote about his experience in Zambia in the book and I contacted the author and was able to interview him. That was a great experience,
It was also very inspiring for me to see my friend Maya Penn and Dominque Yeboah, who were deaf Peace Corps Volunteers. These people all inspired me, and I always believed that someday I would be part of the Peace Corps. So here I am. I just wanted to mention that I had a lot of inspiration from those people.
---