Nestled away amidst one of Rwanda's thousand verdant hills in a remote village, many might assume that around sunset, one rarely sees more than a passing flock of crows, an occasional roadside goat and maybe a few bicycles.  Such is the usual scene of much of rural Rwanda.  But don't be deceived. 
Venture 2 hours south from Kigali and you will soon come to a rural community.  It is a place where indeed crows fill the skies, goats chill and the friendly villagers never fail to toss a passing "muraho" (hello) from the seat of their heavily-laden bicycles.  But head a little further toward the bright blue gates of a boarding school in the heart of this vibrant community and you will be welcomed by a vision as rich as that landscape and one where the wheels are turning at an exciting new pace.  Cut to the Thursday evening meeting of the Student English Committee.

Nearly 7 months into my Peace Corps service as an education volunteer, I already wear many hats.  In addition to teaching Secondary 1 English classes and facilitating teacher-trainings, I recently found myself as Co-facilitator alongside the Headmaster, Father Jean Claude, of a group of 135 wide-eyed enthusiastic students who have a passion for the English language.  Ask anyone of them, and they will quickly tell you that they "want to help motivate all of the students to speak English."  After all, they add, "English is important stuff."  Started in March 2017, these dedicated girls and boys hail from the 27 English classes at the school and range from 12 to 18 years old. Each drawing on their dedication, academic excellence and leadership skills, they have come together on this particular Thursday evening on their hands and knees. Quite literally.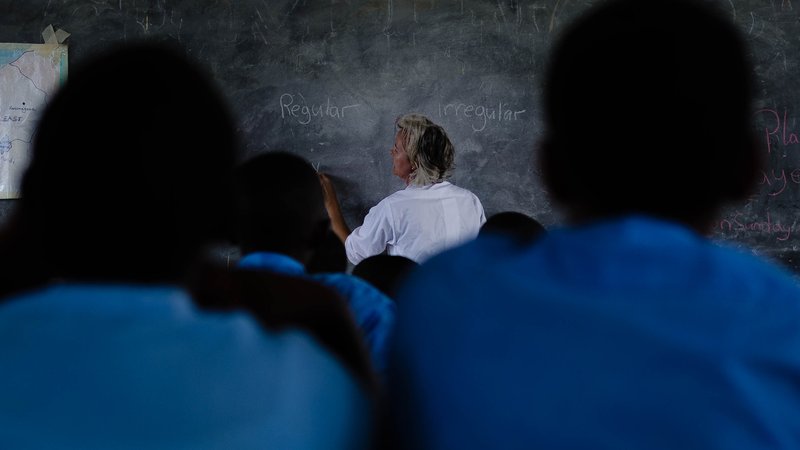 Yes indeed, coloured markers in hand, each one in turn kneels over a large taped-together-rice-sack, articulating how English is going to help them fulfill their vision.  From world-travelling entrepreneurs to pilots, architects to doctors, not to mention several translators, IT professionals and public servants, there seems to be no question that all those tough classroom sessions of English verbs and tenses and a slew of new vocabulary are helping to lay the foundation of a transformative path for each of them – and their country. After all, aren't they the very generation that the Government of Rwanda refers to in its long-term strategy for peace and development known as Vision 2020?  Yes, I ponder, as that rice sack starts to resemble one very cool graffiti board. These kids, their peers at school and their counterparts all over the country are the ones who have the potential to turn Rwanda's future wheels in a direction of global competitiveness, developed infrastructure, and a tech-led economy to name but a few, in order to become one exemplary nation.
But strategic thinking is not only for the government; the Student English Committee already has a visionary strategy in place to give their fellow students a nudge in the right direction.  Ideas so far include a debate society, spelling and writing competitions, inviting alumni guest speakers and implementing various peer support activities.  And I have a feeling that is just the beginning…