Speak Up! 2019 - More than a Public Speaking Competition
The room was silent, the head judge was announcing the third-place winner in Advanced level for the second annual Speak Up! competition. It wasn't her.
Sitting behind her, I saw her shoulders slump as the room started clapping for Nadjimat, the third-place winner. The second-place winner, Nurah, was announced and again it wasn't her. Silence reigned for a moment then from the speakers came her name; Mutatsimana Solange. In the brief moment before I started whooping and hollering like a mad man, I saw the shocked look on her face and knew that Speak Up! had provided her with the last push she needed to finally believe in herself.
On Saturday, June 15, I was honored to accompany two of my local colleagues and five of our students, along with 7 other PCVs and their students, to attend the second annual Speak Up! competition. Speak Up!, is a public speaking competition hosted by the English Language Center in Institut Catholique de Kabgayi, Muhanga and a wonderful addition to the limited list of options for speaking competitions in Rwanda. The event targets nearby students but is open to all students. The competition included 4 primary schools and 15 secondary schools and was very professionally run and organized.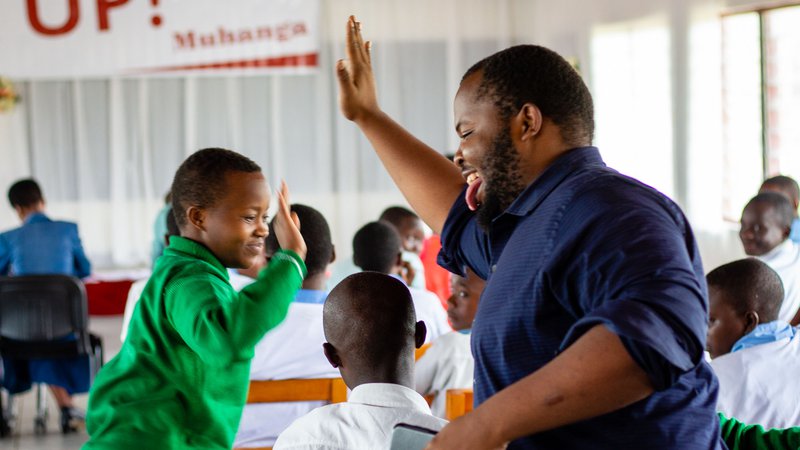 The students presented speeches inspired by novelist Chimamanda Ngozi Adichie's talk, "The Danger of a Single Story," and the film, The Boy Who Harnessed the Wind. The film is based on the life of William Kamkwamba, a young boy from Malawi who saved his village and proved that the single narrative of the "poor, uneducated African child" was incorrect. The speeches were stunning and as unique as the speakers. Some were so deeply personal and emotionally charged that I wanted to cry, while others were rousing and motivational. Adelphine, the first-place winner for the Ordinary level spoke so passionately about her desire to "heal the pain of Africa" by becoming a doctor that I started wondering if I could change my career path at my age.
What struck me while going through the day as a nervous coach, excited spectator, and amateur photographer was that Speak Up! is more than just a speaking competition. It is a unique opportunity for both the students and the teachers to interact with like-minded, passionate individuals. My Rwandan colleagues were very impressed by the quality of the speeches, which helped to defuse an ingrained stereotype about how the "Rwandan Student" looks and sounds. One of the contestants, Armel Kim, shocked the audience with his flawless English and American accent.
For the students, this event is an opportunity to change the trajectory of their lives. For many of the students this was their first major competition and they were able to interact with like-minded peers as well as put their hard work and effort to the test. They were able to put the nerves behind them and do something that more than 75% of the world population fears - speaking in public. Not only that, but they spoke in their second or even third language. Whether they won or not, each student walked off that stage a more confident person knowing that they did it. They stood on that stage in front of a sea of faces and they completed their speech.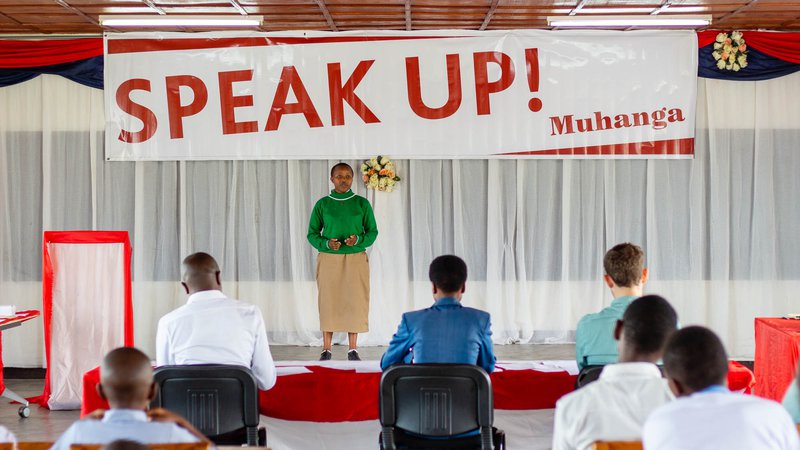 For one of my students, this competition provided her with the opportunity to finally break free from her fears and shift from saying, "Teacher, choose someone else, I am not able to compete" to "I can try". As the first-place winner of the advanced level competition, one would think that Solange has always been a confident speaker. The reality could not be further from the truth. When I first met her during English club, she was so quiet and shy that when I would have the students practice, she would find a place to hide and practice by herself. However, even though she was shy, she worked harder than any of my students. As a result, she earned the opportunity to compete.
Solange's first competition did not go well. It was a debate, and the winners of a debate tend to be those with the most confident delivery. This reinforced her negative view of herself and her abilities. When she won the internal competition to represent her school in a local speaking competition I was organizing, she pulled me aside and refused to participate. When I asked her why she didn't want to compete she told me that she is not a good speaker, she doesn't know much English and suggested other students she felt were stronger than her. I encouraged her and she competed and finished second place out of the 12 speakers. This put the first cracks in her world view and started to help her develop her confidence.
Speak Up! became the hammer that completely shattered Solange's negative world view and helped her realize that she is worthy of standing proudly with her peers. As she stood and walked to the front to receive the first place certificate, the shock on her face slowly transitioning to joy, I knew that this moment was more than just about the speaking competition. It was an affirmation that with hard work you can succeed. The beautiful thing is that the impact did not stop there. Solange is now a role model for other students at her school who have watched her blossom from a girl too afraid to speak, to a confident young woman who can Speak Up!