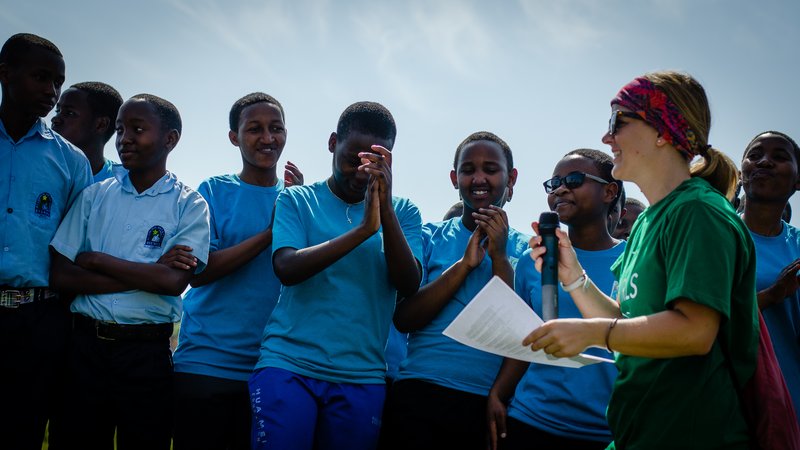 April 5, 2017
It all started with a crazy idea to ride downhill, 70 km or 45 miles, from Byumba, a northern regional town to the capital city, Kigali in Rwanda.
Little did my site-mates and I know that this ride would act as a catalyst for what would become a fundraiser and educational workshop promoting gender equality messages in Rwanda. The morning started off with people screaming at us from the side of the road to the hills and fields in the distance: "Look! Girls on bikes! Girls are riding bikes!" We all knew many females in our villages did not ride bikes but we didn't think about the implications this would have riding on a main, paved road in the northern province of Rwanda. My village has become so used to me riding my bike that they simply greet me as if I were walking. This was a whole new experience. However, we all had heard myths about girls/women riding bikes such as it meant they weren't virgins or were promiscuous. It's also seen as taboo in some parts of Rwanda because girls are expected to fit into traditional gender roles and fetch water, cook and clean.
In January, I pitched the idea to my fellow Gender and Development (GAD) Committee members and Peace Corps Staff about organizing a ride in honor of International Women's Day on March 8th.  Everyone loved the idea and Peace Corps Staff were extremely supportive. District Officials were contacted including the police who were incredibly engaged and helpful leading up to the event.
On Saturday, March 10th, twenty PCVs, three Rwandan female professional cyclists and three women from the The Women's Bakery organization, repeated the 70 km ride, stopping at three Volunteer's sites along the way to promote messages around gender equality and girls' empowerment. The conversations encouraged community members to think about gender norms and allowed participants to share their ideas about how to empower women and girls in their communities. Community members, young and old, discussed menstrual health and school attendance, HIV/AIDS prevention, gender misconceptions and, of course, the benefits of riding bicycles.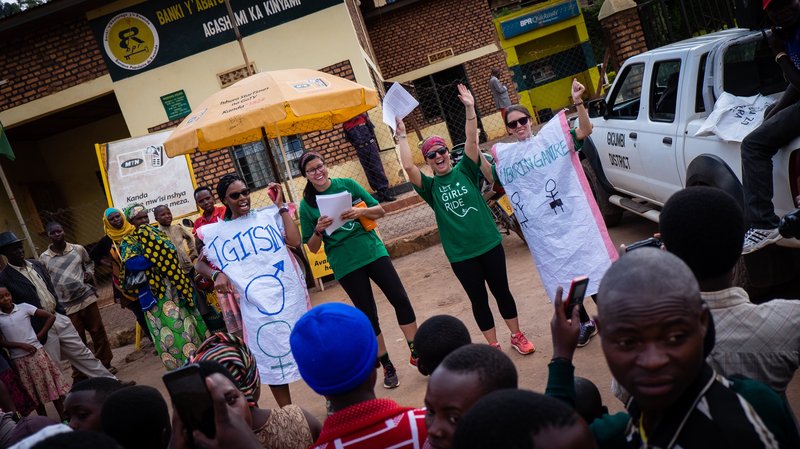 Rwanda is a picturesque country, with a striking backdrop of 1,000 lush, green hills, banana trees, waterfalls and the kindest, warm-hearted people on the planet. Needless to say, the ride was gorgeous and the weather was amazing. The police stopped traffic and announced our arrival as we made our way down the winding hills, waving to people on the side of the road. The entire experience brought positive attention in the way we intended.
The ride also sparked some really interesting conversations about a sensitive topic in a very public space, which was the goal. For example, one of the prompts for public discussion was "Girls cannot ride bikes." One man said he agreed with the statement and a woman challenged him and disagreed. The man said riding a bike would cause the hymen to break and this meant a girl was not a virgin. The woman fired back with the fact that many things can cause the hymen to break, not just riding a bike, but other sports, walking, etc and that sexual intercourse is the only way a girl is not a virgin. There was cheering and clapping and hollering. It was awesome.  Our tagline, "Let Girls Ride," aimed to not necessarily get all Rwandan women on bikes but to show women they are strong, intelligent and can do anything they set their minds to. Our overall message: "Abakobwa Barashoboye!" or "Girls Can!"
Along with the ride, we knew we wanted to raise funds to support an organization in Rwanda focused on women's empowerment. We chose The Women's Bakery, a social enterprise founded by two former Rwanda Returned Peace Corps Volunteers, focused on developing women-owned bakeries.
Female entrepreneurs throughout Rwanda transport their goods to nearby boutiques, markets and other public spaces. However, most of this transport is done by foot, which can take much longer and limits their marketable area.  At their request, the proceeds raised by people organizing solidarity rides in the States were donated towards helping The Women's Bakery purchase a brand new bicycle. This will help them decrease their travel time, increase their target area and customer base and increase individual profit.
I can honestly say this was the biggest, and best, event I have had the privilege to organize in Rwanda and during my service. It has definitely solidified my passion for gender equality work and what I want to do after Peace Corps. I know girls/women's empowerment (with hopefully occasional bike riding) will be at the forefront of my next adventure.