Girls Leading Our World, Indeed
"Support each other as girls – it's really helpful."
When my husband Tom and I arranged to take students from our schools' GLOW (Girls Leading Our World) clubs to visit a local organization that delivers blood by drone to hospitals around the country, we expected we would all come away inspired. But when we heard our guide, a Rwandan university student named Irene, sharing her advice about girls supporting girls, we realized the learning was going to go beyond the technical details of the life-saving organization.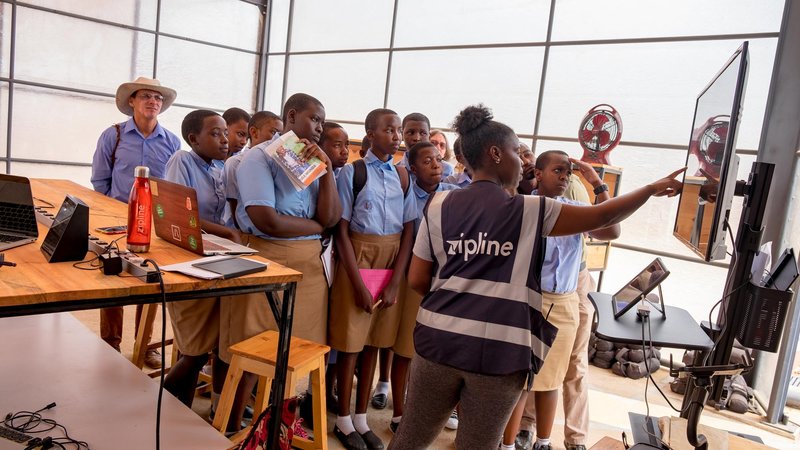 Irene studied MPC (Math, Physics, Chemistry) in secondary school in Rwanda. She is now studying Computer Engineering as a university student in Michigan in the United States, and was home in Rwanda for a summer internship, working as the organization's first female flight operator. She told us that both her secondary school studies and her university studies were subjects where she had few female classmates, but she encouraged the students not to let that discourage them from studying in male dominated fields.  Vanessa, the 18 year old leader of her school's GLOW club, wants to become a teacher and is interested in studying the same MPC combination.  After talking with Irene, she concluded, "there are few girls in MPC, but we should increase the number of girls to show a good example to other girls." Adelphine, a 16 year old student who dreams of being a doctor someday, agreed, saying "we learned that MPC is difficult, but when you do something you love, all is possible." Nadjimat, an 18 year old student who hopes to become a judge, was also inspired. "You can be proud of being the only girl in a group, being something others don't think you can be." Josephine, age 13, who also plans to become a doctor, added, "I was happy to see a girl who tried, she was one girl, but she did not say 'I'm the only one, let me leave,' – she just made more effort in what she liked.  She inspired us and showed us a good example."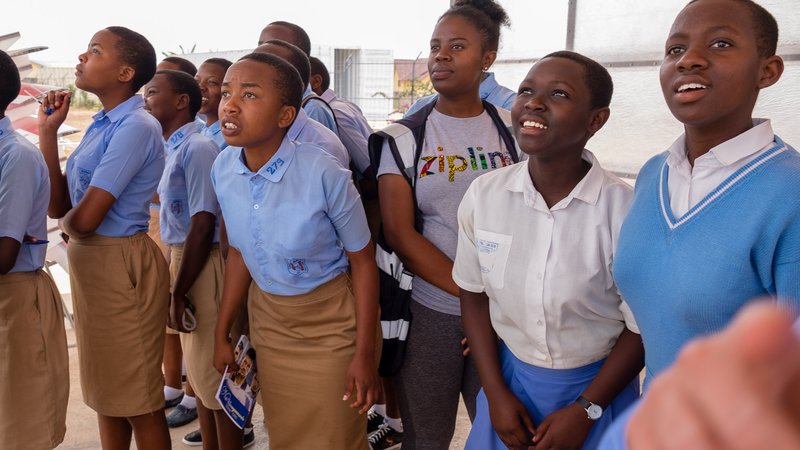 The students, Tom, and I watched, fascinated, as multiple drones launched and returned during our few hours at the site. Irene told us that 17 hospitals around the country are served by the drones, with twenty to thirty flights going out each day, the drones dropping the life-saving packages of blood by paper parachute at their destinations.  Grace, who at 17 plans to become the Minister of Foreign Affairs someday, was impressed. "We learned how they control and track and catch the drones, how they can see where they are, and how they arrive." Vanessa added, "Before, we thought drones were small things that fit in a pocket, but we saw how they work to save lives."
In the moments between drone launches, Irene answered the girls' questions and shared her advice: "Try everything.  Join clubs.  Be a leader.  Grab a book and read – about whatever interests you. You can always find time to learn more about what you love."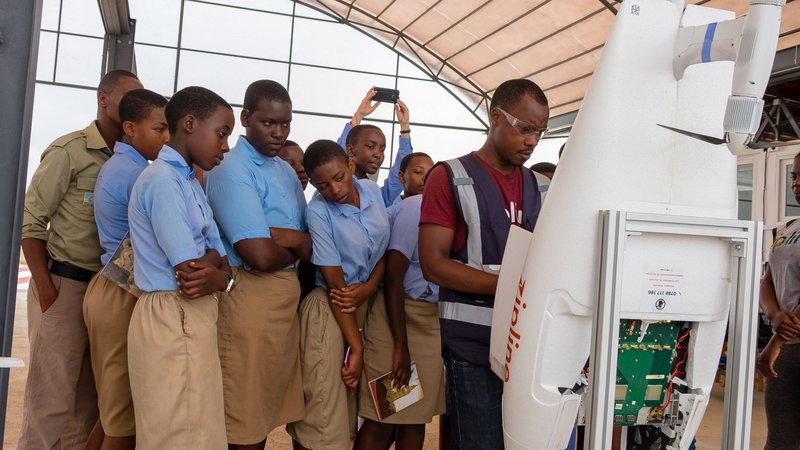 After finishing our tour and taking group selfies with Irene, we left feeling inspired on many levels – at the life saving technology that is helping rural hospitals provide emergency health care, and in thinking about the future. Back at school, the girls were eager to talk about what they had learned. "She achieved her objective by being a strong and self-confident woman," said Liliane, a 17 year old student who wants to motivate girls to prevent teen pregnancy.  13 year old Sonia, who wants to become Miss Rwanda or a journalist and to improve gender balance in her country, agreed, saying, "she told us to try everything – when you love something but don't have experience, try it, have self confidence." Reflecting on Irene's persistence over several years in seeking opportunities for university study, the other Vanessa in the group, who hopes to become a journalist, added, "I think I have to work hard to achieve, and never give up on what I want.  As for me, I was reminded that a lot of the magic of Peace Corps happens when you find good people to connect, then get out of the way and let them support each other.  Girls Leading Our World, indeed.