Best Practices: Sharing Your Story on Social Media
Overview
Peace Corps is an intercultural organization that represents the diversity of the United States. When sharing your Peace Corps story on social media, it is important to keep in mind best practices in Intercultural Competence, Diversity, Equity, Inclusion and Accessibility (ICDEIA). Posts should effectively explain what it's like to serve in your country, while also showing the diversity of Volunteers, projects, and host country nationals.
These are questions to ask yourself whenever you're creating an online story:
Before sharing a post, tweet, image, video, or other content, consider: is it centered in human dignity?
Does your content portray PCVs and the communities they work with in a respectful way?
What is the storyteller's (your) lens or filter?
Whose voices are heard?
Whose ideas are given importance?
Overall, dignity is the most important word to think about. Are you representing every person involved with the dignity they deserve?
---
Which is more appropriate?
Look at these two examples of a social media post from a Peace Corps Volunteer. Can you spot the differences? Which one do you think best aligns with best practices in social media storytelling?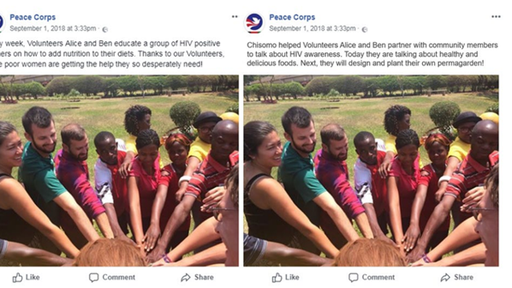 Left: "Every week, Volunteers Alice and Ben educate a group of HIV positive mothers on how to add nutrition to their diets. Thanks to our Volunteers, these poor women are getting the help they so desperately need!"
Right: "Chisomo helped Volunteers Alice and Ben partner with community members to talk about HIV awareness. Today they are talking about healthy and delicious foods. Next, they will design and plant their own permagarden!"
Could you point out the differences between these two narratives? The right side gives more context, treats people with more dignity, and gives credit where credit is due. It also includes the name of Alice and Ben's counterpart, involving him in the story. It is not always possible to do this, but when we think about these things before crafting our narrative, it makes it more likely that we will be able to find and include this kind of information.
---
Things to Consider
Use this checklist before posting anything about your service on social media:
Is only the Peace Corps Volunteer named?
Where is the counterpart?
Where are the community members?
Is everyone in the story/photo/video treated with equal dignity?
How are you talking about the community's challenges?
Who is centered in the story and who is not?
When posting images on social media always remember:
Do not post images of adults or children without a signed media authorization form for every individual.

Children must have a consent form signed by their parent or guardian.

Use images that represent other cultures with dignity.
Suggested Tags:
@PeaceCorps
#RPCV
#PeaceCorps
#serveboldly
your RPCV group account
Review the Ethical Storytelling Toolkit for further tips and recommendations about sharing your story on social media.