U.S. Peace Corps Volunteers Return to the Philippines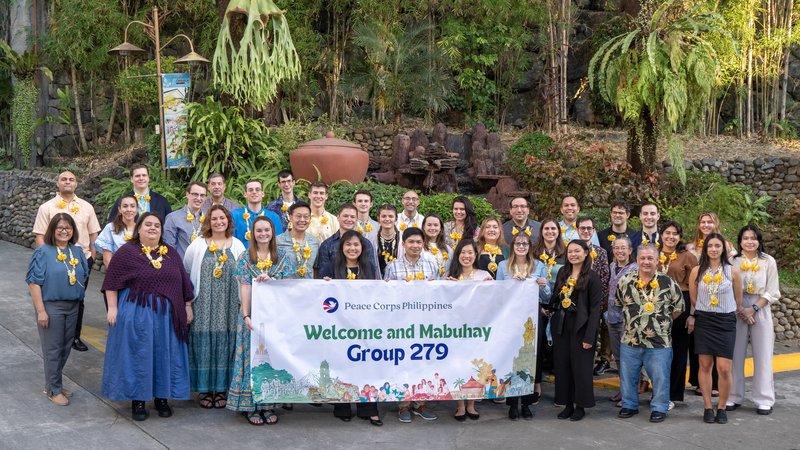 March 3, 2023
Manila, January 31, 2023—On January 30, nearly forty American volunteers arrived in the Philippines to resume the U.S. Peace Corps' work in the sectors of education, youth development, and coastal resource management for the benefit of communities across Luzon and Visayas.
The 37 newly arrived volunteers are the 279th U.S. Peace Corps batch to serve in the Philippines since 1961. At the invitation of the Philippine government, the volunteers will fulfill a range of roles requested by host communities for the coming 27 months. These roles include co-teaching English in public elementary and secondary schools, serving as youth development facilitators in Department of Social Welfare and Development (DSWD)-accredited organizations and residential shelters, and supporting local governments in establishing marine protected areas and implementing coastal resource management plans.
Starting in April, the American volunteers will be deployed to their permanent sites in Pampanga, Nueva Ecija, Pangasinan, Tarlac, Zambales, La Union, Laguna, Benguet, Ilocos Sur, Camarines Sur, Bohol, Cebu, Capiz, and Negros Oriental. They will undertake two months of language, technical, and cultural training prior to deployment.
Additional volunteers will arrive in the Philippines in May, August, and September as the U.S. Peace Corps ramps back up its operations this year.
"We are thrilled to welcome the first group of American Peace Corps volunteers to the Philippines since the start of the pandemic," U.S. Peace Corps Country Director Jenner Edelman said. "We are ready to meet this historic moment with our community partners and staff."
The U.S. Peace Corps suspended its global operations and repatriated American volunteers from more than 60 countries, including from the Philippines, in March 2020 due to the COVID-19 pandemic. Despite the absence of American volunteers, U.S. Peace Corps staff in the Philippines continued to work closely with the Philippine government and other local partners to vaccinate over 27,000 Filipinos against COVID-19, support nationwide distance learning, prepare schools for safe resumption of face-to-face classes, introduce alternative income-generating activities to communities recovering from the pandemic, and strengthen community-level volunteerism.
For decades, the U.S. Peace Corps has engaged in critical global health work, and the COVID-19 pandemic is no exception. American Peace Corps volunteers will continue to work alongside community members to make progress on the biggest development challenge the world has faced in more than a century.
###
About the U.S. Peace Corps in the Philippines
Peace Corps Philippines is the United States Government's premier volunteer program in the Philippines. Since 1961, over 9,300 Peace Corps Volunteers have worked alongside Filipino community members in support of government and community development priorities. For more than six decades, Peace Corps Philippines staff and volunteers have served as co-teachers, youth development facilitators, environmental experts, or filled other roles requested by the Philippine government and host communities.