FOR IMMEDIATE RELEASE:
Friday, May 12, 2017
Former President Jimmy Carter and Peace Corps Acting Director Sheila Crowley Present 2017 Lillian Carter Award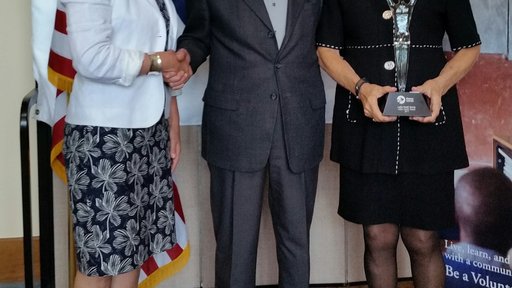 ATLANTA – On Wednesday, Former President Jimmy Carter was joined by Peace Corps Acting Director Sheila Crowley and Executive Director of the Atlanta Federal Executive Board Ron Stephens to present the 2017 Lillian Carter Award in the Cecil B. Day Chapel at the Carter Center in Atlanta, Georgia. The biennial ceremony recognizes an outstanding returned volunteer who served over the age of 50 and demonstrates commitment to the Peace Corps' third goal: To help promote a better understanding of other peoples on the part of Americans.

The Lillian Carter Award was established in 1986 in honor of former President Carter's mother, who served as a health volunteer in India in 1966 at age 68.
This year, Leita Kaldi Davis, 79, of Bradenton, Florida, received the award. "Rarely does one find an opportunity to change one's life completely, become immersed in an unknown culture, live among people who are kind, wise, and beautiful," Davis said. "For three years, as a Peace Corps volunteer, I found ways to help my neighbors with small economic advances, health problems, or education. And they helped me to understand what human dignity really means, and how closely connected we are to the earth."  
Leita Kaldi Davis
Born and raised near Syracuse, New York, Leita Kaldi Davis of Bradenton, Florida, began her Peace Corps service in Senegal at age 55 in 1993. Davis spent two years working as a small enterprise development volunteer, eventually extending her service for a third year. As a volunteer, she helped women in her community launch their own business of picking and selling mussels at local markets and taught them how to refine their bookkeeping and increase profits. In addition, she built a warehouse for their operations with the help of a small projects loan.
From 1997 to 2002, Davis continued her tenure with the Peace Corps by serving as an administrator of Hospital Albert Schweitzer in Haiti, where she cared for Peace Corps volunteers in the field. She later returned to Senegal in both 2001 and 2005 to volunteer at Africa Consultants International (ACI), for which she developed annual appeals and continues to coordinate fundraising efforts. 
Prior to joining the Peace Corps, Davis pursued adult education courses in literature and music at Syracuse University, University of Cincinnati, New York University, Tufts University, Harvard University and Alliance Francaise in Paris. She worked as an administrative assistant for the United Nations; a program officer at the Law and Population Program, the International Social Studies Program, the Fletcher School of Law and Diplomacy at Tufts University and the Harvard Institute for International Development; a conference manager at various Florida hotels; an assistant manager of the International Executive Club at CenTrust Bank; and the director of the Foundlings Women's Club in Miami Beach. After her service, Davis worked as a substitute teacher and a lecturer at the University of South Florida's Lifelong Learning Academy. Davis retired in 2002.
Since completing her Peace Corps service, Davis has devoted much of her time to promoting the agency's mission. She has published seven memoirs – two of which document her service overseas, "Roller Skating in the Desert" and "In the Valley of Atibon" – and 50 other articles and stories. In addition, she taught a course titled "Peace Corps at 50" at the Lifelong Learning Academy. Davis has also delivered presentations about the Peace Corps to various groups and organizations – including the U.S. National Committee for UN Women and the American Foreign Service Association – and facilitated discussions at major book clubs about President Carter's book, "Call to Action: Women, Religion, Violence and Power."
Davis has been an active member of returned Peace Corps volunteer groups in South Florida and Gulf Coast Florida since 1993 and 2006, respectively. She is also involved with UN Women and collaborates with the Haitian Women of Miami (FANM) to support their community programs for immigrants. Davis received FANM's Marie Claire Heureuse Award in 2013 for "outstanding leadership on women's rights, and for being an ambassador for social justice and global peace."  
# # #
About the Peace Corps: The Peace Corps sends Americans with a passion for service abroad on behalf of the United States to work with communities and create lasting change. Volunteers develop sustainable solutions to address challenges in education, health, economic development, agriculture, environment and youth development. Through their Peace Corps experience, Volunteers gain a unique cultural understanding and a life-long commitment to service that positions them to succeed in today's global economy. Since President John F. Kennedy established the Peace Corps in 1961, more than 225,000 Americans of all ages have served in 141 countries worldwide. For more information, visit peacecorps.gov and follow us on Facebook and Twitter.
---