Strung Together: How I Became Close to my Host-Mother
When I came to Moldova I made a list of all the things I wanted to experience and learn. Things like: make mamaliga and eat it with my hands, visit the monastery at Orhei Vechi and the Soroca fortress, and learn embroidery.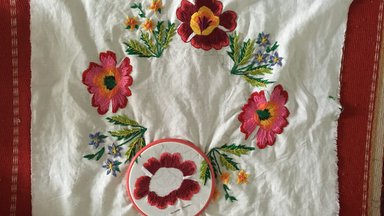 One of my favorite traditions in Moldova is the incredibly intricate and colorful string work, from rugs to embroidered shirts, tapestries to towels and pillowcases. I'm not sure how Peace Corps Moldova was able to find such a perfect host family match for me, but I ended up in a family with a mom who taught traditional arts at the school.
After a few months of adjusting to my new school and community, and once my host parents seemed to have less work to do in the garden as the temperatures crept lower and lower, I asked my host mom, Elena, if she could teach me how to embroider. Her response: first, I'd learn how to crochet. I crocheted a flower, one simple seat cushion, and two doilies. After those, she said I should learn cross-stitching because its easier (easier, for sure, more tedious, absolutely!) Only then, a year later, was I finally prepared to embroider.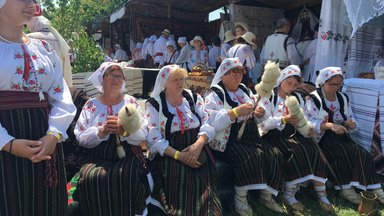 During this past January I started my embroidery endeavor: from choosing fabric and string, to sketching and tracing, to finally sewing, and crocheting. We would sit in the living room watching a Turkish soap opera, while she made dinner and I sat on the couch, stitching. When I made a mistake, she was there to quickly correct it, I consulted with her on string color, or which sections to do next. She lent me her crocheting hook and patterns. Winters were really hard for me to adjust to, coming from Florida and not being used to having the sun set at 4:30 pm. Embroidery kept me occupied and putting my boredom or anxiety into something useful with my host mom helped me not only adapt to winter, but to actually enjoy it. Some of my favorite memories during my service were watching Lacrimi peste Bosfor (Tears across the Bosfor) with my host mom helping me sew.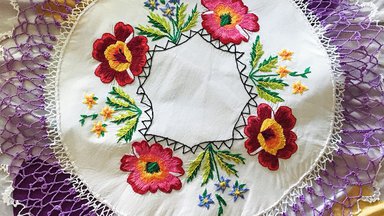 I am proud of this artwork because it's my first embroidery and I put so much time into it, but it's special to me because I worked on it with Elena. It's this beautiful, colorful, tangible representation of our relationship. I put work into and so did she and through our collaboration we ended up with one of my most precious artworks.
When I reflect on my time these past two years serving in the Peace Corps, I worry that I took too much—that I gave such a small fraction of my time and I received so much more in return. I learned a language and a new culture, I made impactful relationships in my community, I acquired new skills, I gained professional experience, I challenged my comfort zone, I ate different foods and lived abroad--I even had the time to travel to different countries during school breaks. Even after all my time spent working with my teaching partners and after school clubs and English lessons at the library, does it really even compare to all I received in return?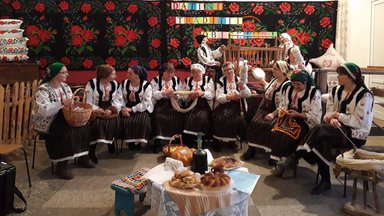 Now as I pack my suitcases to return home, my list of things to experience and learn includes furthering my embroidery skills, maybe eventually weaving a traditional rug. I'm really excited to call Elena in the future and continue that relationship. I also hope to keep furthering those relationships in my community that I've come to appreciate and which feel precious. After everything my community has done for me, I hope to maintain that line of giving back, and to continue to help my community in whatever mode possible. Maybe one day, I can make it all up to them.