"It always seems impossible until it's done." – Nelson Mandela
I first considered joining the Peace Corps after being inspired by the stories of family friends who were volunteers in the Caribbean during the 1970s. Now I am about to complete my own Peace Corps service, in a small town in northern Moldova. I've been working with an organization called Moldova AID and their primary project "Phoenix Centre," a day center for children with a wide range of special needs. It has been a blessing to spend each day watching these beautiful children leave their lives of isolation to become independent, bright and shining personalities.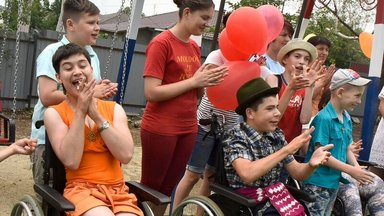 When I joined the Peace Corps, "two years" sounded imposing — such a long time to spend in a culture and way of life I did not fully understand.  It seemed nearly impossible to reach.

My group, Moldova 30, recently passed its two-year mark. Looking back, it happened so fast even though it was a trying and emotional journey. I suppose that's true for all memories. A huge mountain can appear insurmountable. Then you begin climbing it and, although you may stumble, you eventually reach the summit and can look back at where you began.
My group's recent "Close of Service Conference" was like that mountaintop for me. It was the last time all of us would be in the same place at the same time. We talked with each other about our service and how Peace Corps had changed our lives. It was eye-opening to learn about our mutual successes and failures.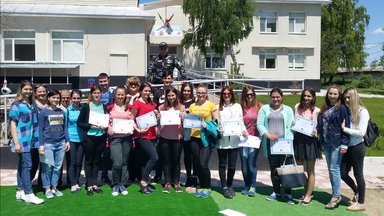 My service didn't end there. After the conference, my organization began a training program for local college students, funded by the "Let Girls Learn" program. We partnered with six health care and social work specialists to lead professional development sessions for 28 local youths.  I worked with the specialists on designing their presentations. Each had sessions where they spoke about their careers and the importance of assisting children and adults with special needs.

We brought the students to the Phoenix Centre to see the work of its specialists and to play with its beneficiaries. We hoped some of them would spend time at the center volunteering to work with the children. At the very least, they saw the importance of the Phoenix Centre and the possibility of a rewarding career in health care and social work.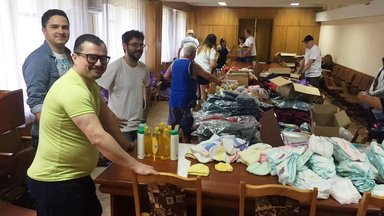 During the seminars, we also welcomed 16 British and Irish drivers with eight trucks filled with humanitarian aid for vulnerable Moldovan families. My organization has been working as a local partner to help distribute the supplies. So many families here are forever grateful for the work this organization performs. For me, it was an immense pleasure to see their work up close and to assist it with Romanian translations and in other ways.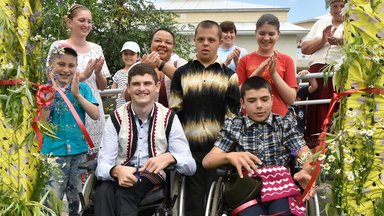 I hope another Peace Corps Volunteer will be lucky enough to be placed in my host town in some capacity in the future. If I am here when they arrive, I will beg them to come to the Phoenix Centre to see the work they do. I know that once they step through those doors and are surrounded by the bright faces of the children, they will be hooked.
Speaking of new volunteers, the 32nd group of Peace Corps Trainees for Moldova recently arrived with much fanfare. They reminded me of how far my friends and I have come since we came two years ago. I can still picture myself as that sleep-deprived, overheated young man coming off the plane into a new world without a clue what was next.
I hope these new volunteers will realize what I did: They have a built-in support community with others who are experiencing the same challenges and emotions. They are in it together, just as my friends and I were — and still are.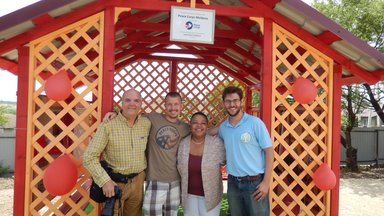 All of us who have served as Peace Corps Volunteers in Moldova are part of a unique family, connected not by blood or marriage, but by a love for others; a love for service. I'd thought about this when I applied but never really comprehended it before coming here. And really, how could I? It's impossible to explain all of the time we've spent learning and growing and changing. 

For me, the past two years have been filled with hardship and indescribable joy. I am grateful to have spent them here in Moldova.

Looking ahead, I plan to take the skills and patience I have gained and continue my career in humanitarian aid and international development. For now, though, I'm enjoying my final days with the members of my group, who have already begun to trickle out to wherever they are going next.
Together, we climbed our mountain of stress, solitude, heartbreak and joy, sharing the view before we all moved on. As Nelson Mandela once said, "It always seems impossible until it's done."