I have made it through my first holiday season in Moldova!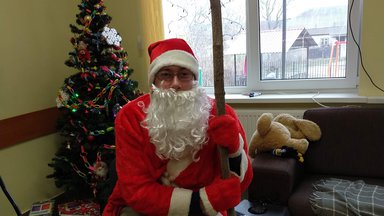 It was a bit hard at times not being around family or friends, but my host family has really taken me in and treated me as one of their own. For this I am extremely grateful. I started hearing what the holiday season was going to be like in Moldova around Halloween. People would ask me about what Americans did for Halloween, and of course I would tell them we go trick or treating. "What?" they would reply, "We do that on New Year's! Except we give kids bread and money." This is the point where I would just nod my head and grudging contemplate why we never got money at Halloween.
Christmas spirit usually starts to run very high in the United States after Thanksgiving. However, since Christmas here is not celebrated by most people until January 7th, and Thanksgiving does not exist, the whole schedule for shopping and decorations and whatnot is pushed back by a few weeks compared to the United States.
So, skip ahead slightly to the town Christmas tree lighting (held the day before St. Nick's day on the 19th of December) where I learned that Santa Claus and St. Nick are not the same person! Often, we use them interchangeably where I am from but here they are very separate. Santa seems to like giving kids chocolate. In addition, when you are naughty, he does not give you coal (which would be a surprisingly useful and helpful thing here).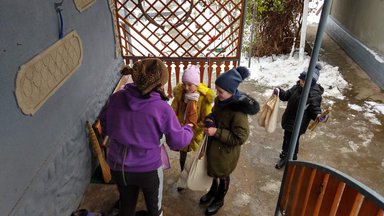 After this I attended the school winter concert which gave me a taste of what New Year's would be like. I was still not quite sure what was happening, but it involved a lot of poetry, a skit with a goat, some kids getting a little too happy with their whips (yes, whips), people's hands almost falling off from ringing bells for so long, chucking some seeds from the harvest at people, and several dances. It was adorable and I always love coming out to see the kids perform with their classes.
My partner organization donated a gift to every child in town from ages 2-9. They came in groups to the center where we had games, Santa Claus, and the Christmas story. I even got to be Santa for the oldest kindergarten group! Everyone laughed because they were sure the kids would recognize my accent, but I did not speak that much.
Finally, it's Christmas! Well, not really, just new Christmas. New Christmas is in fact a national holiday in Moldova but it's really up in the air if your family will celebrate it or not. Maybe new Christmas, maybe old Christmas, or maybe both! I was invited to my partner's godparents' house where I was gifted with some delicious chocolate cows, sang some carols, and ate good food. It has been such a blessing to be welcomed into so many families here in Moldova, which really helped me make it through the holidays without crying too much.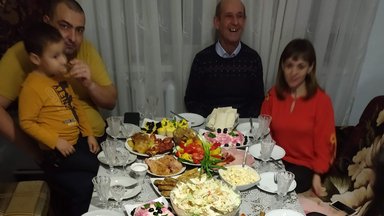 Finally, I got to experience the New Year's traditions in Moldova, the ones I had been hearing about since Halloween. On New Year's Eve, kids start coming to your door after noon in order to recite some blessings, ring some bells, say some Hai Hai's, and receive bread, candy, and money in return. The amount of money given was a complex formula whose factors included quality of performance, relation to family, behavior in school (my host mom is the adjunct director), or simply if we liked you or not. Later in the evening is when things started to get a bit strange. The older kids would come in groups and do traditional performances, which I am still not quite clear on, one involves a goat and the other involves a dancing cow.
Our New Year's meal started around 10pm and of course went until after midnight. Just before midnight, the president came on to give a speech. Unfortunately, the day after, you have to get up early because all the kids come back around 8am to throw seeds at you and wish you a happy new year. You hold out your hands because it is said if you catch a lot of seeds you will be rich in the new year. We exchanged small gifts on New Year's and I received a beautiful sweater, some house slippers, and a body wash/deodorant kit.
Over the next few days (between New Year's and Christmas), the priest walks from house to house around the village to announce the coming of Christ. There are a group of kids with him who run around to the houses he will visit next so people can prepare for his visit. He walks in, blesses the house and its inhabitants, and then everyone makes the sign of the cross and kisses the icon he is holding. We then give a small gift of bread and some money to his wife who comes with him and then they are on their way. He visited my center before our house, so I actually got to see him twice. Double blessed.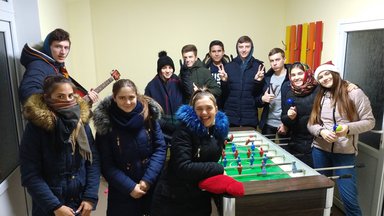 Christmas Eve brought with it what I like to refer to as extreme caroling. It was the first time in my life I have gone caroling house to house, which is probably originally how it was designed to work. Over five and a half hours of caroling where we visited 30+ houses. The standard gift to the carolers after they sing is bread, money, candy, and wine/whiskey/champagne depending on the house. We ended around 11pm at my partner's house where I was then informed about the Christmas service at the church, which started at 11. I should probably attend this cultural and spiritual experience, I told myself as my weary body dragged itself in my partner's car with his wife and mother. The church was absolutely beautiful, lit by candlelight, and warm with all the bodies crowded in the small sanctuary. However, the service in total was five hours long, and ended with carols sung by various members of the town. At this point I was absolutely exhausted, so I slipped out around 2:30-3:00am and resolved to stay for the entire thing next year.
Christmas and the day after Christmas were, to no one's surprise, meal after meal after meal. After about two hours, my head begins to reach its Romanian limit. When the meal is at our house I can usually slide away to my room. When it is at someone else's house, I subconsciously tune out until someone addresses me directly. Work resumed on January 9th and then we had a small celebration on old New Year's (January 14th) which also happened to be my host dad's namesake saint's day, St. Vasile. I will leave you with this quote from my host parents: "You become rich when you become grateful for what you have." Merry Christmas and Happy New Year!