30th Anniversary Tree Planting - Behind the Scene
Dream big, they say. And I did, oh my what a great feeling.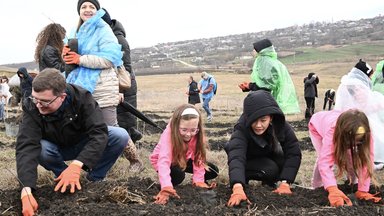 Many Volunteers, working with partners or teaching students, act as transformational agents, provoking mindset change, encouraging people around them to be brave and set more ambitious goals. Local Peace Corps staff are also inspired and benefit from this interaction.
Peace Corps (PC) is present in over 60 countries, and when I, as a local staff member, have an unusual task to accomplish, I am always curious to learn how my fellow colleagues in other countries might approach such a task.
A brief history. Five years ago, my colleague, PC Volunteer (PCV) David Jarmul - a retired head of communications from Duke University, and I were assigned to organize the 25th anniversary celebration for Peace Corps in Moldova. Randomly, we saw that PC Thailand had planted 55 mangrove trees for their 55th anniversary. Their main sponsor was the Friends of Thailand Association of Returned Peace Corps Thailand Volunteers. It was so cool, but at the same time in our given situation it looked unrealistic. So, we didn't even consider the possibility. There was no budget for this type of event. At that time there was no Friends of Moldova Association, which meant no trees - end of story. And, yes, our 25th celebration in the end was a memorable anniversary but much different.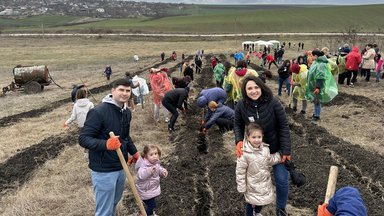 Five years later, already overseeing the planning for the 30th Anniversary of PC Moldova and thinking of ways to celebrate, an old memory surfaced.
In our new reality, all the traditional celebrations and festivities seemed monotonous and a waste of resources. First the pandemic and global evacuation of Volunteers, then the brutal war next door in Ukraine and the resulting refugee crisis, not to mention climate change which is felt harshly around the globe - all these circumstances contributed intensely to a gut feeling of how quickly time flies by, smashing everything and everyone on its way. There was a need for a celebration that would last for at least another 30 years after the festivities are over . . . and my brain suddenly recalled the experience of PC Thailand.
Coincidently, in Moldova a reforestation movement was on the rise. Don't get me wrong, this time the tree planting idea felt unrealistic as well. Unfortunately, there was no budget line item for saplings, we checked. But this time it felt worth a try if nothing else I would bring the idea to the table.
Without researching the Thailand experience, I dared to propose a bold project – to plant a tree for every Volunteer who had served in Moldova over the past 30 years, a total of 1576 trees. At first, my colleagues were slightly skeptical. But in the best Peace Corps tradition, management encouraged and trusted me to find a way to realize my idea. To everyone's surprise, including myself, this puzzle started to come together. The good news is - when an idea is worthy, people gather together and support it. And what could be more worthy than oxygen/aka trees for future generations.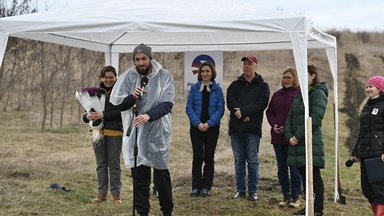 Right before the pandemic hit, a few of our stellar, former Volunteers founded the Friends of Moldova Association. The group was very active and supportive; and their involvement was critical. With less than two months to go before the prospective planting, Friends of Moldova helped launch our fundraiser for the Peace Corps Moldova Community Forest. The word "Community" was essential, and we invited everyone to contribute. Returned PCVs (RPCVs), their families and friends, former and present PC Moldova staff, dollar by dollar people contributed to the cause. We had literally less than two months to collect the necessary funds and catch the short planting window in March. It was incredible to watch as we approached our target.
A Peace Corps colleague suggested enabling those contributing funds to make the donation in honor of someone dear, someone connected to Peace Corps service such as a local partner, a fellow volunteer, PC staff member. Dedications were coming in from everywhere. RPCVs were dedicating trees to their host moms, partners, schools or organizations where they had worked, entire Moldovan villages, PC colleagues to the various cohorts and individual volunteers, local partners and host families to RPCVs.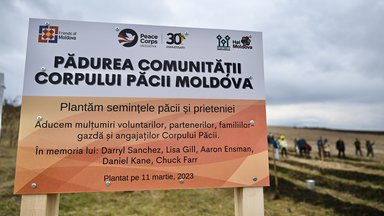 One repeated dedication gave chills to the entire Peace Corps Moldova team. Many donations were received in honor of Darryl Sanchez, an RPCV who recently had passed from the complications of brain cancer. This is what his spouse Angela, RPCV Moldova, wrote to us, her message bringing tears to our eyes, "Darryl Sanchez served in the Peace Corps as a Community and Organizational Development Volunteer in the Republic of Moldova from 2017-2019. He loved living in Moldova, making a positive impact on his students and forming bonds with his fellow PCVs . . . One of his favorite spots was the forest surrounding Ceadir-Lunga where he lived. He would tell me that he would go there to clear his head and meditate. Darryl and I met during our first days in Moldova and started dating about 5 months later . . . Within our first months of dating, he told me that he wanted to be reincarnated as a tree when he died. I am almost certain that he had some part in starting the Peace Corps Community Forest from wherever he is. This will be a beautiful place for him to continue his walks, for loved ones to visit and for me to one day come and scatter his ashes."
With this message, our anniversary project was gaining additional value and purpose. There were also other donations in memory of Volunteers who have passed away. Their names have been written on a memorial plaque in front of the newly planted community forest.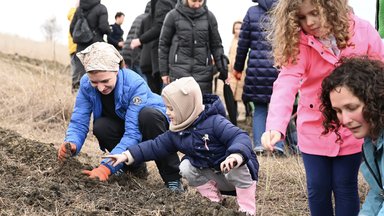 Once the funds were collected, we engaged a local NGO Million Trees Moldova. The NGO, whose mission is to plant a million trees in Moldova, has vast experience implementing this type of project, starting with finding a location to be reforested to securing local authorizations to testing the soil to ordering the appropriate saplings. Moldova has just 11% of its territory covered with forest, a very real issue.
Shortly before we reached our fundraising goal, the US Ambassador expressed his interest in participating in the planting. This Peace Corps event was growing into something much bigger than originally planned. A few days before the event, getting calls from the press, public diplomacy, protocol, the office of President, it felt like our project train was running at such a high speed that my dear colleagues and I were barely managing to keep ourselves focused on our task at hand! The one thing we all were praying for was a sunny day, but the forecast wasn't promising. Fortunately, it was already too late to worry about bad weather, the train had left the station! The most amazing thing was the President of Moldova accepted our invitation to join our planting event! We were all in disbelief.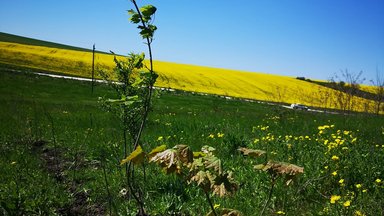 On the day of planting, everything went as planned. It was a huge success! Over 80 people, PC partners, former Volunteers, host families, students, PC staff and honored guests including the US Ambassador Logsdon, Peace Corps' Regional Director Sharp, Minister of Environment Iordanov, President of Moldova Maia Sandu and a handful of TV station personnel were in the field planting trees one by one. We were celebrating Peace Corps Moldova's 30th Anniversary by giving back to the Moldovan community, honoring Volunteers who served in Moldova throughout these 30 years, planting seeds of peace and friendship in Moldova, and strengthening ties between our two nations.
A highlight of the day was when Ambassador Logsdon announced the return of PC Volunteers to Moldova by the end of this year after a very long absence. With this great news, our saplings were planted in record time! Moreover, PC Moldova has decided to establish a tradition where each new Volunteer will plant a tree ensuring the Peace Corps Community Forest will continue to grow with every incoming cohort.
Needless to say, PC Moldova was in the local news throughout the week with its unusual anniversary celebration!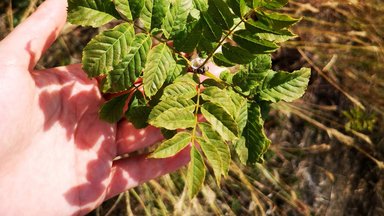 For me personally, this project was an opportunity to pay tribute to all the Volunteers I had privilege to work with in my different capacities - Communications Assistant, Social Media Coordinator, PST Admin Assistant. As a local staff member, I have been influenced tremendously by our Volunteers. Although I didn't interact with them as our local partners do, still they changed my way of thinking - be brave and try to make difference!
Only later, when I was asked about how I had come up with this idea, I found the article from 5 years ago. It was a surprise to see that our colleagues in Thailand had chosen the number of trees to coincide with the anniversary year. What in the world was I thinking - 1576 trees - a bit ambitious!