Rainwater Conservation for Community Climate Change Resiliency
March 5, 2020
Between 2018 and 2020, the United States Agency for International Development´s Small Project Assistance program (USAID SPA) funded 10 Volunteers and their local partners to build 96 rainwater harvesting systems across 9 municipalities in 4 states, significantly increasing community-level resiliency.
Water. The essential liquid of life. Imagine everything you do throughout the day that requires it. How much do you use directly for cooking, laundry, and personal hygiene? That's just a fraction of what you use indirectly through the food you eat that was cultivated, and other items you use that were produced using water. We take it for granted in the developed world. Peace Corps Volunteers in Mexican pueblos gain a fresh appreciation of water when carrying buckets around to take a shower, and when reusing soapy water while doing laundry. We learn to empathize with community members by experiencing water scarcity with them. We also learn from them how precipitation has become less predictable in recent decades due to climate change. In some communities, people must walk (or in some cases, drive) farther distances to and from their water source with buckets. In others, water is piped in or delivered by truck from far away at a great cost. That's why many of us search for solutions with community partners to adapt to water scarcity.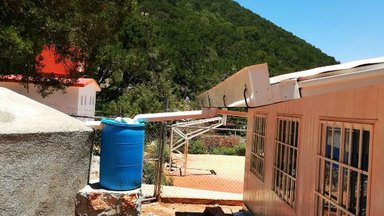 One relatively simple and effective solution is roof rainwater collection and storage. Rainwater that falls on a building's roof is channeled through gutters, filtered, and stored in a tank, or "cistern". This water may then be used directly for irrigation or be treated before domestic use. Families and institutions with the capacity to collect and store rainwater depend less on municipal or delivered sources of water and therefore are more resilient to water scarcity as an effect of climate change.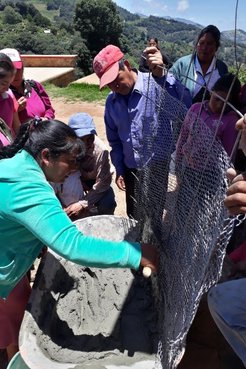 Nearly all cisterns of rainwater harvesting systems promoted by Peace Corps Mexico Volunteers are of ferrocement construction, which consist of a wire mesh frame and cement mortar. They last from 25 to over 50 years, a more durable and sustainable option than the more common plastic cisterns, which should be replaced every 10 years (Sendanayake 2016). Ferrocement cistern construction is the most labor and resource intensive aspect of the projects. However, most of the labor required is to tie the rods and wire mesh together and mix and apply the mortar, which women and men of the community can learn easily. Community members become empowered by constructing the cisterns themselves. According to Adam Carroll, who facilitated the construction of 29 rainwater harvesting systems for peoples' homes and one for a primary school in Sierra Gorda Biosphere Reserve, Querétaro, "It was really incredible seeing the [community defined rules of project implementation] in action, with equality transpiring in the form of women working side by side with men in traditional male roles such as mixing cement and applying it to the cisterns, honesty when people made sure materials were only used for the cisterns, and enthusiasm and happiness, with the community laughing and having a good time while sewing the chicken wire to the wired mesh."
Chad Gregory also noticed the capacity built through the construction of rainwater harvesting systems in a primary and a secondary school in the Sierra Gorda. He says, "It has been impressive seeing community members come together to build something that does not necessarily benefit each person individually, but rather benefits the schools, which are important to the entire community. After seeing the process of ferrocement cistern construction, several community members have even expressed that they want to construct one for their own homes."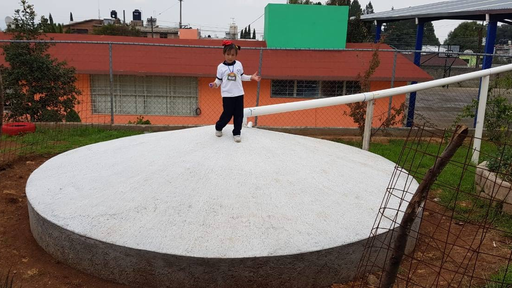 Between 2018 and 2020, the United States Agency for International Development´s Small Project Assistance program (USAID SPA) funded 10 Volunteers and their local partners to build rainwater harvesting systems across 9 municipalities in 4 states. The 96 systems directly benefit 68 families and 23 schools and community centers, with a total capacity to capture and store 1,633,330 liters of rainwater. All this newly available water has an immediate positive impact on institutions and families. For example, Nohely Reyes reports that the cisterns she helped construct in a high school and community auditorium in the Sierra Gorda of Guanajuato Biosphere Reserve filled up after a few rain events, reducing community members' reliance on water delivered from out of town. Cassidy Pearson worked with a local engineer to install two 50,000 liter cisterns in the primary and high schools where she works in the state of Querétaro, implementing an innovative design with more than four times the storage capacity of the average 12,000 liter cisterns typically built for individual homes. She also saw that the cisterns quickly filled to capacity, which the students began using to cultivate gardens. Alejandra Pedraza, currently helping 11 families in her community of Sierra Gorda Biosphere Reserve, Queretaro to install rainwater harvesting systems, states that "The cisterns have given residents some control over their water access. In the coming weeks, the dry season will be in full swing and there will be no water coming from the spring for about 3 months. Although limiting, the cisterns will give women the flexibility to not have to travel daily to collect water for household uses. Additionally, some households will use the cistern to alleviate the water pressure associated with livestock and cultivation. My hope is that other members in the community will get on board and invest in their own cistern construction."
In addition to the aforementioned volunteers, Jeffrey Castanon, Daniel Farmer, Kevin Heller, Nicholas Hill, and Esperanza Perez built or are currently building rainwater harvesting systems with the communities where they serve. Most of the systems are key contributors to climate change adaptation and mitigation objectives as part of more comprehensive USAID SPA funded projects.
Peace Corps Volunteers and their partners have demonstrated that rainwater harvesting is a viable option for increasing Mexican communities' resilience to the impacts of climate change and increased pressure on water resources. Just as importantly, though, they have seen that when individuals unite for a common cause, their collaboration builds capacity for positive change.
Reference
Sendanayake, S. 2016. Life cycle analysis of ferro-cement rainwater tanks in Sri Lanka: A comparison with RCC and HDPE tanks. International Journal of Advances in Engineering Research. Volume 12. Issue 2.