Peace Corps Mexico reopens doors to Volunteers | Cuerpo de Paz México reabre sus puertas a Voluntarios
Peace Corps Mexico has reopened doors for its Volunteers to serve alongside local community members and institutions.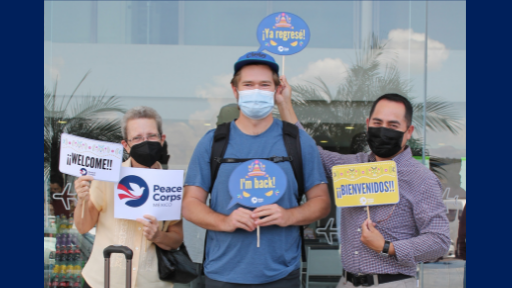 Versión en español abajo
On May 11, 2022, Peace Corps Mexico reopened its doors for Peace Corps Volunteers to serve alongside community members in Mexico. Volunteers have not served in Mexico since they were evacuated in March 2020 due to the COVID-19 pandemic. The event marked the first time in the agency's 60 year history that volunteers were evacuated from all global posts. Since that time, Peace Corps Mexico staff have continued to build on the mutual understanding, collaboration, and bonds that join our two countries. An Education Volunteer who was previously evacuated along with his fellow cohort of Volunteers, was reinstated to complete his service. Staff is busily preparing for a new cohort of Education, Response, and Climate Awareness and Action (Environment) Volunteers, who are anticipated to arrive by late summer.
"We are so grateful to our partners, communities, and host families who have all supported this historic return of Volunteers to Mexico," said Peace Corps Mexico Country Director, Matthew Colburn. "Over the course of the last two years and in close collaboration with our partners, staff completed a re-design of our Education and Environment project frameworks. Virtual Service allowed us to continue realizing our mission and expand our geographical reach. Our host government agencies and community partners have remained engaged with Peace Corps Mexico and are eager to have our Volunteers back in the field."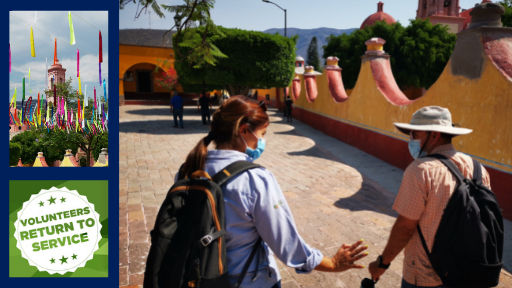 At the request of the government of Mexico, volunteers will work with their communities on locally prioritized projects. Climate Change Awareness and Action Volunteers will collaborate with partners to promote greater awareness of climate change and how to increase resiliency to its impacts, with a gender and youth lens, co-developing and co-facilitating activities such as environmental education resources and events, as well as solid waste management, and soil, water, and biodiversity conservation practices. Education Volunteers will collaborate with semi-rural STEM focused universities on co-planning and co-teaching English language classes; co-facilitating communities of practice and extracurricular English language learning, supporting institutional projects, student mentoring and career counseling, and strategic networking. Response Volunteers will serve as shorter term Social Impact Advisors, Project Management Specialists, Enterprise Resource Management Advisors and Business Development Specialists in Public Research Centers, implementing activities such as: designing and facilitating trainings, analyzing institutional processes, recommending best practices, co-creating manuals, standard operating procedures, or strategic plans, and facilitating collaboration between departments and/or institutions.
Regardless of the sector they work in, all Peace Corps volunteers engage in some form of COVID-19 recovery work, as either primary or secondary projects. Together, they will work alongside community members to make progress on the biggest development challenge the world has faced in more than a century. From 2004 to March 2020, 494 Peace Corps volunteers served in Mexico, working on projects in Education, Environment, and Peace Corps Response. You can follow Peace Corps Mexico on Facebook or YouTube.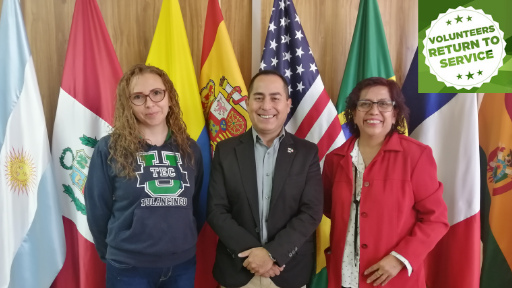 ESPAÑOL
11 de mayo del 2022, Cuerpo de Paz México abrió nuevamente sus puertas a Voluntarios estadounidenses para colaborar con comunidades en México. Los voluntarios no han participado en México desde que fueron evacuados en marzo del 2020 debido a la pandemia por COVID-19. Este evento marcó la primera vez en la historia de 60 años de la agencia que los voluntarios tuvieron que ser evacuados a nivel mundial, en todas sus sedes. Desde ese momento, el personal de Cuerpo de Paz México ha continuado construyendo puentes de mutuo entendimiento, colaboración y lazos que unen a nuestros dos países. Uno de los Voluntarios, quien fue previamente evacuado junto con sus compañeros, ahora podrá reanudar y completar su servicio. El personal de Cuerpo de Paz se encuentra preparando todo para la llegada de un nuevo grupo de Voluntarios de los programas de Educación, Responde, y Conciencia y Acción Contra el Cambio Climático (Medio Ambiente), prevista para finales de este verano.
"Estamos muy agradecidos con nuestros socios, comunidades y familias anfitrionas quienes nos han apoyado en este histórico regreso de los voluntarios a México," mencionó el Director Nacional de Cuerpo de Paz México, Matthew Colburn. "En el transcurso de los últimos dos años y en conjunto con una colaboración cercana con nuestros colaboradores, el personal logró completar el re-diseño de nuestros marcos lógicos de los proyectos de Educación y Medio Ambiente. El Servicio Virtual nos permitió continuar con la misión y extender el alcance geográfico. Nuestro gobierno anfitrión, agencias y socios comunitarios han permanecido comprometidos con Cuerpo de Paz Mexico y están ansiosos de tener de vuelta a los voluntarios en los sitios."
A solicitud del gobierno de México, los voluntarios trabajarán con sus comunidades en proyectos que son localmente prioritarios. Los voluntarios de Concientización y Acción Contra el Cambio Climático colaborarán con sus contrapartes para promover una mayor conciencia sobre cambio climático y cómo incrementar la resiliencia frente a sus impactos, con perspectiva de género y juventud, co-desarrollando y co-facilitando actividades tales como recursos y eventos de educación ambiental, al igual que el manejo de residuos sólidos y prácticas de conservación de tierra, agua y biodiversidad. Los voluntarios de Educación colaborarán con Universidades semi-rurales enfocadas en Ciencia, Tecnología, Ingeniería y Matemáticas (STEM por sus siglas en inglés), co-planeando y co-facilitando clases de inglés; co-facilitando comunidades de práctica y la enseñanza de inglés en cursos extracurriculares, apoyando proyectos institucionales, tutoría a estudiantes, orientación profesional y creación de redes estratégicas. Los voluntarios del programa Responde colaborarán a corto plazo como asesores de impacto social, especialistas en gestión de proyectos, asesores en gestión de recursos empresariales y especialistas en desarrollo empresarial en centros públicos de investigación, implementando actividades tales como: diseño y facilitación de capacitaciones, análisis de procesos institucionales, recomendación de mejores prácticas, creación conjunta de manuales, procedimientos o planes estratégicos, y facilitar la colaboración entre departamentos e instituciones.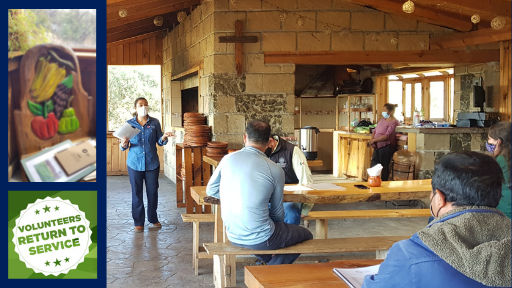 Todos los voluntarios de Cuerpo de Paz se involucrarán en cualquier forma de labor de recuperación relacionada con COVID-19, ya sea en proyectos primarios o secundarios. Juntos, ellos colaborarán con los miembros de la comunidad para avanzar en el desafío de desarrollo más grande que el mundo ha enfrentado en más de un siglo. Del 2004 a marzo del 2020, 494 voluntarios de Cuerpo de Paz han realizado su servicio en México, trabajando en proyectos de Educación, Medio Ambiente y en el programa de Cuerpo de Paz Responde. Se les invita a seguir a Peace Corps Mexico en Facebook o en YouTube.