Día de la Independencia en México | Mexico Independence Day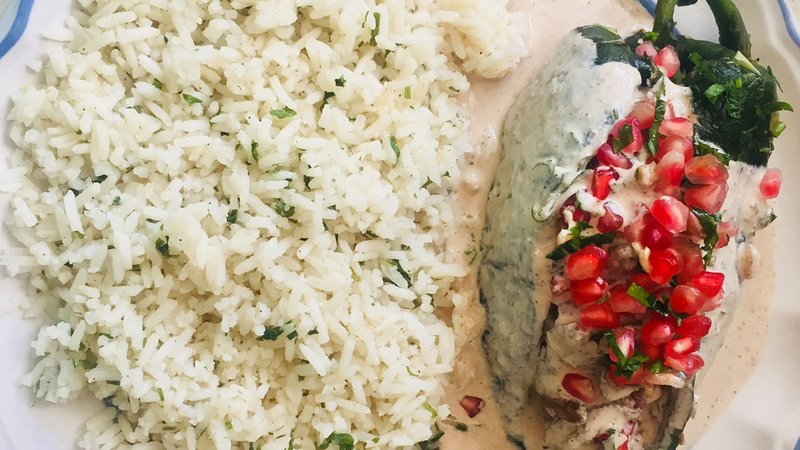 Sept. 14, 2018
Español / English
A las 11 de la noche del 15 de septiembre de cada año, las autoridades de todas las localidades en México acuden a su plaza principal para dar "El Grito". Ahí los espera el pueblo reunido para hacer eco de los vítores a los héroes de la nación.
La historia indica que la madrugada del 16 de septiembre de 1810 el cura Miguel Hidalgo y Costilla tomó una imagen de la Virgen de Guadalupe, tocó la campana de su parroquia (en lo que hoy conocemos como Dolores Hidalgo, Guanajuato) y llamó a un levantamiento que culminaría con la proclamación de México como nación independiente.
Aunque no se tiene registro de las palabras exactas del cura, a este hecho se le conoce comúnmente como "El Grito de Dolores" y recrearlo cada año es una manera de mantenerlo vivo en la memoria colectiva y de fortalecer la identidad nacional.
Se sabe que la primera celebración de este día la hizo el General Ignacio López Rayón en Huichapan, Hidalgo, en 1812. 
A partir de ahí la celebración ha tenido diferentes manifestaciones. Hubo una época en la que la iglesia y el estado no estaban separados y este día se celebraba con misas, conciertos y verbenas populares, pero actualmente el estado es laico, así que las misas han quedado fuera de las celebraciones oficiales. 
Hoy en día es común ver plazas públicas, locales comerciales y casas privadas adornadas con los colores de la bandera mexicana. Tomando una licencia histórica y con el fin de mostrar las diversas facetas de México, las personas, además de vestirse con los colores de la bandera, usan ropa típica de las Adelitas (mujeres de la época de la revolución), camisas de manta, sombreros de paja  o trajes de charro. La mañana del 16 de septiembre se hace un desfile oficial para reafirmar la lealtad de las fuerzas públicas a la patria y al pueblo de México.
Como en cualquier celebración mexicana, la comida es sumamente importante. Los antojitos mexicanos -pozole, pambazos, guajolotes, gorditas- son lo más común. Sin embargo, el platillo por excelencia se originó en Puebla y se conoce como Chiles en Nogada. Sus ingredientes representan los colores de la bandera: el verde en el chile, el blanco en la nogada y el rojo en la granada con que se decora el platillo.
Así que entre música, algarabía, fuegos artificiales, comida y uno que otro caballito de tequila o mezcal, la noche de este 15 de septiembre se escuchará a lo largo del país ¡Viva México!
 ***
At 11 pm on September 15th every year, government officials in every city, town, or community in Mexico arrive to their main square in the city center to perform El Grito, or, "the shout." Residents are gathered there awaiting to echo the cheers commemorating the nation's heroes.
The history is as follows: in the wee hours of September 16th, 1810, Father Miguel Hidalgo y Costilla took an image of the Virgin of Guadalupe, rang the bell of his parish (in what is now Dolores Hidalgo, Guanajuato) and called for an uprising that would culminate in the proclamation of Mexico as a nation independent from Spain.
Although there is no record of the exact words of the priest, his call to action is commonly known as El Grito de Dolores, and its annual reenactment is considered a way to keep the collective memory alive and strengthen national identity.
The first celebration of this day was by General Ignacio López Rayón in Huichapan, Hidalgo, in 1812.
Since then, the celebration has taken on different forms. Before church and state were  separated, Mexico's Independence Day was celebrated with Catholic masses, concerts and festivals. Now that the state is secular, masses have been left out of the official celebrations.
Nowadays it's common to see public squares, stores and homes decorated with the colors of the Mexican flag (green, white, and red). Showing off Mexico's many faces and with great historical flair, in addition to wearing the colors of the flag, some people wear the customary clothing of Adelitas (sisters of the revolution), or traditional muslin shirts, straw hats or charro (cowboy) suits. On the morning of September 16 there is an official parade in every town to reaffirm the public services' loyalty to their homeland and to the people of Mexico (government, armed forces, police, firefighters, nurses, doctors, schools, and many others).
As is the case with any Mexican celebration, food is extremely important. The Mexican appetizers - pozole (a meat stew with hominy), pambazos and guajolotes (fried sandwiches with salsa), and gorditas (grilled or fried corn dough with a variety of different fillings) - are the most common. However, the most iconic dish par excellence,  is the Chiles en Nogada which originated in Puebla. Its ingredients represent the colors of the flag: the green in the chile, the white in the nogada (a walnut/cream sauce) and the red in the pomegranate which decorates the dish.
This is how, amidst music, great cheer, fireworks, and a few tequila shots, the people across the nation will shout Viva Mexico this September 15th.
---