If someone told me when I got to Kyrgyzstan that my biggest struggle during Pre-Service Training would be saying goodbye to my first host family, I probably would have shrugged it off.
I thought that passing the LPI, seeing my PST site-mates off, or finally lifting my hand to take the oath of service would have gotten the strongest responses out of me. Knowing that my language skills coming into country were virtually non-existent, I never pictured that in two short months I would be as close as I was to a family who spoke a language that I did not understand.
During the first week of PST, we were given a handy "List of Housing Phrases" packet that had questions and phrases for us to use with our host families. But on the off-chance that they understood my poor pronunciation, I generally had no idea what they were saying back to me. My family knew this, and over time, we developed our own language that included a mix of "caveman Kyrgyz" and Charades, with a heavy emphasis on the Charades. By the end of PST, we were each fluent in it and while it certainly was not the "right" or most grammatically correct version of Kyrgyz, it was right for us. And that is what mattered the most.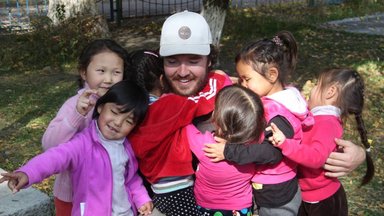 This experience with my host family taught me that when it comes to relationship-building, having a mastery of the Kyrgyz language, or any language, is not a requirement for building strong connections. What unites us is not the words that come out of our mouths, but the feelings that we impart on one another and the experiences that we endure together. It is the happiness we feel when we celebrate our Чоң Апа and Чоң Ата's 50th wedding anniversary with a 200-person той. It is the sadness we feel after learning that Ата's brother has passed away unexpectedly, and the house is silent for a few days. It is the frustration we feel after my host parents have asked me the same question four different times and I still just do not get it. It was experiences like these that led me to having such a deep connection with my PST host family.
Moving into my permanent sites, my excitement, hopes, and fears all stem from this desire for experiences. I am excited to experience the first snowfall in Казарман, to shovel coal into the burner with my Ата, and to huddle with my family around the table to stay warm. I am hopeful that over these two years, the hard work of my students will pay off and their English skills will flourish. I am fearful for that moment in two years where I will brush the dust off my suitcases when it is time to go home. But above all the fears, hopes, and excitement, I am confident in the relationships we will build and the memories we will create. These will last a lifetime, and that is what will matter the most.
---