How did I get to Peace Corps in the Kyrgyz Republic?
Today marks 1 year since I received my official invitation to serve as a Peace Corps Volunteer in Kyrgyzstan! In honor of this, I thought I would make a post all about how I ended up here in Kyrgyzstan. Also, over the past year, I've noticed that the number one thing people say to me is "How did you find Peace Corps and Kyrgyzstan?"
I discovered Peace Corps during the Fall of my freshman year of college at TCU (Go Frogs). I attended a seminar all about the ethicality of service and the fine line between volunteering and "voluntourism." As someone who volunteered every weekend during high school and never thought anything of it, the seminar really opened my eyes to the potential harm that can occur even while you think you are doing something "good." At the seminar, there was also a raffle for a book called "When Helping Hurts: How to Alleviate Poverty Without Hurting the Poor and Yourself." I ended up winning and took home the book thinking that it'd sit on my bookshelf until I had time for it. Well, I actually ended up reading it all that night. Unrelated, but a year later I met someone during a Zoom meeting and casually mentioned the book and the impact it had on me. That someone turned out to be the son of the author, who then texted his dad to let him know that people actually read his book. Anyway, after finishing the book, it sent me into a mental spiral of how I was going to spend my future days. I always knew I wanted to go into a profession that at its core was meant to serve others, but now I was unsure of how to actually achieve that. So...I did what every person does and started looking things up on the Internet. It was there I found the Peace Corps. This sounds cliche, but almost immediately after reading about the Peace Corps and what they stood for, I knew it was what I wanted to do after graduation (which at that point was 3.5 years away).
This was in the Fall of 2019 and a short time later the COVID-19 Pandemic hit, Peace Corps shut down and volunteers around the world were evacuated with no clear timeline for a return. Throughout, the following year, I kept monitoring the Peace Corps and their updates on when they anticipated volunteers returning to their site. However, I also began accepting the idea that it may not be something that I would be able to do immediately after graduation.
Beginning in 2021 (my junior year of college), Peace Corps posts around the world slowly began to reopen and welcome volunteers back in-country. With this, my dream of becoming a Peace Corps Volunteer after graduation was once again alive and well. During this year, I started to do more serious work and research into the Peace Corps: attending web seminars, connecting with a recruiter, talking to former volunteers, and reading every blog a volunteer has ever written (if there is anyone reading this thinking of applying: hi!)
When you apply to the Peace Corps you typically have two options: you can apply to a specific position in a certain country (for example a TEFL Co-Teacher in the Kyrgyz Republic) or you can apply "Serve Where Needed Most." This is where you give Peace Corps Headquarters your application, and they decide where they believe you will be best (you can also give your preferences on certain types of jobs or general areas of the world.) Peace Corps also recommends that you apply 1 year before when you would like to depart for your service. For me, I knew I wanted to leave as close to June 2023 as possible. With that, I am pretty sure I submitted my application the day that positions opened for Summer 2023 departures (Mid-May 2022). I also applied "Serve Where Needed Most" with preferences to work in either the education, youth in development, or health sectors. I didn't have a preference on where in the world I would like to serve, all I knew was that I would go anywhere Peace Corps said as long as it meant I could be a volunteer. Another fun fact about my Peace Corps journey, I never seriously mentioned it to anyone in my life until I actually submitted my application. Of course, I had mentioned it casually over the past 3 years to certain people, but no one really gave it any thought until my application was actually submitted and they realized I was serious about being a PCV. For those thinking of applying, I don't know if I recommend this particular strategy...
Anyway, two weeks after submitting my application, I was in Las Vegas (lol) for my family/friends' annual "everyone who turned 21 that year goes to Vegas" trip. It was there I got an email saying I was being considered for the TEFL Co-Teacher Person in the Kyrgyz Republic. The first thing my friends and I did: look up where that was (I know, not my best moment, but now you won't find a bigger fan of Kyrgyzstan than me). A few weeks after that I received an interview invitation. I had my interview in early July 2022, and to say it was the most stressful 90 minutes of my life would be an understatement. Afterward, I remember telling people that my interviewer knew more about me than I knew about myself. I was also convinced afterward that it had gone so horribly that there was no way I'd ever be offered a position. Despite this feeling, they told me I would hear back by December 1st, 2022, or if I was lucky, possibly earlier.
Due to the latter statement, naturally, this meant I checked my email obsessively every single day from July to September hoping for an update. Every day without hearing anything was worse than the day before, and it reached the point that I had convinced myself I would never hear anything (dramatic). However, finally, on September 23rd, 2022, when I was entirely sure I would never become a volunteer, I got the email saying "Congratulations." Funnily enough, I was out of town that weekend in Austin, Texas. I was spending the weekend with my best friend since 5th grade, Adrienne, and we were planning to have an entirely Harry Styles-themed weekend (including going to see the movie "Don't Worry Darling" and going to multiple of his concerts). We were in Target and I'm pretty sure I was rambling to her about how Peace Corps would never happen when I received that "Congratulations" email. From there, I don't think I read anything else, instead, I sat on the ground in Target, cried, and then called my mom (who was in Las Vegas at the time...a lot of my Peace Corps journey centers around Las Vegas and Harry Styles). As monumental as this moment was, the reason we were at Target was to buy snacks before going to the movies, and I had about 20 minutes to let as many people know as possible before the movie started. I ended up calling a few people in the car, texting others, and then putting a mass announcement up on my private Snapchat story (pictured below). I then turned off my phone for 3 hours. Safe to say when I turned it back on, I had hundreds of messages ranging from "Congratulations" to "Are you alive? Answer your phone."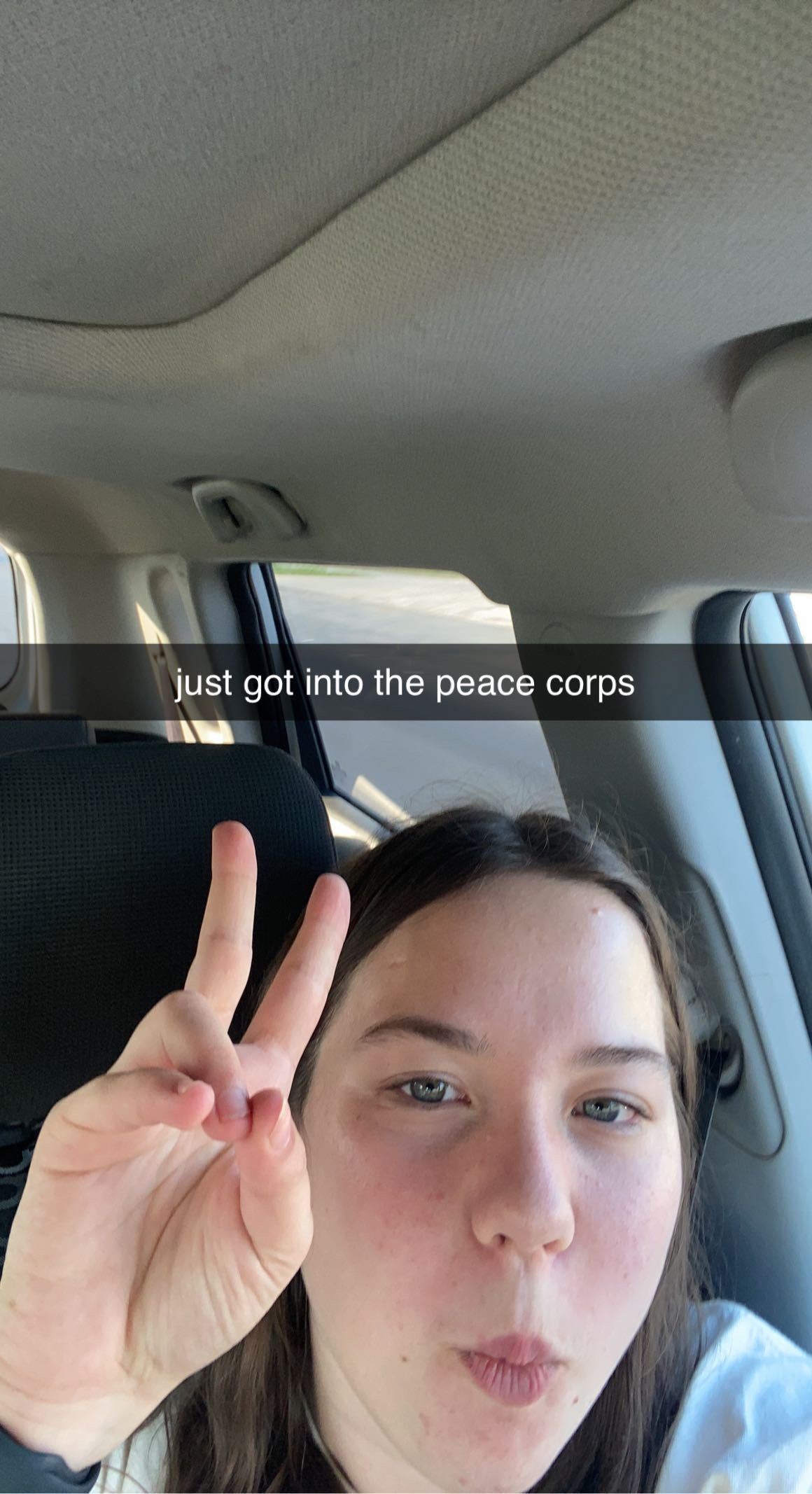 The picture that I used to let all of my friends know the big news
I also need to take the time to show you the photo proof of me sitting on the ground in Target immediately after finding out. Shoutout to Adrienne for this picture. Even though Adrienne has admitted to me that she never reads this blog, I do need to take the time to say that along with Harry Styles and Las Vegas, she also played a significant role in my Peace Corps journey. If we're lucky, we only really see each other 2 or 3 times a year. However, I happened to be with her when I both received my official invitation and the original email saying I was being considered for Kyrgyzstan. I can't think of anyone I would've rather had with me for either of these moments. She has supported every idea, insane or not, that I've had since 5th grade (including Peace Corps, doing the worm at every opportunity, cutting her own bangs in my bathroom senior year of high school, traveling around the US to see Taylor Swift as many times as possible, etc...) I am also a big believer in fate and people being where they are meant to be, so I don't think it was an accident that we were together in those moments.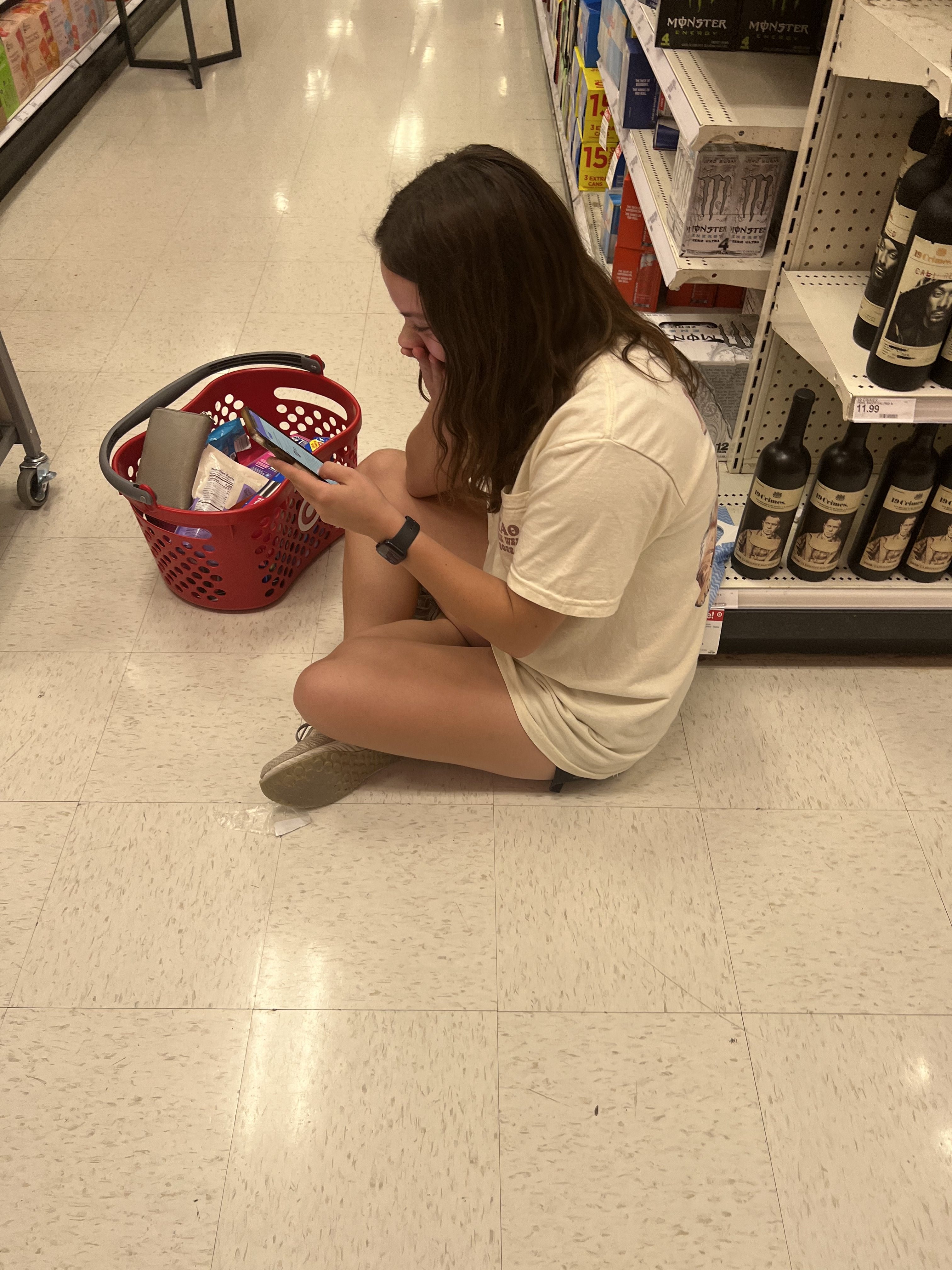 Proof
After receiving my invitation, I quickly accepted (note to future applicants: once you receive your invitation you only have 3 days to decide), and then spent the weekend celebrating at the Harry Styles concert (hearing "Matilda" hurt on a level that I did not think was possible and I cried a lot). From there, the following 9 months until my departure date were a whirlwind, including legal clearance, medical clearance, telling everyone I knew, taking my MCAT (gross) to be ready for after PC, doing everything to prepare to move to Kyrgyzstan, and becoming an aunt the night before I left. I can write a more in-depth post about all of these things later, but for now, that's the abbreviated version. I also graduated from the best college in the world (riff ram) in May 2023 with my B.S. in Speech Pathology and B.A. in Biology. Then, roughly 3 weeks post-graduation and almost 4 years after first learning about Peace Corps, I was on the plane to Kyrgyzstan. And now here we are, one year later.
So that's my Peace Corps journey leading up to actually being in Kyrgyzstan. I know that everyone's journey to Peace Corps is different, but if there's anything else you want to know feel free to let me know either on here (https://emilyinkgz.blogspot.com) or on my Peace Corps Instagram @emilyinkgz (shameless plug). Until then, enjoy this picture of Adrienne (we'll see if she reads this) and me celebrating my PC invitation at the previously mentioned Harry Styles concert :)