Thoughts on Returning Home
"How do you know you'll make it to two years?" he asked.
That was in March of 2015, and this has been the fastest three years. There are many reasons that Tom, our tenant who signed the lease on our home for two years, could have been right. So many things could have gone wrong forcing us to be back home sooner than expected, and Tom was concerned about having to potentially deal with us coming back prematurely and reclaiming our home before the expiration of the lease. 
For one, back in 2015 we both wondered how we would deal with constantly being with each other for almost 24 hours per day for two years straight. Confined to our schools and room without any escape. As it turned out, serving together, working on projects together, making friends together, and learning about a different culture together has brought us even closer together. As we come closer to finishing our service, we now realize that we both have in each other, for the rest of our lives, a friend who will always relate to and reminisce about our adventures in Indonesia. And this will be something very special.
Back in 2006, having just crossed Siberia by train, we ran into a Peace Corps Volunteer in Mongolia. We both still vividly remember him saying, "Peace Corps is what you make out of it".  We took this advice to heart.  In Indonesia we made as many friends and acquaintances as we could, and through them sought out opportunities for projects at our schools and in our community both in East Java and in East Nusa Tenggara.  In the process, we have made some wonderful lifelong friends and we have been fortunate to have completed some successful school and community projects.  Not all has been smooth, of course.  There have been multiple challenges along the way, but by having each other for support and remembering the advice from 10 years ago has truly made this a "life experience".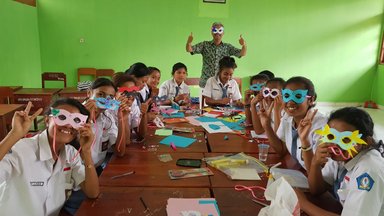 Our service has really been about our students, teaching counterparts, host families, and the people in our communities in both sites.  We have also made wonderful relationships within the Peace Corps Volunteer community and with Peace Corps staff.  We will miss our friends in Indonesia and we will miss our life here.  But we are also looking forward to reuniting with our families and friends back home.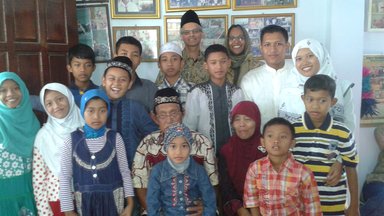 Three years ago when Tom asked us that question, we didn't know how to answer. The fact was that we didn't know if we would make it for two years. We didn't know if it would be a mistake for us to leave our established lives, especially at this age. What we did know was that we were passionate about offering and applying our skills to those that would benefit, and we were eager to learn from others. So as we finish our third year in Indonesia, we feel like we have given to Indonesia, but our experiences in Indonesia have given us a whole lot more in return.