My World Map Project was a little unexpected, but greatly enjoyable. I think that it perfectly summarized my first months here at my site in West Java in that the process of service may be hectic but the product can be unexpected and beautiful. 
I was sitting in the teacher's room, chatting about what I hoped to do with my service, when I mentioned that I wanted to do a World Map Project. I had to run between my dictionary and my counterpart, but soon everyone understood that I wished to paint a 'peta dunia' – a world map – somewhere in the school. I had just been idly chatting I realized I wouldn't be able to do something like this for several more months because I was still in the adjustment period. Naturally, Indonesia had other plans for me. A week after the conversation several students from OSIS (Students' Association) ran up to me and asked when we would start painting. I was flummoxed. I wasn't ready for this! I arranged a meeting then ran to my computer to do some research.
In mid-September last year, I walked into the Library to find about thirty bright and excited students from OSIS. They even had pens and paper out to take notes. My counterpart helped me explain that this was a project enjoyed by students around the world. If we made one here, we would be connecting with schools from Uganda, Costa Rica, China and even Mongolia. I explained that I would need their help to raise money, buy supplies and paint the actual map. I was a little nervous because I had no idea what this would cost and how long it would take, but I figured we would work that out together at another meeting. I was wrong. Heads huddled together and some furious whispers came from the students. After about five minutes they all agreed that they would raise Rp 200,000 in two weeks (around $18). I conferred with my counterpart and we agreed that the school would match whatever they raised to double the budget. And that was it! I was expecting to do more but these amazing students organized everything for me. Talk about student leadership.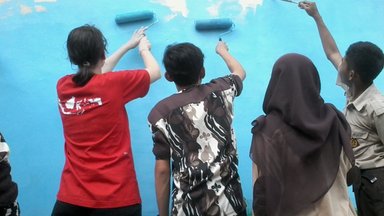 Those were an interesting two weeks. Every class I taught would be interrupted by a pushy girl with a basket of snacks. She insisted that everyone buy one (including me) before running off to sell her wares at the next room. OSIS had gone home, baked up hundreds of little snacks, brought them to school and sold them all! They had the best marketing ploy: the volunteer teacher wants to paint a map, buy some snacks! By the end of the two weeks, they had earned Rp 250,000! Therefore we had Rp 500,000 total to buy everything we needed.
Months went by and we couldn't find a good day to meet and paint. Rainy season makes it difficult and the students were often busy with their own work. I decided to put it off until after the winter break. In the meantime, I made worksheets to help them practice the grid method of drawing. I loved seeing their work and how excited they got. One student would follow me around school, trying to give me her latest work. I asked her to sign it for me and she happily did.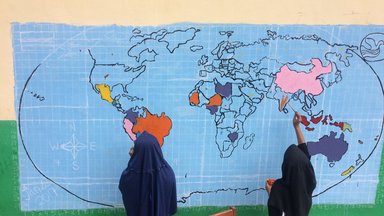 Finally the day of painting came. We chose to do it in three days over the long weekend. Friday rolled around and we all showed up. I had chosen to buy the basic colors (white, black, blue, yellow and red) so we could mix up the various colors ourselves and save some money. We also bought small paintbrushes and gasoline to prepare the paint. The school had some old paint rollers and pans lying around so we managed to scrounge up everything we needed without buying too much ourselves.
I had hoped to use the projection method so we pulled out the rickety projector and my computer. Right away there was a big problem. Most of my classrooms don't have electricity so we couldn't plug it in. Some boys ran off and found the longest extension cord I have ever seen and happily spent a good thirty minutes trying to untangle it. We tried plugging in the projector to the one classroom with electricity but it didn't work. I'm so glad we all practiced the grid method. Therefore, the first day was spent doing the boring bit. Painting an ocean and drawing a grid. It was hot, thirsty work and the students went home a little daunted.
I wasn't surprised when fewer students arrived the next day, but we were still determined to make this work and have fun. Each student chose a page from the grid to copy and we got to work with chalk and chatting. I was in charge of the fiddly European bits because they are complex and high up on the map. After a few minutes of silence one of my new friends started asking me questions. "Miss, how many countries have you been to?" "Miss, what is your favorite?" "Miss, what country is this?" Very soon we all got into a really interesting conversation about the world and their place in it. They could point to Indonesia and Australia but knew almost nothing about Thailand, Cambodia or Laos. My geography skills, sketchy at best, were tested to the limit but we had so much fun learning about the world. Food was the topic we could all agree on. One privilege of being an American is I have had access to food culture from the whole world. I never realized just how our cultural diversity can make a person a mini-expert on so much. My love of Mexican food really came in handy.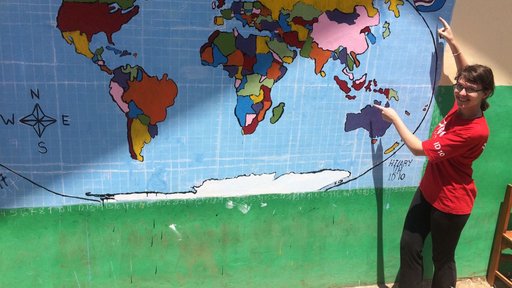 It took three hot days but we primed, prepped and painted our hearts out. On the third day we only had five students come to help but we got it done! We had a lot of fun experimenting with mixing colors. The students never knew that blue and yellow makes green or that red and blue magically turns into purple. Some of the younger students ran off into the corner to make a giant mess experimenting. The best part was when all the participants gathered together for some sweaty victory pictures. We must have taken hundreds. I could see the pride and triumph in their faces, and I have to admit I felt it myself. This was the moment in my service when I thought, "my time here will make a difference. I can do this!" It was powerful. We had some money left over so everyone agreed that ice cream was the perfect celebration. 
The next day, Monday, I got to watch the student body drive in and see the new map. Many rushed over and excitedly touched the different countries with their bright colors. They talked to their friends and took pictures near it. My teachers all agreed that this was a good investment and asked if I could make a mural for the library. Even now, months later I have noticed that the area under the map is a popular spot for students to hang out between classes. Even better, the week after the map went up, I walked into class and found that the students had taken on themselves to make their own murals! The creativity and resourcefulness of these students will always astound me. I love walking into class and seeing their hard work and pride. They own this school, they belong here. Now I feel like I might too. 
---
If you'd like to create a world map in your community, use our resources.
World Map Project