I've been trying to find the typical day in my life to share with all of you. However, there is no "typical" day.
Every day something happens or doesn't happen and I really have no control over it. However, here is everything I did this past Wednesday. In some ways it was typical, in others it wasn't. I've tried to share with you what a normal day would be like when this one diverged. Hope it gives you a little peek into my life and the life of a Peace Corps Volunteer in Indonesia.

5:45 am – Wake up. Usually I like to wake up at 5:15 am so that I can do a half hour of yoga and some push-ups in my room before it gets hot, but I stayed up late (10:30 pm) talking to my host mom, so I took the extra sleep today.

5:45 – 6:00 am – Make coffee and breakfast. Every morning I make coffee. The blender I use to grind my coffee beans has been broke for a few weeks so I've been relegated to drinking the instant coffee that comes in little packs here. Usually I would use my Aeropress to make a cup of black coffee. For breakfast, I usually make some instant oatmeal (Quaker brand) and add a little honey. Sometimes I'll come down to make my coffee in the morning and my host mom will tell me to eat rice and whatever else she's cooked. If it looks good I'll take her up on the offer. If not…well, I'll stick to my oatmeal. Today I stick to my oatmeal.

Today while I'm cooking, my host mom is also in the kitchen doing a load of laundry in the newly repaired laundry machine. We continue our conversation from last night about me coming to her school. The conversation began when I was helping her fifth-grade students with their English homework. One of them mentioned how the English teacher rarely comes to class and when she does, they work out of a workbook which is riddled with mistakes (when she doesn't the fifth graders "study alone"). Last night, my host mom and I had been talking about me possibly coming in to teach them today. While I'm cooking, she brings up the subject again and I agree to come in and teach for an hour because I don't have classes at my school until later in the day.
6:00 – 6:30 am – Selamat makan! (Enjoy eating!) If I make oatmeal, I'll usually bring it up to my room and listen to a podcast while I eat. If I take my host mom up on the rice offer, I'll usually sit in the living room with her or my host sister and watch TV while I eat.

As today I made oatmeal, I bring it up to my room. However, today is a special day because I agreed to teach at the elementary school my host mom teaches, and I need to come up with a lesson plan.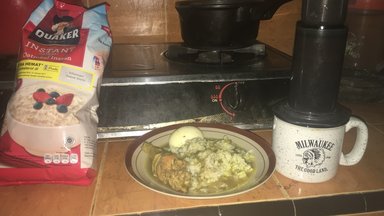 6:30 – 6:45 am – Shower and get dressed. I'm lucky enough to have my own bathroom and its up on the second floor near my room. I take a quick bucket bath and brush my teeth. I head back to my room to comb my hair and get dressed. As today is a Wednesday, I'll be wearing a white shirt and dark pants. (Teacher dress code: Monday-khaki uniform; Tuesday/Wednesday-White shirt and black pants; Thursday/Friday-batik shirt; Saturday-polo/batik/collared shirt/"casual")

6:45 – 6:50 am – Pack up my bag and double check to make sure I have everything I need for the day.

6:50 – 7:10 am – Go to school. Usually, at 6:50 am I would walk or bike to school, arriving no later than 6:55 am. However, when I get downstairs, my host mom is still applying her makeup and getting dressed. Since I'm going to school with her, she tells me to wait. I wait for 15 minutes while she finishes getting ready and making sure her 16-year-old son has left for school and we leave, getting to school at 7:10am.

When my host mom and I arrive at her school, there are only two other teachers already there despite us being 10 minutes late. My host mom checks the clock and rings the bell to get the students to go into the classroom.

7:10 – 7:20 am – Attendance and school prayer. A lot of students are crowded around me and staring through the classroom windows. I've been to the school before, but not often and the kids are curious. I enter my host mom's class room (she's still in the office) and tell the other classes to go to class and my host mom's class to sit down.

I wait for a few minutes for a prayer and nothing happens so I start to teach. Almost immediately, the prayer comes over the loud speaker and all the students recite it together.

7:20 – 8:30 am – Teach. I've decided to go over numbers and telling time. These are both topics that my host mom's class has already "learned" (I know from helping the students with their homework), but most of the class doesn't understand it and the few who do are students who have come to me for help. I figured it would be good review for them, and a chance to learn the material for everyone else.

We started class by introducing ourselves and practicing his/her. The students stood in a circle and said the name of the person before them and then their own name. "His name is Rizky and my name is Alifta." There was only a minor kerfuffle over which boys and girls would have to stand next to each other as they self-segregated.

After introductions, we did the Banana dance which is always a crowd pleaser. We then spent some time going over numbers (which I made the students write down) and then played a game to review it. Then, we went over time (which I also made the students write down). We were running out of time so we did the Banana dance again and I told them we would review telling time next time.

There is a chance that I'll be teaching the 5th graders weekly. I'm currently trying to decide what the right thing to do is. On one hand, if I come every week, the students will actually learn English and be in class, however, that means the English teacher who is supposed to be teaching them will essentially be rewarded for not coming to class and will have even less incentive to do so in the future. On the other hand, if I don't keep teaching them, they probably won't receive much English instruction.

8:30 – 8:35 am – Say goodbye to my host mom and walk to my school.

8:35 – 10:15 am – Spend time in the air-conditioned counseling room talking with the counseling ladies and editing the second edition of the book my counterparts and I created last semester. I was supposed to have class with Bu Alies from 8:45-10:15 but she told me not to come because she's only administering an exam and doesn't need me there.
10:15 – 10:40 am – The first break at my school goes from 10:15-10:35. I return to the teachers' room to make a cup of coffee and find Pak Farhan so I can figure out what we're doing in class (he doesn't like lesson planning). He takes his time getting ready for class, so we get there five minutes after the bell.

10:40 – 10:55 am – Pak Farhan and I are supposed to have Class XI from 10:35-12:05. However, when we arrive, many of the students are still eating and some are not in the class room. They say they need a longer break because they had an exam in the last class. Pak Farhan says okay and asks them how long they need. They ask for 10 more minutes, we give them 15.
​10:55 – 12:05 pm – Class with Class XI.IBB. IBB stands for Ilmu Bahasa dan Budaya, or the Language and Culture class. During the break, Pak Farhan had said we were going to review the midterm exam that the students had taken last week. When we start class, he hands out the question sheet of the exam (10 multiple choice questions) and goes through the answers with the students. After going through the answers, he asks me to do an activity or play a game with the class while he grades the tests…

That is right. He brought the ungraded tests to class with him so that he could grade them there while the students wait, even though he had all week to do it and it was a multiple-choice test. I was unprepared for an activity, shocked that he hadn't graded the tests yet, and generally annoyed with him. Eventually we did a word web exercise where I put two words ("novel" and "dog") on opposite ends of the board, and the students had to add words that would connect the two. Eventually the connection was made by Dog-Animal-Pigeon-Bird-Tree-Paper-Book-Novel. However, there were many connecting words in between.
12:05 – 12:45 pm – Lunchtime. The second break at my school is 40 minutes and is intended for lunch. On Tuesdays, Wednesdays, Fridays, and sometimes Thursdays, lunch is provided for all the teachers at my school. However, I am not very hungry and will be cooking with English Club after school, so I demure and go to Alfa Midi (a mix between a grocery store and a convenience store) to buy ingredients for the fettuccine alfredo that English Club will be cooking later.

I spend about Rp 170.000 on supplies despite only being given Rp 100.000 from the English Club budget.
12:45 – 2:00 pm – I spend some more time in the Counseling room. The Wi-Fi is working and I find the latest episodes of Madam Secretary and Designated Survivor to watch later. I also take care of some student loan things and catch up on some emails.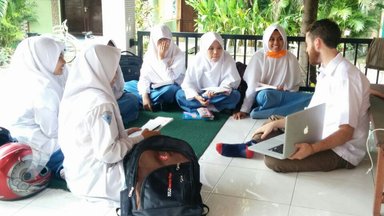 2:00 – 2:15 pm – Bu Alies and I prepare everything in the kitchen of the teachers' room' for English Club which is every Wednesday. At 2:15pm the bell rings signifying the end of school and I wait outside the teachers' room for students to show up.

2:15 – 2:25 pm – At first only four students show up for English Club. I tell them to go find their friends and then walk around the school telling people to come to English club because we're cooking. By 12:25 pm I have 10 students and a few more will trickle in later.
2:25 – 4:00 pm – The English Club students and I cook fettuccine alfredo. The students do most of the work cutting, stirring, and mixing under my direction. After we finish cooking we eat together and share the food with a few of the teachers that are still at school. We agree that we should've added more salt. The students ate their pasta with krupuk which was totally unnecessary but because I'm such a huge fan of krupuk, I let it slide.

During this time every Wednesday, I have English Club. On Tuesdays and Thursdays, I have an hour-long Bahasa Indonesia class on Skype. Other days I stay after school to talk with students, use Wi-Fi, or I go home and read or take a nap.

4:00 – 4:05 pm – Walk home. Smile and say good evening to everyone I meet. Feign fear and run away from the 4-year-old twins that chase me every time they see me.

4:05 – 4:30 pm – Talk with my host mom about my day, give the leftover fettuccine to my host sister to try, play with my 9-month-old host niece.

4:30 – 5:00 pm – Take a nap.

5:00 – 6:50 pm – Watch an episode of Madam Secretary then read for about an hour.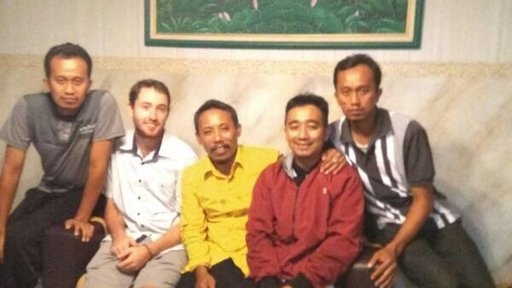 6:50 – 7:00 pm – Shower and get ready to hang out with my friend.
​7:00 – 9:00 pm – Hang out with my friend Inung. We go over to the old Pak Lurah's house. He was the head of the village before being switched to another village. My friend and the old village head are trying to plan a trip to the beach in Malang on April 24th. They want to drive the four hours to the beach in the morning, stay for four hours, and then drive home four hours at night. You know, so that we can all relax.

9:00 – 9:30 pm – Journal

9:30 – 9:59 pm – Get ready for bed, scroll through social media.

10:00 pm – Go to bed.
Curious to learn more? Explore the World Wise Schools resources on this topic.
Explore