Guyana
Projects in Guyana
Education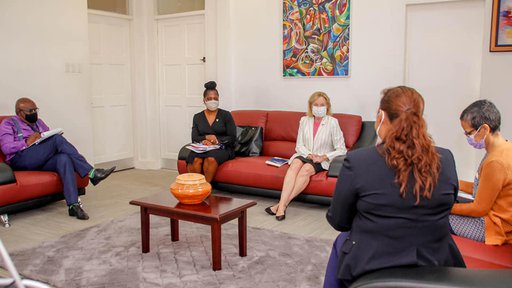 In cooperation with the Ministry of Education, Peace Corps is working with students, teachers and parents to improve primary literacy. Working in Grades 1-4 in select primary schools across Guyana, Volunteers teach children to read, collaborate with teachers to explore ways to teach more effectively, enhance the learning environment through development of resource materials and classroom libraries, and work with PTAs and other parent groups to help adults learn how to help children learn.

On Thursday October 1, 2020, United States Ambassador to Guyana Sarah-Ann Lynch paid a courtesy call on the Honourable Minister of Education Priya Manickchand at her Brickdam office. Chief among the discussions was the education program that is supported by the Peace Corps. In that regard, Ambassador Lynch introduced Minister Manickchand to Peace Corps Director Dr. Nadine Rogers. Both parties proffered their commitment to the continuation of the program and to collaborate in other areas of mutual interest for the development of the education sector. Also present were the Chief Education Officer, Dr. Marcel Hutson and Deputy Chief Education (Administration), Mrs. Ingrid Trotman. Source: https://www.facebook.com/PeaceCorpsGuyana/posts/4746807352026033
---
Health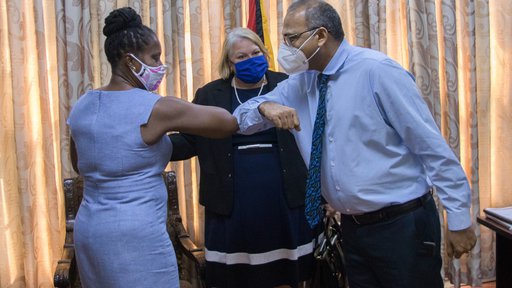 In cooperation with the Ministries of Education and Health, Peace Corps is working with secondary schools, youth-friendly health facilities, parents and communities to help raise a new generation of youth with a healthy outlook on the future. Activities include supporting youth in clubs and camps, building teachers' capacity to deliver the Health and Family Life Education (HFLE) curriculum, supporting health workers to deliver youth-friendly services, and helping parents and caregivers support adolescents.
Country Director for Peace Corps Guyana, Dr. Nadine Rogers recently met with the new Minister of Health, Dr. Frank Anthony at his Brickdam office. Dr. Rogers was joined by US Embassy Consular Section Chief, Karen Wiebelhaus. During the courtesy call the parties discussed the long relationship between Guyana and the United States as it particularly relates to the presence of Peace Corps Volunteers in the health, education and most recently in the Department of the Environment which is under the purview of the Office of the President. With regards to the presence of Peace Corps Volunteers in the Health Ministry, the team discussed the need for persons with a skill-set capable of supporting the enhancement of Youth Friendly Spaces, Self-Care Advocacy, Adolescent Health, Epidemiology/Surveillance and Strategic Planning/Planning Implementation. Source: https://www.facebook.com/PeaceCorpsGuyana/posts/4750697701636998
---
Environment
In cooperation with the Ministry of Education and the Ministry of the Presidency Department of Environment, Peace Corps is working with teachers, students, and community members to teach science more effectively, stimulate a love of nature, and empower youth to be environmental leaders.  Activities include teaching classroom and outdoor environmental education, co-facilitating afterschool wildlife club activities, and collaborating with communities to raise awareness and address local environmental issues.

---