An education in early marriage
Binta looked down as she spoke, with her finger inching in and out of her nose. 

She had asked to talk with me alone before class, and timidly revealed that she could not return to school for the eighth grade. Her father had made plans for her to marry this summer.
The diffident young girl standing in front of me was a far cry from the Binta I knew—an assertive thirteen-year old always eager to contribute in my Physics class. We decided to talk with the principal, Mr. Pegaidy, with whom I had been discussing girls' challenges all year—especially early marriage. I knew he would be interested in supporting Binta.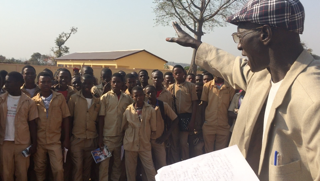 When Mr. Pegaidy heard of Binta's plight, he suggested that we speak with her family and encourage them to keep her in school. I wondered if it would be better if he went alone. I'm careful not to force my values on my Guinean community, rather, on helping local leaders achieve their goals to support young people. I try to work with the "positive deviants"- leaders who already have a foot in the door, but need a little help getting it all the way open. Mr. Pegaidy is one such deviant, invested in retaining all his students—girls and boys—and committed to creating an environment that supports them. He assured me that Binta's family would be honored that I cared to speak with them about her future. As Mr. Pegaidy proposed a plan, I looked over at Binta. Her eyes had returned to the floor and her finger was back in her nose. "Binta is just a kid," I thought. "A kid filled to the brim with potential."
The stranglehold of tradition
Binta's story is not unique in Guinea. Widespread early marriage—often to protect daughters from the shame of becoming pregnant out of wedlock—is a major contributor to the dramatic school dropout rates for Guinean girls. Only 16% of Guinean girls start high school, despite the 69% enrollment rate of girls in elementary school. Even if girls continue their studies, marriage routinely leads to pregnancy, ultimately forcing their departure from school. 
The law versus hard social realities
Purportedly, it is illegal for girls to be married before 18, but 52% of Guinean women aged 20-24 were first married before the 18-year-old cut-off. As in many countries, Guinea faces a gap between what the government says and what gets put into action. The lack of gender equality implementation at the grassroots level in Guinea makes the Peace Corps, with its expertise in grassroots mobilization, a logical government partner. Peace Corps volunteers live in mostly rural areas and are well-placed to connect our communities with educational information from the government, including laws and policies that protect girls. Also, we are well-situated to work with local leaders like Mr. Pegaidy on solutions to address the many challenges that prevent adolescent girls from obtaining quality education that would empower them to reach their full potential.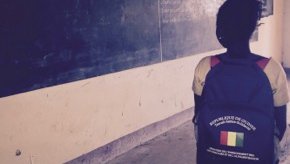 Mr. Pegaidy and I went to Binta's house, where we spoke with her uncle (her dad's older brother) in Pular, the local language, about Binta's potential and how vital it was for her to stay in school even if she did get married. He was grateful that we cared, and after our discussion assured us that the family will remain invested in Binta's education if she maintains her grades.
"Petit à Petit"
We left the house with a spring in our step. I wondered at how simple it was to convince Binta's uncle to keep her in school. Mr. Pegaidy explained that Binta's father would be obligated to comply with her uncle's request, since he was older and thus held authority in the family. He expressed particular delight that the conversation had happened in front of neighbors, who would hold Binta's family accountable to their promise to keep Binta in school. Mr. Pegaidy told me he hoped to do a lot more visits like this one in the coming year.
His opportunity came sooner than he expected. As we walked from Binta's house, I received a call from Maimouna, my favorite tenth grade student, informing me that her father—against her will—would be sending her to The Gambia to be married this summer. Maimouna speaks none of The Gambia's official language, English, and will likely end up passing the day taking care of children and cooking. Mr. Pegaidy explained that her case would likely be more complicated than Binta's, as Maimouna's father does not live in the same village as we do, is not educated, and is very religious.
 As we say in Guinea, petit à petit,  the work continues.
*Names and identifying details have been changed to protect the privacy of individuals.