"Give Peace (Corps) a Chance"!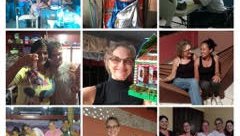 March 12, 2020
LEGACY STORY: We are featuring stories of Volunteers who have interesting ties to the agency. PCV, Nancy, has three generations of Peace Corps Volunteers in her family. The stories of her sister and son inspired her to join the agency and serve in Costa Rica.
I come from a family that puts great value on community service.
I come from a family that puts great value on community service. My father served our community on various boards, on the city council as councilman, and then as mayor for many years, and my mother volunteered tirelessly in her church. Both of them instilled in my siblings and me the moral obligation and the joyful rewards of "giving back". Back in the 70s, when I was fresh out of high school, my sister served as a PCV in Niger (not Nigeria), Africa. She was posted as a TEFL Volunteer in a large village in the Sahel called Matameye from 1977-1979. She was an English teacher- no co-teaching. She was THE teacher, in a middle school with one class per grade levels 6-9. She says her most successful classes were the ones in which the kids learned the words and meanings to Bob Marley songs and this included a lot of dancing and singing! As a secondary project, Laurie volunteered at the local health clinic, where her duties included talking to the women about nutrition. I loved hearing her stories of the young boy from the bush who delivered fresh milk to Laurie. He would catch rats in the garden and roast and eat them. Laurie's "house boy" Mai-Keri, would laugh and feel very superior about this because no self-respecting towns-person would ever eat rats. Mai-Keri taught Lauri Hausa (even though it wasn't his native language), and was her guide to navigating Hausa culture. Laurie had somehow gotten hold of a treadle sewing machine and would sew clothes for herself and neighbors. She taught Mai-Keri's wife to sew, and left the sewing machine with her when she left. This allowed the family to continue earning money for many years after Laurie left. Though the town had no running water, Laurie had an oil drum installed on the roof which was linked to a hand pump. She says, "When it was really hot, I took the neighborhood kids in and stuck them under the shower--what fun!!" These stories and so many more were always an inspiration to me, and I always kept Peace Corps on the possibilities list, even after I became a mother and had other responsibilities that prevented me from seriously considering applying for many years.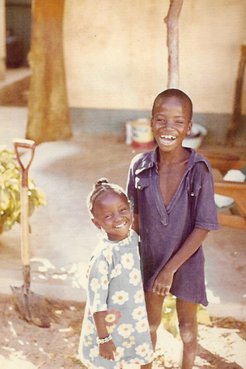 I asked Laurie recently what she still carries with her from this experience after all these years. She responded, "I think it was the philosophical discussions with Mai-Keri that left the biggest imprint on me: Do witches really turn into hyenas in the night and cause all manner of bad things (not such a bad way to explain evil action of people)? Are women just as capable as men? Should girls go to school? The morning I left Matamèye at the end of my PC stay, I was awakened by the town crier broadcasting for all the townspeople: "Hear ye, hear ye, Miss [my generic name to everyone] is leaving us today. She worked here for two years. We wish her well. May Allah take care of her." After I left Hausaland and was working on my PhD in linguistics on Hausa at UCLA, I was interviewed by the Hausa service of the BBC. Soon after a letter came in the mail from Mai-Keri in Matamère: "Everybody in town listened to you on the radio. We were very proud. Your Hausa has really improved!" She continued to exchange letters with Mai-Keri for years, and still does.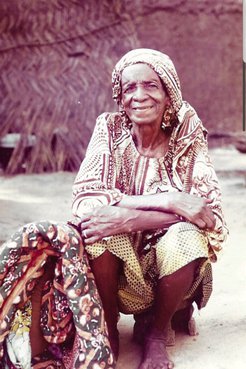 I, too, am very proud of my sister. Her Peace Corps experience truly shaped her life. She is a professor of linguistics, head of the Linguistics Department in the University of Tours, in France where she lives with her husband. She teaches and publishes on linguistics and works with a medical team specializing in autism and collaborates with international linguists on topics such as how children with developmental difficulties acquire language. She sent me a few photos from her PC days, when there was no such thing as digital photos, and she just had a camera. She says: "The photos I took are of me in my village, the old lady who lived down the street whom I would visit and chat with. The photo (right side) is the day I was leaving and I had just given her my quilt and a bunch of clothes. Another photo (above left) is one of Haruna and Aisha, the son and daughter of Mai-Keri. Aisha, a beautiful, cheerful little girl, grew up, was married far too young, and died in childbirth, her body not ready for giving birth."
In 2006, a year after the Indian ocean tsunami, I enrolled in a Masters Degree program in Sustainable Development that took place in Sri Lanka, with field work in disaster recovery. Over half of my SIT Institute fellow grad students were RPCVs! Oh, the fantastic stories I heard from them! This experience, and my year of study abroad in India, as well as time spent working in Bangladesh and Ghana, Africa with HCAs all only strengthened my resolve to serve as a PCV one day. I had found my passion working to try to improve the quality of life of people around the world less fortunate than I. I was highly motivated to apply for Peace Corps, but still not quite ready to quit my secure government job to follow my dream.
---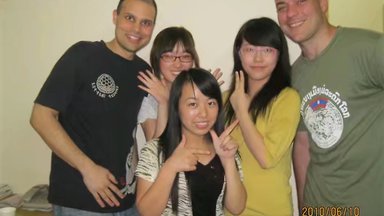 Meanwhile, I think Laurie's stories also infected my son, Tobhiyah, known by his friends as "Tee", who shortly after he did his undergrad studies, moved to Thailand to get his Masters Degree and teach English, quickly moving up the ranks in a private, international school just outside of Bangkok, to become the vice principal before he decided it was time to return to California and apply for Peace Corps. He served as a TEFL Volunteer in Chongqing, China from 2009-2011, teaching English in the University in Chongqing.
Tee's primary job was to teach English at the university level, but he also had a few secondary projects including setting up a English resource center at the kindergarten school and participating in a weekly English radio show for the university radio station. He became good friends with his students, and hosted a weekly Chinese/American English conversation dinner party for his students and fellow volunteers. He still communicates with some of his closest Chinese friends, such as Annie, a former student with whom he worked to set up the resource center, and a few other students, as well as some PCVs who served in the region at the same time.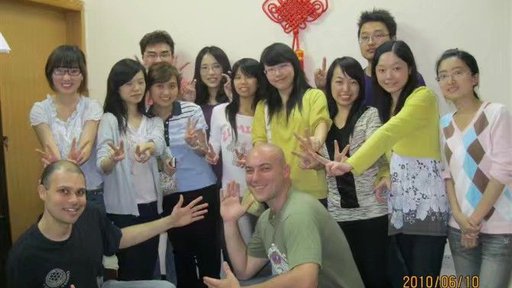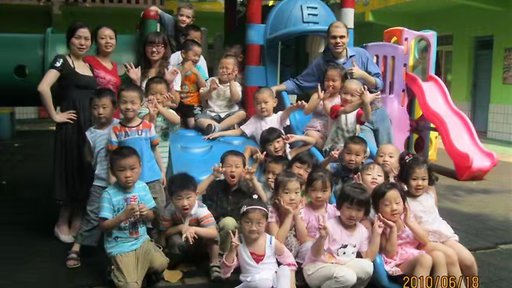 Despite the many challenges of serving in China, Tee, like my sister, was positively affected by his PC experience, and through it, found his true calling as a teacher. After Peace Corps, he returned to California to get his teaching credentials, and is now a highly respected teacher of English and Sociology, and Chair of the Reading and Literacy department in a private high school for boys at risk in Sonoma, California. He continues to dream of returning to Asia (specifically Thailand) to live and work one day. Tee has been a personal source of inspiration to me in many ways throughout his life, but with personal knowledge of the various challenges he faced as a Peace Corps Volunteer, I felt even more inspired to "give Peace (Corps) a chance"!
At age 57, I finally decided the time was right for me to make my own PC stories, and here I am, living my dream and creating my own stories in PCCR! After four years of living in Costa Rica, I am still being continually inspired by all the wonderful Costa Ricans I have met in my time here, not to mention my amazing fellow PCVs! I have not regretted a single moment of this experience. Though not without its challenges, serving Costa Rica as a PCV has been a truly joyful learning experience that I will treasure always. And if I ever do have grandchildren, I will have lots to tell them!