Indigenous Scout Troop Finds Sweet Success Producing Chocolate
Navigating through humble start-up beginnings on an indigenous territory in the Caribbean region of Costa Rica, a group of Youth Scouts turned entrepreneurs finds the sacred indigenous cacao fruit lends itself as a sweet treat and a source of essential life lessons in business management, teamwork, and perseverance!
Chocolate might mean a lot to us on Valentine's Day, but in the Bribri Indigenious Territory of Costa Rica, chocolate takes on a much more critical role. Cacao and the chocolate it produces are sacred to the Bribri culture, religion, cosmic vision, and diet. I was lucky enough to find project partners who have shared with me this beautiful part of their culture. They have gifted me the opportunity to work with a great group of community leaders/youth who aspire to share this knowledge with the rest of the country.
Back in September 2017, the community formed a Boy and Girl Scouts troop, hoping that training in the scouts would prepare kids to become socially-engaged community leaders. With the troop we held recycling events, cleaned local forests, planted trees, and made community walkways; however, my project partner's long-term vision for the troop members was to motivate the group to start a small business. As a Community Economic Development (CED) Volunteer, this is where I was able to lend the most significant hand. After speaking with the troop to gauge interest in starting a chocolate business, we decided to begin with some project design workshops. After a couple of months of designing the project, we were left with a group of four (two scout parents and two scouts). Small in size but full of enthusiasm, we started producing chocolate.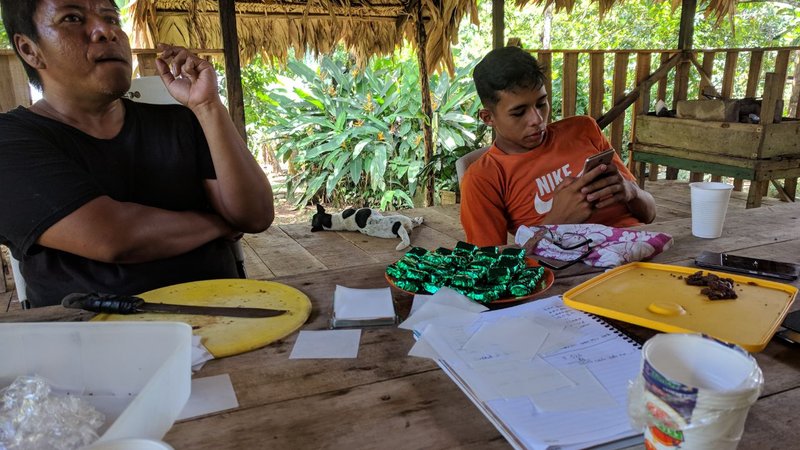 The chocolate making process is quite extensive. First, the cacao seeds must ferment for over a week. Then the seeds must be set out to dry in the sun for an additional week. After this two-week period, the seeds are pooled into a large pot to roast for about 40 minutes over an open flame. At this stage, the shell around the seed is removed and discarded, yielding a seed which is now edible though additional measures are still required for the seeds to become "production-ready." To finish this process, the seeds are crushed and then placed through a grinder 2-4 times. What is produced at this phase is a cacao seed paste equivalent to 100% dark chocolate. The paste is then placed in a large pot over the fire and combined with sugar, water, flavor (Mani – peanuts, ginger, naranja - orange), and milk. The mix is then poured into a mold and left to harden. Pieces are then cut and wrapped and ready to sell.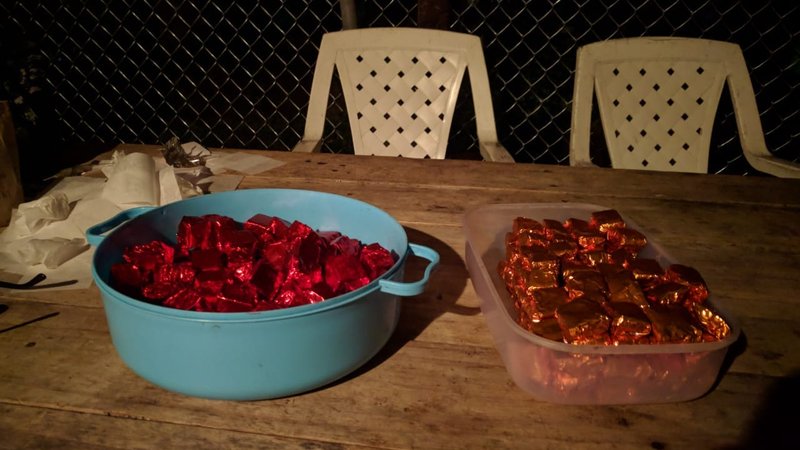 Because of this extensive process, the troop had a difficult time finalizing a recipe that met their satisfaction. Adding to the challenge, while using an open fire pit to cook the chocolate it can at times be difficult to maintain a consistent flame and control cooking temperature. For this reason, as we are finding with our many attempts, consistent quality of product continues to be an issue. Additionally, as first-time managers of a full-fledged business operation, the troops find themselves learning by trial and error as they try to find an appropriate methodology to track inventory and sales revenues. Despite these challenges, the troop has learned a lot and continues to persevere as a team by selling their product at local markets and community events.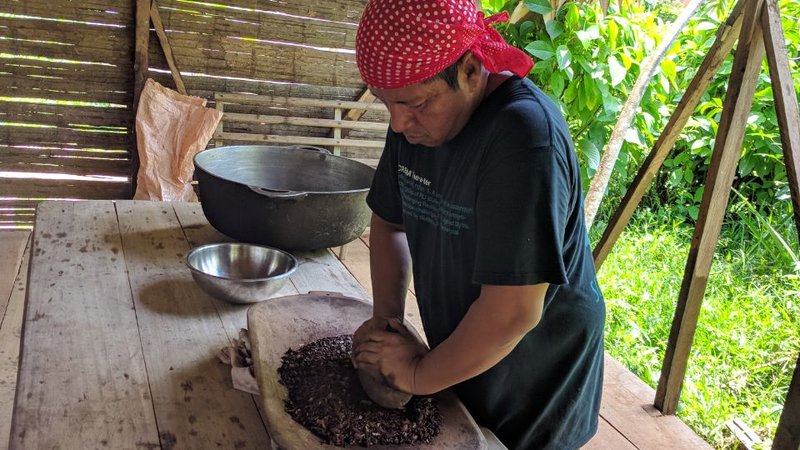 I am so proud of our group and very excited to see where they take this project over the coming year. There are plans to bring in more kids, teach about the cultural importance of cacao, and work with partners at Costa Rican universities. I look forward to  watching their operations develop and would like to extend my greatest thanks to our wonderful project partners in the Bribri territory and scouts alike for the "[tastiest] job I have ever loved."