A Home Set on a Plantain Farm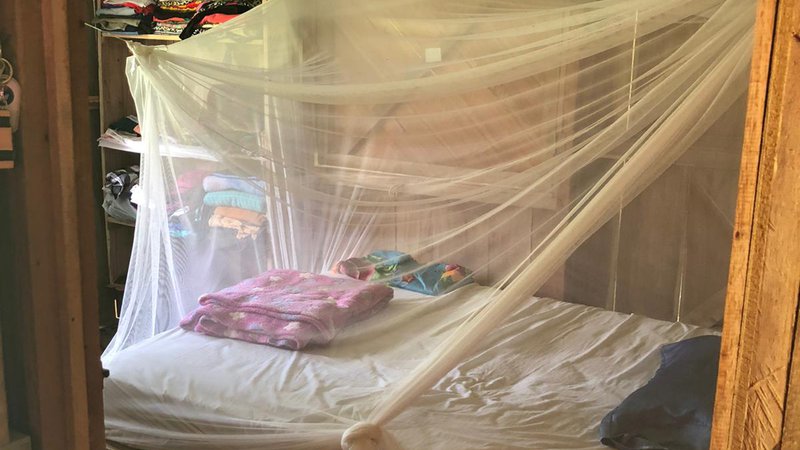 Feb. 21, 2020
Reporting from the Caribbean Coast of Costa Rica, PCV Samara shares her #PeaceCorpsHome experience.
Type of home (apartment, house, hut, etc.): Wooden house
Describe your neighborhood: Rural banana and plantain farm in the Limon province
Square footage (estimates are okay!): About 5 hectares, or about 540,000 square feet
How long have you lived here? One month as of the end of February, 2020! I recently moved out after 7.5 months with a host family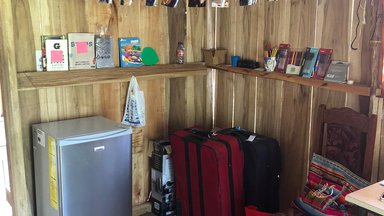 Who do you share your home with? Just me, myself and I! Sometimes an annoying cat 😊
Describe your house's style in 5 words or less: Rustic, wooden, and tropical breeze
What's the most functional thing in your house? (Mosquito net, wood fire stove, etc.): Hands-down my mosquito net! That saves me from the mosquitos obviously, but also from geckos on the ceiling and bats that fly in at night.
What's your favorite bargain find in your home? One of the first appliances I bought when I moved out was an electric water heater and blender bundle at the local appliance store. Best investment besides my mini-fridge!
My current home is made of wooden planks with a zinc roof and cement flooring in the kitchen and bathroom.
Who/what was your most interesting house guest? Back when I lived with my host family, the Director of Peace Corps Costa Rica came to visit us, but now that I live alone, I am barely at home. I spend most of my time in and around the community.
Proudest DIY: Hanging photos of my friends and family on a piece of string with clothespins; it really added a personal touch to my living room area, and now anyone who visits can get a glimpse of my life from back home.
Biggest indulgence (did you buy a couch? A fancy cooking gadget?): The most expensive and useful appliance in my home is my mini- fridge, which has allowed me to store my favorite dishes overnight. Before, I stored food in the neighbor's fridge but that proved to be inconvenient, so I invested in my own fridge and I do not regret it!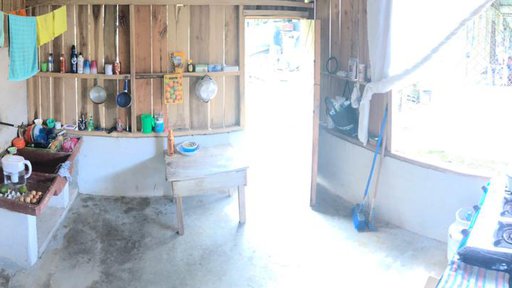 Try to bring something that reminds you of home
What advice do you have for PCVs looking to create a home they love? Try to bring something that reminds you of home, for example pictures that you can stick on the walls or a journal or book that you can read. If you start with something from home, it'll make your new space feel more comfortable until you fully settle in.
How does your home compare to your expectations before service? I think before arriving, I expected something different, with less people living in the home, and more independence from the family unit. It's fun living with a host family, but it definitely had its challenges sometimes. I am truly blessed to have found a house available for rent in my community, because there are so few in good condition.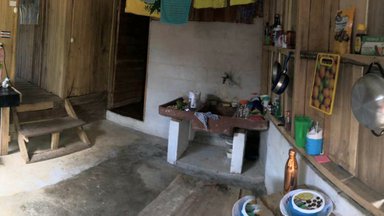 What are other homes in your community like? How do they differ from yours? Be honest. The houses in the community are mostly made from a combination of wooden planks, particle board, and cement. My old house had tile flooring, half cement walls and half particle board, with a zinc roof and wooden doors. Other houses in the community are completely made of wood with cement floors, and some have dirt floors. There's always an outside area, or patio, in the front of the house and an outside kitchen where meat is prepared, or laundry is done. My current home is made of wooden planks with a zinc roof and cement flooring in the kitchen and bathroom.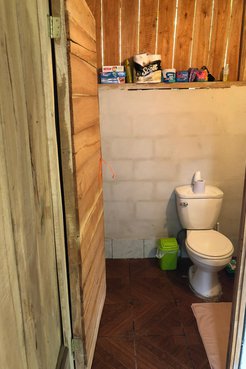 ---