Finding Community in Secondary Projects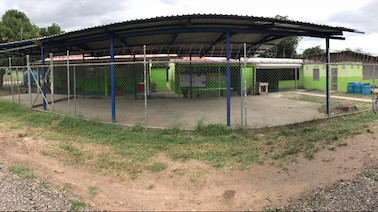 March 26, 2019
TEFL Volunteer Brendan shares his experience working with his local counterpart to create important learning opportunities for women in his community.
One of the greatest aspects about Peace Corps is that Peace Corps Volunteers have the opportunity to take on secondary projects outside of activities associated with our primary project framework. Each Volunteer has the opportunity to work with host country nationals to develop a customized work plan to fulfill their community's needs, something that really drew me into joining the Corps and what makes Peace Corps so effective in its mission to create sustainable development.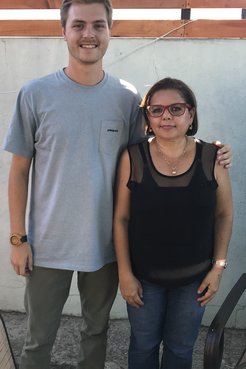 As a TEFL Volunteer I often heard about community English classes being a popular secondary project and after speaking with my local counterpart, Ana, we decided to begin a community class for local mothers. Since I first met Ana at our project partner workshop, a key moment when Volunteers first meet their assigned work partner, she was keen on the idea of offering a community English class. Many of the mothers in the community were upset that they could not help their children with their English homework since they themselves had not been exposed to the language. Due to difficult familial and economic circumstances, many of the women in the community never were able to finish elementary school, much less high school, and thus have never received formal English language training.
With Ana's help, getting the class off the ground when I first got to site was easy as she had already gathered a full list of the women interested in the class and coordinated the hours and days the class could be held in the local elementary school. As previously mentioned, the main goal of the class was to give the mothers the level of English they needed to help their children with their homework. This made developing the course a daunting task to take on as most of the women's children were in different grades and thus our classes could not solely focus on the standard curriculum developed by the Ministry of Education. Luckily for me, Ana has been teaching for many years and had some great ideas on how we could create dynamic lessons so everyone in the class would benefit. Ana proved to be an important resource in the classroom seeing the class was primarily taught in Spanish to accommodate the women's limited English proficiency. Having Ana at my side to explain difficult concepts in Spanish was incredibly beneficial and I'm truly grateful for her willingness to support me every step of the way!
Our first class consisted of ten moms and ran for a total of six months. I found it truly inspiring to see how despite all of the responsibilities the mothers juggle in their everyday lives, they were still willing to attend the class in order to help educate their children. During this school year, we hope to build upon this momentum and open a new course to further enhance the language proficiency of local women in our community.
While we have faced many challenges and obstacles along the way, we have also achieved a great deal of success which I credit largely to my counterpart and all the hard work and dedication she has put towards bringing these community classes to fruition. I have learned so much from Ana and working with her both in the elementary school and our community class has truly been one of the highlights of my service.
---