Early Childhood Education Is Prevention at Its Finest
As I begin to near the end of my Peace Corps service as a Youth Development Volunteer in Costa Rica, I think about what I will miss the most. Quickly, a million things come to mind...
...the tranquility of my small town, the kindness and the generosity of my host family and neighbors, the freshly brewed coffee at 3:00 in the afternoon, the beautiful sunsets and landscapes, the tropical fruits in my backyard. All of these things are irreplaceable and I'll remember forever with fond memories. But then, I think about impact. What have I done over these two years? Throughout my two years, I have worked closely with many groups of children and youth of various ages. I have worked alongside teachers developing programs in areas of goal setting, leadership, critical thinking, emotional health, and sexual education. Each group that I have worked with has taught me invaluable lessons in creativity, flexibility, grassroots development, and cultural awareness, all of which I will take with me as I transition back to the United States. I sure have been busy, and I have received more personally and professionally than I could have ever hoped. But, then I ask myself, what have I actually given back to my community to make a difference in the lives of youth? Immediately a group of 23 five- and six-year-olds comes to my mind.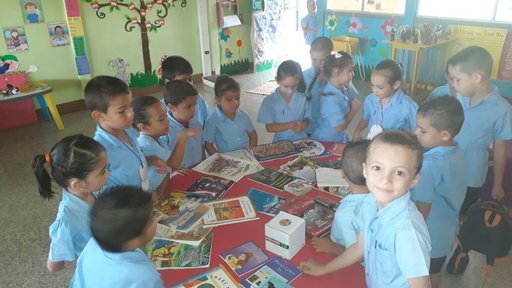 When I first arrived at site, I talked to local community members, created surveys for children and youth about their interests and needs, engaged in interviews with teachers and parents, and simply observed my community performing, day in and day out. After developing an assessment of the community's strengths, desires, and needs in regards to youth, it was noticed that many teenagers lacked communication skills to effectively express their needs and desires, and many were unable to identify a positive adult whom they could count on if they needed support. From this information, I worked with teachers and the guidance counselor to create various projects at the high school level to support teens in developing necessary life skills. However, it is also known that life skills cannot be developed overnight; rather, they are developed over time, and even more so when starting young. As a result, I spoke with the kindergarten teacher about working on a new project together that involved communication, expression, emotion recognition, and respect. The teacher was on board, and we moved forward to establish weekly lessons that addressed these topics. 
Our focus was to create lessons for positive emotional health and positive communication for preschoolers and kindergarteners. We met once a week to talk about emotions, how to recognize what each emotion feels like, how to manage our emotions, and who we can speak to should we need help. We sang songs about emotions. We danced and played games. We read stories. We engaged in so many fun activities to help children feel comfortable talking about emotions on any given day. Our goal was to help children recognize that emotions are normal and there are positive ways to manage those feelings. 
After developing several lesson plans, the teacher and I wanted to dig a little deeper than just talking about emotions: we wanted to establish a classroom environment that was positive and engaged children in their own development. Working with the kindergarten teacher, we utilized the book Have You Filled a Bucket Today? to illustrate friendship, kindness, and respect. The book uses a theme of "filling buckets," with the idea that every person has an invisible bucket. Using this image, we have the power to fill our buckets and those of our friends and family by being kind and using positive words. However, we also have the power to empty our friends' bucket by excluding, bullying, or not sharing with others. Using this book, the teacher adopted the idea of "bucket filling" as a symbol for positive communication and emotional health, as well as for positive reinforcement inside the classroom. The teacher and I worked closely together to cultivate a classroom of positive reinforcement by "catching" appropriate and mindful behavior from each child, followed by clearly recognizing and encouraging that child for their choices. We also created a "classroom bucket," which was filled with a marble each time the class as a whole was respectful and kind. When the bucket was full, the students received a prize. My favorite prize was when we rewarded the children with a movie day, and the kids laid out their blankets and pillows on the floor and ate popcorn. The kids were so excited!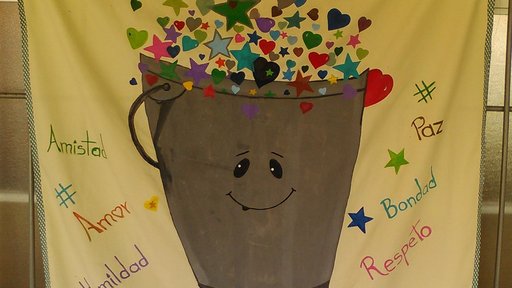 Using the book Have You Filled a Bucket Today? was a powerful visual. The children  caught on to the message and symbolism. Soon, I began to look for other stories to share examples of character development and positive or negative reactions to emotional situations. Using characters as examples for recognizing emotions, positive relationships, and strategies for well-being was vital for the children to practice self-awareness and empathy. However, I soon noticed that although I can use the Internet to quickly find a story, these five-year-olds do not have that ability. I also realized that frankly no resources of story books for young children exist at the school, or in their homes. As such, I worked with the elementary school principal to solicit a donation from Give-A-Book of over 150 children's books for the school. Since the donation, the children have had the opportunity to read and explore books at their own pleasure. 
Once the project was completed, nearly all 23 children were able to recognize, replicate, or draw more than four different facial expressions formed by a given emotion. Additionally, nearly all the children were able to verbally share ideas of positive alternative behaviors to express their emotions, in place of violence or combative behavior. But, I must say, my favorite takeaway of all has been developing a new understanding of prevention work by engaging kindergarteners and their families in their own development in positive emotional health strategies.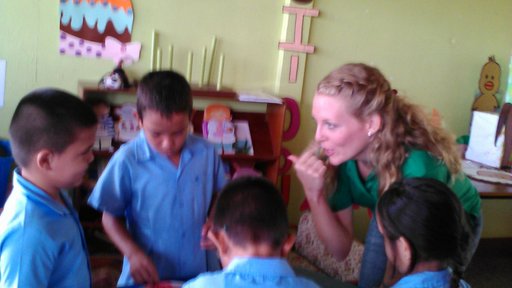 Talking about emotions at a young age truly makes a difference, and knowing how to manage such emotions is a skill that these kids will carry with them for the rest of their lives. To me, that's a very powerful form of prevention work that will make a difference in the future. Beyond the project planning, lesson development, and numbers of achievement, what will truly make the biggest impact of all is the time we spent with the children, listening and sharing ideas and thoughts together. I will deeply miss these kids and the pure joy they bring to each day. I'll miss the sound of them yelling my name and running along the fence when I walk by the school. I will miss the giant group hugs of 23 five- and six-year-olds in excitement for today's activity. I will miss the smiles and the sticky fingers and the desire to play and dance. All of these memories fill my heart with so much gratitude for the opportunity to volunteer with the Peace Corps.