Building a New Generation of Costa Rican Entrepreneurs
As a Community Economic Development Volunteer, Nancy never anticipated working at a high school. Interacting with young entrepreneurs has become one of her most impactful projects as a Peace Corps Volunteer. 
If you went to school in the United States, you may have heard about Junior Achievement. During my senior year of high school, two women from Big Four accounting firms spoke to my accounting class about their experiences working as accountants. They arrived with Junior Achievement booklets and a slide show about how their careers led to international work. I already had an interest in pursuing a career in business but that day reaffirmed my decision to major in finance. 
Eight years later and here I am, serving as a community economic development Volunteer in Peace Corps Costa Rica. I live in a rural, mountainous community on the Central Pacific side of the country. The community has a strong history of growing coffee, and it is an important part of the local culture. Unfortunately, the coffee harvest only lasts three months, leaving many people unemployed for the rest of the year. I quickly learned that a lack of job opportunities in the area was the main economic struggle facing the community.
I collaborate with a group of community leaders who are working to create more job opportunities in the area for locals. One idea was to target youth while empowering them to create new businesses, leading to more jobs. This is where Junior Achievement comes in. Junior Achievement, in partnership with the Costa Rican Ministry of Public Education, runs an annual national competition, for high school students, called La Compañia. With 13 weekly sessions, extending almost six months due to holidays and breaks, teams of high school students create a business with the goal of selling a product or service. Each team must have a teacher who gives weekly sessions and turns in the assignments throughout the competition. Teams are evaluated in three categories; weekly assignments (35%), product fair (35%), and manager interviews (30%). 
Rather than teaching the class myself, I partnered with one of the high school teachers. The goal is for her to be able to run the course herself next year. Nearly all the high schools that participate are bigger and have more resources, allowing them to build programs like La Compañia into their regular curriculum. My small, rural high school never even considered participating in something like this because of the limited amount of staff they have. However, everyone in the school recognized the amazing learning opportunity; not only for the students, but for the whole community, especially in the long term. We began the project with a team of 10 seniors who were responsible for deciding what product or service they were going to sell. As teachers, our role was to guide and offer support. The business was entirely theirs. As a team the students decided to make organic deodorants and named the company Organic Deodorants LASC.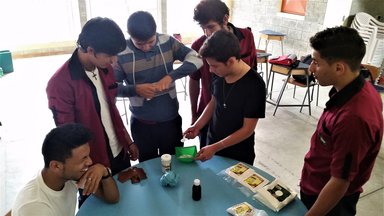 From the beginning, the project faced many challenges. The curriculum did not leave much room for an additional class nor were there many free periods that could be used. Finding time to meet and teach the material was just the first challenge. Being in a rural area, some students live far from the school, making it impossible to meet at certain times, so we took advantage of the holiday break and met to power through sessions on entrepreneurship, social responsibility, legal aspects, and strategic planning. 
There were other obstacles to our progress. One of the most impactful tests we faced was a change in school leadership that delayed us for almost three weeks. Once that was resolved, mid-terms arrived and the students had to devote all their attention to studying. At this point in the competition, with so many delays, it became difficult for all of us to find the motivation to keep pushing forward. Some of the students became discouraged and decided to abandon the team. However, rather than be demoralized, I recognized that our situation was realistic to the endeavors of any entrepreneur. If you ask entrepreneurs about their experience starting a business, many will tell you it was not the easiest thing they have ever done, and many will tell you they have failed many times before succeeding. With that in mind, the remaining students recommitted to seeing it through.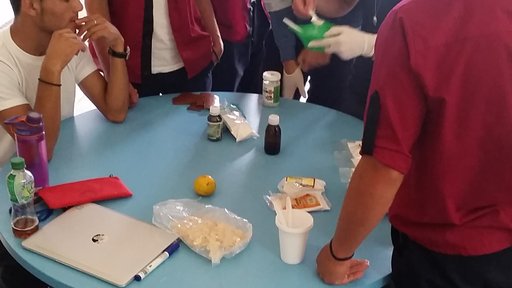 A second part of the project required the company's managers to be interviewed by successful entrepreneurs and Junior Achievement staff. We practiced and had them prepare their first elevator pitch. After their interviews, came the final part of the competition, the students would exhibit and sell their product at a shopping center in the capital city.  Judges tested their product and asked detailed questions pertaining to the company structure. Due to monetary and time restrictions, our team was unable to obtain proper packaging for their product which meant they could not sell it. However, they did get to practice their pitch and even meet the president of Costa Rica!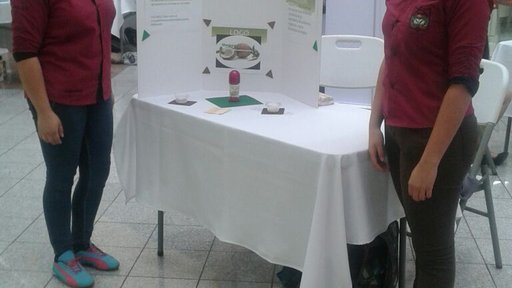 Although challenging, this project made me realize my purpose as a Peace Corps Volunteer. I am here to bring an outside perspective and serve as an additional resource to my community. I am proud to be doing this work because throughout this experience my students have taught me valuable lessons about perseverance and optimism. Lessons that remind me about no matter what I bring to my work, what I am receive in return from my community is so much more. Without a doubt, my happiest moment throughout this endeavor was seeing their smiles at the end of the program and the pride they had for Organic Deodorants LASC.