An Open Air Closet and Making the Most of Little Space
In Costa Rica, Volunteers are required to spend at least 9 months living with a host family: 3 months during Pre-service Training and 6 months after initial placement in site. PCV, Lauren, shares about what host family life is like after only one month in site.
Describe your neighborhood: I live in a small neighborhood walking distance from my school and on the edge of town. It's mostly small houses with one bathroom and two or three bedrooms. There's a plaza, but I've never actually seen people spending time there. The streets were paved for the first time last week, and some are still getting paved. It's a generally safe neighborhood and many night school students walk or take the buses home at 10 pm after the night school session gets out.
Square footage (estimates are okay!): My room is approx. 10x8 or 80 square feet. The house is probably around 500-700 square feet with a large garage area, about half the area of the house, porch area, and small back yard.
How long have you lived here? Almost one month
Whom do you share your home with? My host mom, my host dad, my 18-year-old host sister, and my 13-year-old host brother- both are students at the high school where I'm volunteering.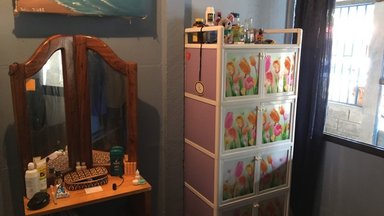 I'd say my house is an average representation.
Describe your house's style in 5 words or less: Small but spacious
What's the most functional thing in your house? (Mosquito net, wood fire stove, etc.): Fans. So. Many. Fans. It gets hot (and humid) in my site and I haven't even been here for the hottest part of the year, yet.
Who/what was your most interesting house guest? We hang the plantains we cook outside our door, usually, so there are always colorful birds just eating them (and my host family seems completely fine with this arrangement). (Apparently, they only eat one at a time, usually, so it's a symbiotic relationship because we get to see the birds.)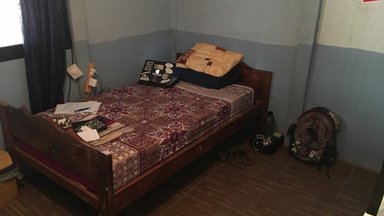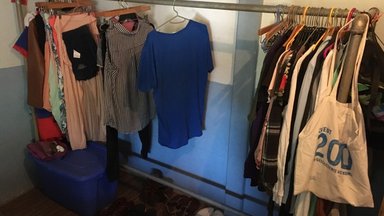 Proudest DIY: This isn't actually my DIY, but one of my neighbors makes sculptures out of recycled plastic and has tons of them up on the corner near my house. I marvel at them every day while I walk to school and they make the neighborhood look so much brighter.
What advice do you have for PCVs looking to create a home they love? While living with a host family, do what you can to make a space yours even though it's not technically yours. I bought a few extra hangers and I decorated shelves, etc. Get as close as you can with your host family, whether you plan on staying the two years or moving out as soon as you can. Being friends with them is going to make the house feel a million times more like a home.
How does your home compare to your expectations before service? I tried not to have too many expectations and I wasn't surprised by the house. It's humble and nice.
What are other homes in your community like? How do they differ from yours? Be honest. My community is a mix of apartment-style houses that I believe were subsidized by the government, and other houses that are much larger with big, fenced in yards and a lot of amenities. You can see inside just about every house because everyone keeps their doors open. I'd say my house is an average representation.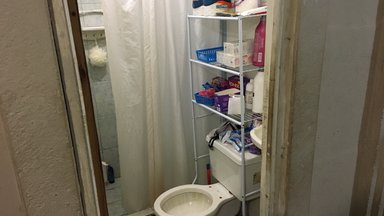 I tried not to have too many expectations..........