I feel greatly indebted to Leticia, who in her own way is also promoting world peace and friendship.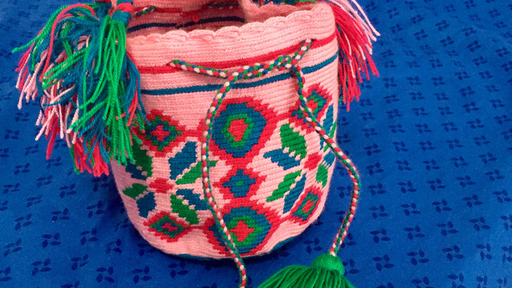 I just passed my one month mark living in my site. In this time I have met numerous children and educators while observing many English classes from pre-K up to eleventh grade (the equivalent to a senior class). Slowly, but surely, I am acclimating to my new home and life. In the past week teachers have gone on strike nationwide, and it would be easy to discuss the various facets of the strike because it is intriguing and directly affects the educational community I am serving, but in all honesty it leaves me feeling somewhat helpless in this foreign land and education system. To resist the downward spiral into despair while the days out of school adds up, I cling to the Peace Corps mission: promote world peace and friendship. It really comes down to the people around me, and I would like to tell you about my good friend Leticia.
Leticia is fluent in both Wayünaikii and Spanish, and has jet-black, nearly waist-length hair that is regularly wrapped up in a brown, sequined scarf while she works around the school. Her tasks include general janitorial duties from sweeping classrooms and mopping the bathrooms, as well as providing a listening ear to teachers between classes. She is such a great listener that initially in group settings I didn't get to know her at all.
One morning in the teacher's lounge Leticia approached me to ask some great questions. Now, I emphasize the quality of the questions because they sought me out as an individual. Too often questions are related to odd and untrue stereotypes about the USA, which I recognize as opportunities for cultural exchange, and yet I am still left feeling slightly uncomfortable and misunderstood. Leticia remembered things I had said previously and asked follow-up questions: "What made you want to do this?", "When you went to Mexico, what did you do there?", "What does your family think about you being here?" We really got to talking and I was just as free to ask questions about her family, culture, and perspective.
In addition to her curious mind, she is kind and generous. Leticia welcomes me into her home to enjoy her family's company and food, invites me to church, and lets me practice the few Wayünaikii terms I have memorized with her. The other week she surprised me with a beautiful mochila (a bag traditionally crocheted by the Wayü people), and has since helped me begin my own. One particularly hot, long day Leticia checked in with me on a break between my classes, and I wasn't doing so well. As the tears began to brim over, Leticia sat and consoled me. We are from such different walks of life: being only four years apart in age, Leticia began her family at the age of 17, while I now 27 have only had to take care of myself. As she slipped me money so I could take a taxi over to the next school instead of walking in the heat of the day, I couldn't help but feel like my friend was more a mix of big sister and mom.
I think we can all agree that friendships are special, and in my experience good girlfriends are rare to find, so in this new time and space I feel greatly indebted to Leticia, who in her own way is also promoting world peace and friendship.

---
Curious to learn more? Explore the World Wise Schools resources on this topic.
Explore